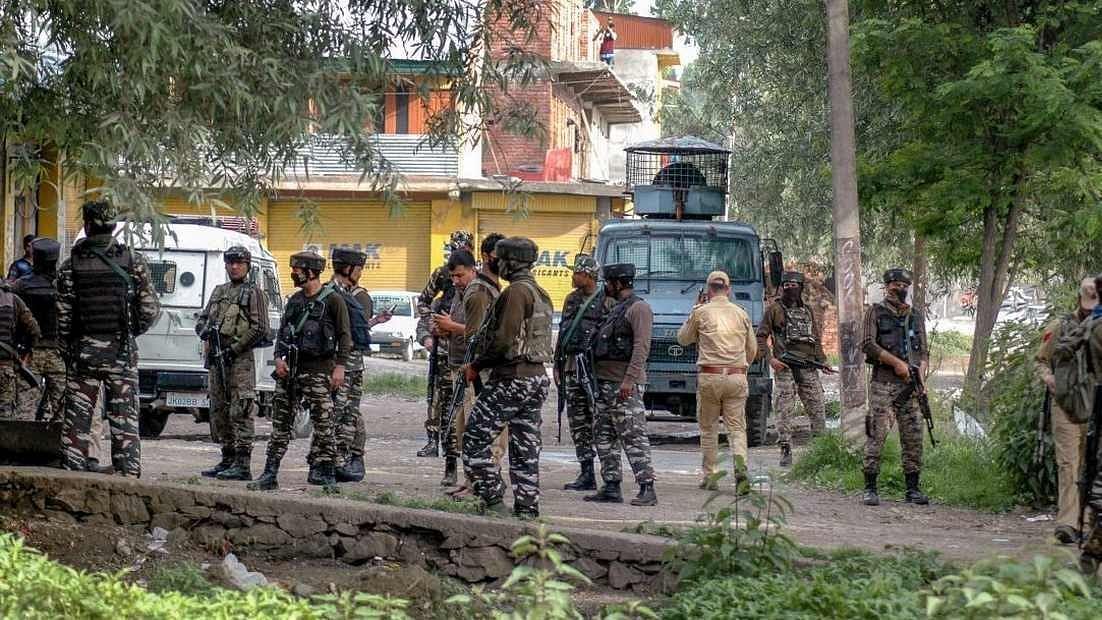 Srinagar: A sarpanch and an employee of the agriculture department were killed in a militant attack in south Kashmir's Anantnag district Tuesday.
The incident took place when the 'Back to Village' (B2V2) programme was ongoing at Hakhoora village in Badasgam. The programme aims to provide governance at the doorsteps of the rural populace.
The deceased are  Anantnag sarpanch Syed Rafiq, and Zahoor Ahmed, an employee of the agriculture department. Another civilian, Manzoor Ahmed, suffered grievous injuries in the attack, said a senior police officer.
The J&K administration had stepped up security in rural Kashmir ever since the B2V2 programme began.
The Anantnag attack took place barely three hours after a low-intensity explosive device went off in Srinagar outside the University of Kashmir in which four civilians suffered minor injuries. 
Srinagar Superintendent of Police Sajad Shah said they are ascertaining the cause of the blast.
These two incidents have rung alarm bells in the security establishment in Kashmir, which has been anticipating heightened militant activities after the central government scrapped Article 370.
---
Also read: 3 yrs after Burhan Wani, Kashmir militants targeting each other in ideological conflict
---
Jolt to B2V2 programme
Tensions have prevailed in Kashmir since 5 August when the government scrapped J&K's special status and divided the region into two union territories.
The attack in Anantnag has, however, raised security concerns for officials who are supposed to hold the B2V2 events in south Kashmir.
The week-long programme began Monday and as part of it, 5,000 gazetted officers and 657 directorate-level officers are expected to visit their assigned panchayats to interact with people and receive reports of developmental works done in their areas.
Events are also organised under the programme that take place at administrative buildings.
Giving details of the militant attack, a senior police officer said the sarpanch and the agriculture department official had come outside the administrative building, where the main event was taking place, to participate in a 'safai abhiyan' (cleanliness campaign).
They were clicking pictures of the campaign in an area not very far from the building when a grenade was suddenly thrown at them, followed by heavy firing by militants, the officer said, adding both died on the spot.
Police have not ruled out the possibility of the attack being an ambush.
Expressing concern, a senior government employee told ThePrint that not just militants, but even common people seemed to be hostile towards them.
Increased militant attacks in south Kashmir
The militant attack and the explosion in Srinagar come in the midst of intelligence agencies warning about heightened militant activities in Jammu and Kashmir.
The intelligence reports also suggest a spike in the use of Improvised Explosive Devices (IED) by militants not only in areas with heightened militancy such as in south Kashmir but also in Srinagar.
In the last three weeks, there have been at least three instances of security forces defusing IEDs in different areas of Kashmir, including Qazigund, Wanpoh and Pampore.
According to senior security officials in the Valley, militants operating in different parts of J&K have been making repeated attempts to establish their presence in Srinagar.
Ravideep Sahi, Inspector General of CRPF, told ThePrint Tuesday that militants have been trying to make inroads in Srinagar, but have not been able to gain a foothold yet. 
From the beginning of this year until July, five militants have been killed in Srinagar in different gun battles, according to government data.
Although south Kashmir has not seen major attacks by militants since the revocation of Article 370, counter-insurgency operations have been affected. 
According to police data, a total of 154 militants have been killed in gun battles across Kashmir in the first seven months of this year. In the last four months, security forces have killed 20 militants, including Pakistani nationals and locals.
A total of 37 militants were killed in Shopian, followed by 19 in Pulwama, 18 in Anantnag, 15 in north Kashmir's Sopore and 13 in south Kashmir's Kulgam district. Five militants were killed in Srinagar and three in Ganderbal, according to government data. 
As of now, nearly 300 militants are active in J&K, according to security officials.
---
Also read: Two CRPF jawans killed in Kashmir militant attack
---