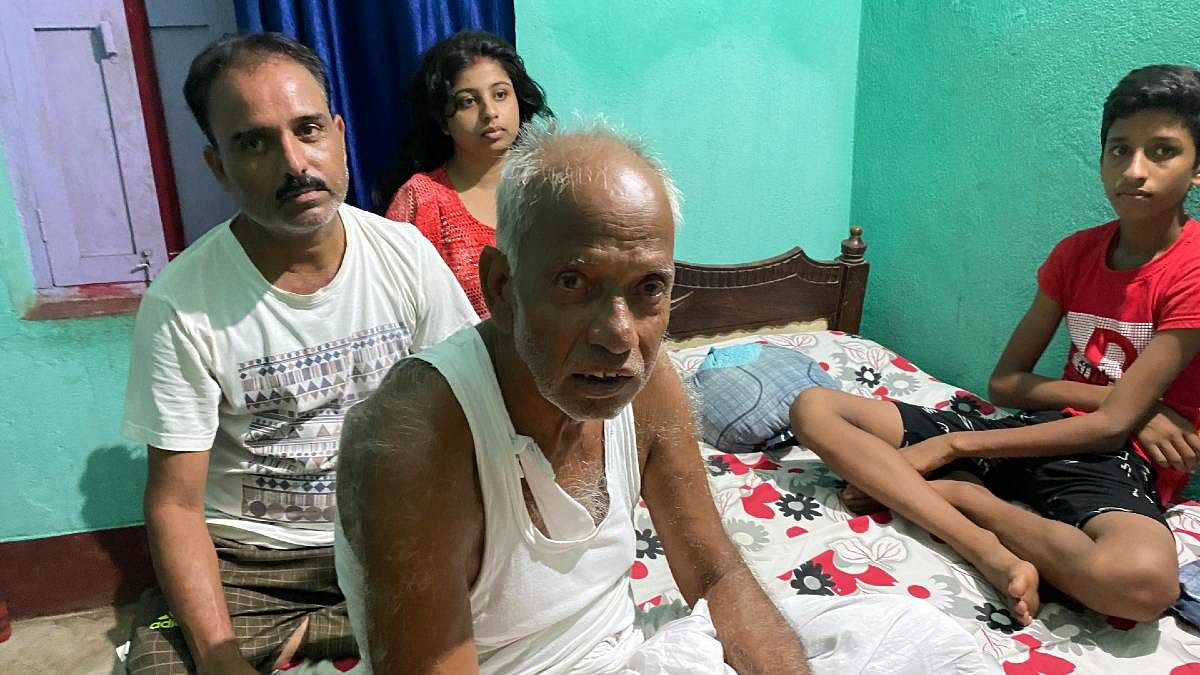 Dumka, Jharkhand: The murder of a 16-year-old girl in Jharkhand's Dumka, allegedly by her Muslim "stalker", has spelt fresh trouble for the Jharkhand Mukti Morcha (JMM)-led coalition government, with top BJP leaders terming the incident a case of "love jihad" and targeting a senior police officer, Dumka DSP Noor Mustafa, for allegedly attempting to save the accused.
Meanwhile, Hindutva outfits like the Karni Sena and others have carried out protest marches, demanding justice for the deceased, and even prevented the police from cremating her body late on Sunday night, on the ground that it was against Hindu religion. She was cremated early Monday morning.
The Vishwa Hindu Parishad too has jumped into the fray, giving the incident a communal colour. VHP's Jharkhand's prant pracharak Virendra Sahu issued a statement Monday demanding "death by hanging" for the "jihadi" accused, and security for the deceased's family.
The volatile law and order situation has forced the police to clamp 144 CrPC in the district, which bans all kinds of processions, rallies and demonstrations.
In the wee hours of 23 August, as 16-year-old Ankita lay fast asleep in her small room at Jaruadih kasbah in Dumka, Shahrukh Hussain, 23, who had been allegedly been stalking her for the past fortnight, tiptoed behind her room from outside and through the open grilled window, allegedly poured petrol on her.
Ankita, lovingly called Chhoti by her family, woke up after feeling a wet sensation, her family recall her as saying. As she was getting up, Shahrukh allegedly threw a lit matchstick at her and fled. Writhing in pain, the teenager rushed to the next room where her father was sleeping with her youngest brother, shouting for help.
"I got up hearing the commotion and saw a bundle of flame coming towards me. It was a terrifying moment. Chhoti kept saying — save me papa, save me papa", Ankita's father Sanjeev Singh told ThePrint, sitting on a bed at the sparsely furnished, small two-bedroom house, where his daughter was set on fire.
Singh, who works as a helper in a grocery store earning Rs 324 a day, rushed his daughter to the Dumka Medical College with the help of neighbours. Next day, the hospital referred her to the Rajendra Institute of Medical Sciences, Ranchi, Jharkhand's biggest hospital, where on 28 August — after putting up a brave fight for five days — Ankita lost the battle for her life.
She had been studying in Class 12 in Government Girl's Senior Secondary School in Dumka.
The accused Shahrukh, and his accomplice Naeem alias Chhotu Khan, have since been arrested by Dumka police. Notwithstanding the arrest, Dumka, which also happens to be the pocket borough of Jharkhand chief minister Hemant Soren's family, has been on the boil since Sunday, soon after Ankita's death.
Ankita's murder has also sparked a massive backlash from the opposition BJP, which has blamed the Hemant Soren-led coalition government of picnicking while she died of alleged negligence.
The bitter political face-off between the BJP and JMM-led alliance comes at a time when CM Soren is on a sticky wicket in the office-of-profit case. The Election Commission of India, had on 25 August given its opinion to the Jharkhand governor, Ramesh Bais, regarding Soren's disqualification as a member of legislative assembly. Bais is yet to convey his decision in the matter.
On Monday night, Bais also tweeted, expressing condolences to Ankita's family. He said he has spoken to the Jharkhand director general of police and expressed his "grave concern" over the deteriorating law and order situation in the state.
माननीय राज्यपाल ने दुमका की अंकिता की मौत पर गहरा दुःख व शोक व्यक्त किया है। उन्होंने अंकिता के परिजनों से बात कर उनके प्रति गहरी संवेदना व्यक्त की।
राज्यपाल महोदय ने पुलिस महानिदेशक से वार्ता कर राज्य में बिगड़ती हुई कानून-व्यवस्था पर गंभीर चिंता प्रकट करते हुए नाराजगी जताई है।

— Governor of Jharkhand (@jhar_governor) August 29, 2022
Senior BJP leaders in the state were not to be left behind. Former CM Raghubar Das called the incident a "love jihad" case and demanded justice for Ankita.
मानवता और झारखंड दोनों शर्मसार हैं।

लव जिहाद की शिकार हुई बेटी अंकिता के परिजनों से आज बात हुई। उनका दुख बांटा नहीं जा सकता है।

मुख्यमंत्री और स्थानीय विधायक ने घायल अंकिता की सुध तक नहीं ली।

तुष्टीकरण में लिप्त इस गूंगी-बहरी सरकार को जनता सबक सिखाएगी।#JusticeForAnkita pic.twitter.com/LnpQhEK2XG

— Raghubar Das (@dasraghubar) August 29, 2022
Another former BJP CM from the state, Babulal Marandi also gave a communal angle to the incident and claimed that Dumka DSP Noor Mustafa is trying to save the accused by showing that Ankita was an adult (over 18 years).
#justiceforAnkitaKumari #JusticeForAnkita pic.twitter.com/fxM0FDqhwB

— Babulal Marandi (@yourBabulal) August 29, 2022
Jharkhand BJP MP Nishikant Dubey has also demanded the dismissal of Dumka DSP Noor Mustafa.
48 घंटे का वक़्त है झारखंड सरकार को नूर मुस्तफ़ा जैसे भ्रष्टाचारी पुलिस पदाधिकारी,संबंधित थाने पर कार्रवाई करने के लिए,इसके बाद मैं ख़ुद सांसद @ManojTiwariMP जी व @KapilMishra_IND के साथ दुमका पहुँचूँगा,अंकिता को न्याय मिलकर रहेगा,बहू बेटी बहन की सुरक्षा के लिए सरकार को झकझोरेंगे https://t.co/ky28gGvGsv

— Dr Nishikant Dubey (@nishikant_dubey) August 29, 2022
The political heat building up around the Ankita death case led CM Hemant Soren to announce a compensation of Rs 10 lakh for Ankita's family. He also gave directions to the DGP to expedite the investigation and try the case in fast track court.
अंकिता बिटिया को भावभीनी श्रद्धांजलि। अंकिता के परिजनों को रु 10 लाख की सहायता राशि के साथ इस घृणित घटना का फ़ास्ट ट्रैक से निष्पादन हेतु निर्देश दिया है।
पुलिस महानिदेशक को भी उक्त मामले में एडीजी रैंक अधिकारी द्वारा अनुसंधान की प्रगति पर शीघ्र रिपोर्ट देने हेतु निर्देश दिया है।

— Hemant Soren (@HemantSorenJMM) August 29, 2022
---
Also read: 'Thorough lawlessness' — SC pulls up Jharkhand govt over journalist's midnight arrest
---
'I could not save my Chhoti'
Ankita's father, meanwhile, is inconsolable.
He claimed that the day before the incident happened, Shahrukh had called Ankita around 8 pm and asked her to talk to him. "When she refused, he threatened to kill her the next day," he said.
Ankita narrated the conversation to her father, when he returned home from work around 10 p.m, Singh claimed.
"I told her that it's already late and I will go to Shahrukh's house and talk to his mother the first thing the next day. But that day never came," a desolate Singh said.
At 4 a.m., Shahrukh allegedly threw petrol on Ankita before throwing a lit matchstick at her. "I will always live with the regret that I could not save her," said Singh.
He also regrets the fact that Ankita did not tell anybody in the family about how Shahrukh was allegedly stalking and harassing her.
"I got to know when she gave her statement before the magistrate at the hospital that he was stalking her for about a fortnight. She was afraid to step out of the house," he claimed.
According to Singh, Ankita said that Shahrukh had got her phone number from a common friend and had been continuously calling and harassing her for a fortnight before the incident.
Ankita's elder sister Ishika,18, claimed that she (Ankita) would tell her everything before she got married about eight months ago.
"I was her best friend after our mother's death. But I could not come to the house frequently after my marriage. There was nobody else in the house with whom she could share what she was going through. My grandparents are too old," Ishika said.
Her father, Ishika said, left for work early in the morning and returned at night, tired. "Knowing Ankita, she must not have wanted to bother him with all this when he returned from work."
The small house in Jaruadih in old Dumka, a lower middle-class neighbourhood with a mixed population of Hindus and Muslims, is also home to Ankita's younger brother Mayank, and her grandparents.
Took tuitions to earn money, fund her studies
Ishika said her family has been facing a lot of financial difficulties since her mother was diagnosed with cancer. She passed away a year back.
"My father spent his meagre savings on my marriage and our mother's treatment in Mumbai," Ishika said.
But despite the financial hardships, Ishika said her younger sister had always been cheerful and full of life. "Woh bahut chanchal aur hasmukh thi," she said, adding that she was the one who literally managed the house after her mother's death.
Ankita's neighbour Alok Ranjan, who teaches in a private institute said that she had wanted to become an IPS officer.
"She was good in studies and was studying hard to fulfill her dreams. She knew that her father was struggling to feed her. So she took tuitions to fund her studies. She was earning around Rs 1,000 a month," Ranjan said.
---
Also read: Soren playing 'emotional card', don't blame BJP for 'black deeds' of JMM govt, says Raghubar Das
---
Doctors in Ranchi hospital neglected her
Ankita's father alleged negligence on the part of the doctors at RIMS Ranchi.
She had suffered 65 per cent burns, doctors at the burns ward of the hospital told her father and one of their neighbours, who had been with him.
"She was talking to us. On 28 August, till about 12:30 am she was fine. Around 1:15 am she started feeling uneasy. I rushed to the ICU to call the shift doctor, who was sitting there. But he came 45 mins late," alleged Pankaj Sharma, a close friend of Ankita's father, who had been present at the hospital at the time of Ankita's death.
By the time the doctor came, Ankita's condition had deteriorated, he claimed. "They told us that we should take her to some other hospital. But before we could arrange anything, she passed away," he said.
Ankita's alleged stalker and killer, Shahrukh, lived some 200 metres away from her house, with his mother, elder brother and a sister.
Since the day Ankita died, neighbours claimed Shahrukh's family has left for an unknown location. ThePrint visited his house Monday, but found the main door blocked by wooden planks.
Rukhsana Khatun, Shahrukh's neighbour told ThePrint that the family left fearing harassment.
"They have been living here for the last 20-25 years. After Shahrukh's father died, his maternal uncle brought the family here and gave them a room to stay. His elder brother Salman, a car mechanic, was the one who ran the family. Both the brothers had left studies long back," Rukhsana said.
Another neibour, who did not want to be named said Shahrukh used to take whatever work he could lay his hands on. "He was different. He used to bring all kinds of people to his home. His friends came on bikes," she said.
Administration to requisition trying the case in a fast track court
Amber Lakra, Dumka superintendent of police, told ThePrint they will ensure that the charge sheet in the case gets filed within a month. "We will also give a requisition to try the case in the fast track court."
Lakra claimed that Shahrukh has already confessed to the crime.
"We also have Ankita's dying declaration at the hospital, where she has accused Shahrukh of throwing petrol and burning her. She has said that Shahrukh used to stalk her whenever she stepped out of her house. We have a tight case," Lakra claimed.
Ravi Shankar Shukla, Dumka deputy commissioner told ThePrint over the phone that according to directions of CM Hemant Soren, he had handed over a cheque of Rs 9 lakh to Ankita's father Monday. "We had given her father Rs 1 lakh earlier for treatment when she was admitted in Dumka hospital from the Victim Compensation scheme."
Shukla said that the administration is providing all possible help to the family to ensure that they are safe.
(Edited by Poulomi Banerjee)
---
Also read: Jharkhand Congress MLAs detained with cash in Bengal, party slams it as 'Operation Lotus'
---