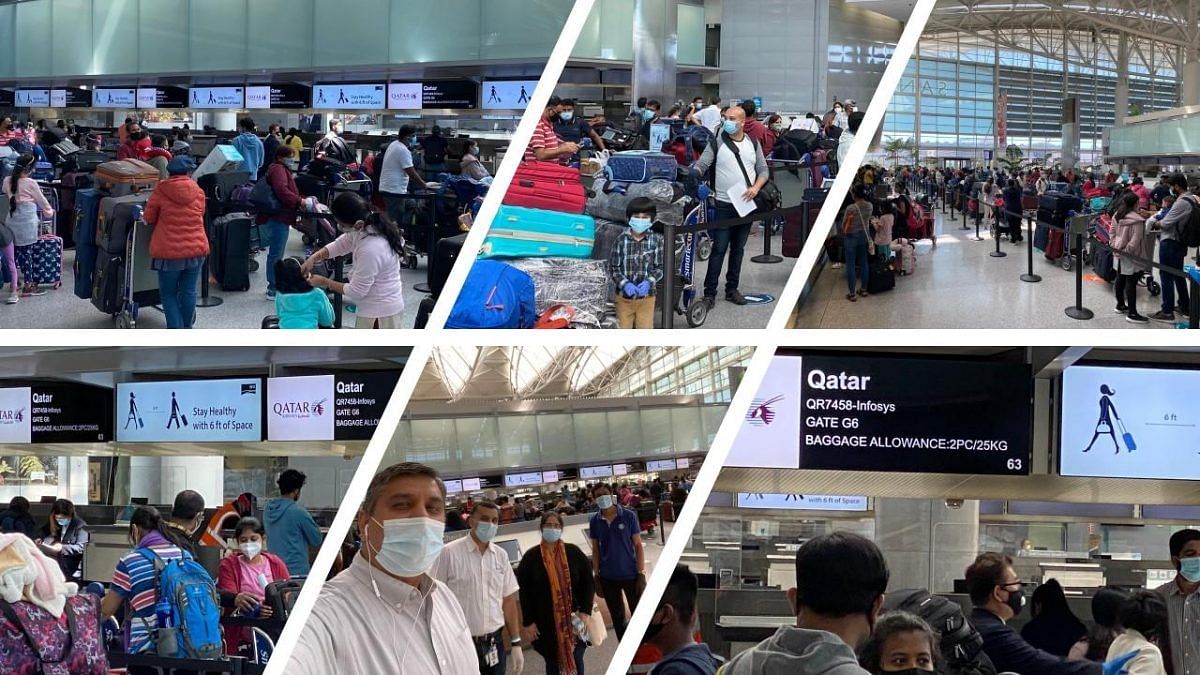 Bengaluru: As many as 76 Infosys employees and their families stranded in the US were brought back to India in a flight chartered by the IT giant. Among those brought back were employees whose work visas were awaiting renewal or had expired.
Sanjeev Bode, an associate vice president at Infosys, took to Linkedin Monday to post about the development, stating how "Infosys came to the rescue".
"When the going gets tough, the tough get going. #COVID has impacted our lives in unimaginable ways. Some of the Infosys employees were stranded in the US because of their visa expiration. All international flights were suspended because of the pandemic," his post said.
"The company booked the first ever chartered flight exclusively for 200+ employees and families from US to India. At the time of writing, the flight had landed safely in Bangalore, bringing an end to weeks of dilemma related to the uncertain situation," he said.
The Bengaluru-headquartered company has 17,709 employees employed in the Americas, according to the company's annual report. With all international flights suspended, many of these staffers sought help to return to India.
US President Donald Trump's recent announcement of a freeze on work visas has added to the fears of many Indians who are employed in the country on these visas, especially those in the technology sector.
Concerns over the possibility of US not renewing these visas led Infosys to decide to transport 206 people, including employees and their families, back to India, a source told ThePrint.
Of the 76 employees who were brought back, most were working in the US under an H-1B or L-1 visa. Some had sought an extension of their visa, but the pandemic had delayed the process as embassies were shut down, forcing officials to work remotely across the world.
The 76 families took a Qatar airways flight from San Francisco and landed in Bengaluru late Monday evening, a source told ThePrint. Soon after this, many of the employees of Infosys took to social media to laud the firm for its gesture.
Great effort to provide much needed relief to many infoscions and their families to get home.. #proudinfoscion .. coming together as a team so important in dealing with #covid https://t.co/dhdxcp0yr1

— Narsimha Rao (@Narryhyd) July 6, 2020
Post below says it all. #proudofmycompany #ProudofInfosys #leadershipbyexample #empathyatwork Infosys Chartered flight took off from #SFO Last night bringing employees & families back home. Not the first time, back in 2005 during #Hurricane Rita Infosys…https://t.co/eCPsJEioYL

— Nageswar Cherukupali (@Ncherukupalli) July 5, 2020
Welcoming Infoscions and family! Returning on a special flight from the US after the lockdown! Teams coming together to make this possible! Teamwork is Dreamwork @Infosys @imravikumars @Narryhyd pic.twitter.com/pLIdeMXSmI

— nanjappa bs (@nanjappa_bs) July 6, 2020
This is not the first time that Infosys has chartered a flight to ferry employees. During the Bhubaneswar floods, the IT major chartered a flight to transport 500 staffers to other centres to ensure its business was not disrupted.
(Co-founder of Infosys, N.R. Narayana Murthy is among the distinguished founder-investors of ThePrint. Please click here for details on investors.)
---
Also read: 'Surprised' at US asking foreign students to leave, India could raise visa issue in talks today
---