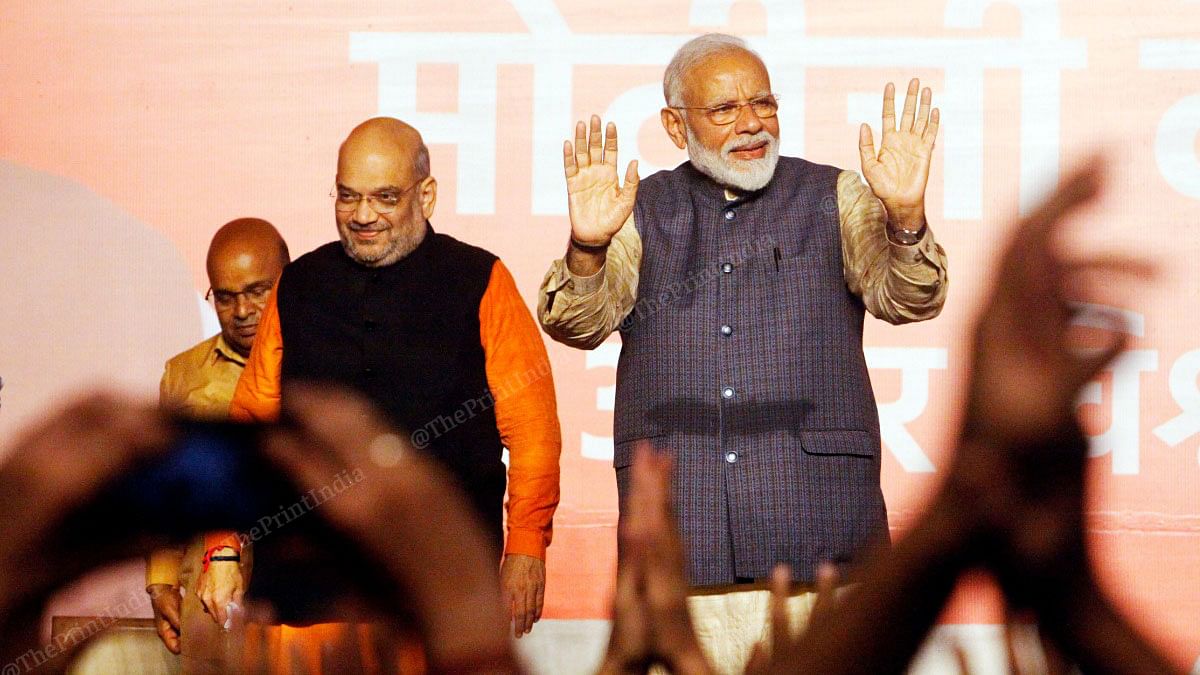 Here are a dozen quick takeaways from me on the 2019 verdict as the trends become clear:
1. The BJP and the Congress fought with fundamentally different strategies. The BJP wanted to make it a national presidential-style contest. The Congress and its allies tried to make it 543 individual elections. They failed. The BJP succeeded spectacularly in making it a presidential election, and with only one candidate: Narendra Modi.
2. The Congress walked into the trap deeper. It didn't bother offering even a notional alternative, and also decided to focus its attack entirely on Modi. It is hard to fight to your adversary's strength. It can also be foolhardy if you do not have a convincing message. Of the one-and-a-half planks the Congress built its counter on, Chowkidar Chor Hai (Modi is corrupt) and Rafale (the half) failed to excite anyone except the committed Congress voter. Confusing the "chor" echo at Rahul's rallies with a change in the larger public mood, especially when you begin with a 10-15 per cent negative gap from 2014, is like taking retweets for votes.
---
Also read: Rahul Gandhi must decide if Congress is a European NGO or a party in nationalist India
---
3. "Love and tolerance" sound wonderful and heart-warming, but in a congregation of the faithful. Voters need a positive offering. For Congress-Rahul, it was NYAY. It was too complex, too late. In 10 weeks of travels across India during the campaign, I did not find one likely beneficiary who had even heard of it. Happens when you have a scheme designed with incredible clumsiness — happens also when you ask French-Left economists to game the poorest Indian voter. Data shows that nearly half the voters did indeed hear about NYAY, but they were the upper half. So those who were to get NYAY knew nothing about it. Those who were to pay for it mostly did. You can add it up.
4. Amit Shah and Narendra Modi (putting Shah first is deliberate) did an enormously better job of building alliances. To be fair, the front-runner is a stronger magnet. But they also showed much greater large-heartedness. The clearest example is the space given to Nitish Kumar in Bihar. Compare it with the Congress cussedness in UP, Delhi and Haryana. In short, the BJP built alliances looking at the future, the Congress stayed obsessed with its glorious past.
---
Also read: Amit Shah has more than rattled Mamata Banerjee in Bengal
---
5. With the exception of Kerala and Punjab, the BJP march has only been stopped by regional parties. This includes Tamil Nadu. Kerala is early days for the BJP, though the devastation of the Left is opening up that space. In Punjab, you see a stark truth play out that Congress usually detests: A state leader who can win by himself, even stop a wave. This makes the BJP's strategy easy: Target directly the states where the Congress is the main rival. Go sign up regional forces elsewhere. Watch out for YSRCP in Andhra and KCR in Telangana going ahead. Naveen Patnaik in Odisha is a deal already half done.
6. You can blame the media with much justification. The BJP has used political power brilliantly to build or buy its own media, and to put down what remains, or aspired to remain, objective. But, having accepted that, what story did the Congress offer? Even Rahul's big media interviews came in the last phases of the polls. To anybody watching this closely, it was evident that the Congress was blundering into delusion over impact on Twitter and applause of the faithful.
---
To get the latest updates on the Lok Sabha election results, click here
---
7. Modi critics will never give him the credit for it, but his government was incredibly efficient at the delivery of key welfare programmes. I had written two articles recently: One on the five areas on the economy/infrastructure where BJP had done phenomenally better than UPA-2, and the second on the four reasons that put it ahead of the competition. Two among these are the electoral equivalent of killer apps: A pan-national upper caste vote bank that counters lower-caste/minority combinations and very low inflation, which anaesthetised joblessness and individual economic distress in the short term.
8. In the past five years, the Congress party's high point wasn't so much its wins in Chhattisgarh, Madhya Pradesh and Rajasthan as running Modi so close in Gujarat in the winter of 2017. It made two things evident: One, that rural and farmer distress were hurting BJP voters. And two, that since Modi had no quick fixes, he would switch to a three-point campaign of nationalism, Hinduism and corruption-busting, with the first as the central prong. This is where his challengers failed. I can write a whole article on this and may be some of you an entire thesis. But you cannot fight the still-young Indian nationalism with the woolly-headedness of the European Left. I bet you a meal anywhere, including in Khan Market (sorry Modi ji, if it's a copyright violation) that too many of the geniuses who inserted those promises to repeal the sedition law, dilute AFSPA and Aadhaar live in another country, if not another planet. Indira or Rajiv Gandhi would be aghast. Is it a good idea to liberalise these laws? Editorially, yes. But then go get your votes from editorialists.
---
Also read: Not Gandhi dynasty, but a Narasimha Rao-like figure can save the Congress now
---
9. One highlight of our travels during the campaigns over the past decade is a rising aversion of the young to dynastic entitlement and elitism. From Gujarat to Tripura and Jammu to Thiruvananthapuram, one consistent view is: Nice guy, but Rahul has no experience yet. Why did he not handle a ministry and learn when his party was in power for 10 years? Non-committed voters are more brutal: What does he do to earn his living and fund his lifestyle? I'd also love to be a trained diver, pilot, martial arts black belt. But how would I pay for it? How does he? As we've been saying for a decade now, and recording in my 'Writings On The Wall' series, India is seeing the rise of a generation of post-ideological, I-don't-owe-you-or-your-parents-nothing generation. Very few go to JNU. They just compare earthy, self-made Modi deservingly living it up now with Rahul merely living out his elite entitlement.
10. What was Priyanka Gandhi doing? She was used as a guest artiste and never as a strategic asset. The Congress's obsession with a UP revival is self-destructive. She might have made greater difference in Rajasthan, MP, Karnataka and Maharashtra, where the party was in a straight shoot-out with the BJP. She was the most convincing Congress campaigner, and wasted in eastern UP.
---
Also read: After bursting onto the scene, Priyanka Gandhi's political route looks a lot like Rahul's
---
11. Modi plugging his achievements is fine. Rahul can counter him. Show me when Rahul listed UPA-2's formidable achievements. T.N. Ninan had listed these in his usual pithy 500-odd words. Between 2009 and 2014, 10 Janpath, egged on by the extra-constitutional centre of power NAC, spent five years undermining its own government because the durbaris couldn't stand outsider Manmohan Singh winning a bigger second term. I had then called it the Congress party's auto-immune disease, a withering condition when, as we know, a body's immune system turns on itself. That hasn't changed.
12. And finally: Think about the Left. It will fail to cross two figures nationally, score a zero in its bastions of West Bengal and Tripura, and get most of its 5-6 seats from Tamil Nadu, hanging on to the DMK and the Congress, which it opposes nationally.
We can sum up as follows: Conventional wisdom has it that the loser learns more from defeat than the winner. Between the Congress and the BJP, they've reversed that logic.