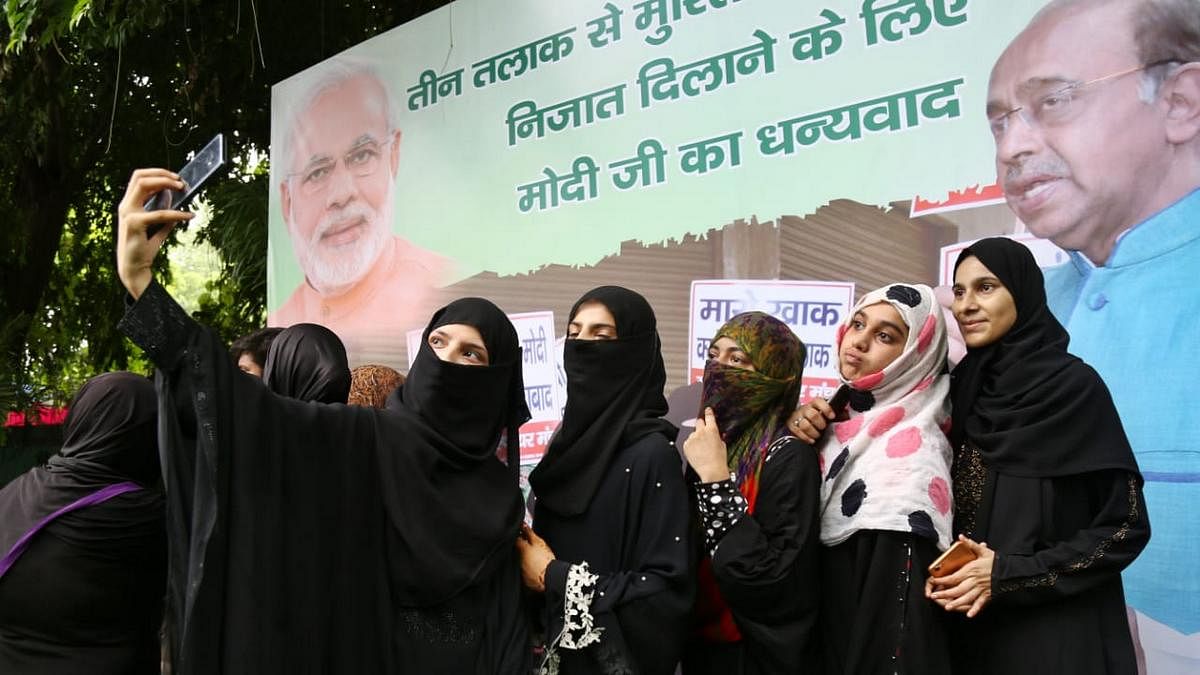 New Delhi: The contentious bill to raise the marriage age of women from 18 to 21 years — Prohibition of Child Marriage (Amendment) Bill, 2021 — may have been sent to the Parliament's standing committee but its political intentions are becoming clearer by the day. 
The proposed law, it now appears, is one more logical step in the Modi government's well-thought-out and one-move-at-a-time strategy to push India towards a Uniform Civil Code (UCC) without actually needing to enact one. 
The arguments by the ruling and Opposition party members around the proposed law are ranging from women's health and career, their right to choose, their family's socio-economic conditions and so on.
However, a deeper look into the chain of events chronologically, since 2019, gives the context about how the government has been planning and taking baby steps towards a bigger change central to the key political goals of the ruling BJP.
---
Also Read: Same family laws for all faiths — what's Uniform Civil Code, and what courts say about it
---
Inching towards a uniform civil code?
In its 2019 sankalp patra (manifesto), the BJP spelled out a few central, and ideologically loaded, promises: The abrogation of Article 370 that granted special status to Jammu & Kashmir, the construction of the Ram temple in Ayodhya, the prohibition of triple talaq — and the introduction of a UCC in place of a variety of personal laws that govern matters such as marriage, divorce, custody and inheritance within different religious communities.
The party has managed to meet each of these promises since then except the last, which happens to be the trickiest of all.
The BJP's quest for a uniform civil code, of course, is not new. Even in the 1998 general elections, the party's manifesto included a promise to formulate a UCC based on "progressive practices" that would benefit women across religions by giving them property rights, removing discriminatory clauses in divorce laws, and putting an end to polygamy, among other things.
This conception of "gender justice" carried forward to the party's 2004 vision document, and also the manifestos for 2009, 2014, and 2019.
In June 2016, the Modi government delegated the Law Commission to "examine matters in relation to uniform civil code", the result of which was an August 2018 consultation paper on "reform of family law".
The Law Commission's reflections and recommendations, which ran to more than 180 pages, were perhaps not what the government might have hoped for, but it provided something of a road map.
The paper noted that "discriminatory" laws needed to be addressed but a UCC was "neither necessary nor desirable at this stage".
Instead, it suggested that "making piecemeal changes to laws wherever necessary" would be a better strategy. The BJP seems to have taken this to heart, especially since it understands well that trying to bring about blanket changes in personal laws will likely lead to massive protests across communities.
That doesn't mean that nothing can be done to work towards the greater goal, albeit one small step at a time.
Within about two months of the BJP being voted back to power for a second term in May 2019, Parliament approved a bill criminalising triple talaq, an Islamic law that allows a husband to divorce his wife instantly.
The wheels were set in motion for the next 'gender justice' project in June 2020, when the Ministry of Women & Child Development (WCD) constituted a 10-member committee to look into women's age of marriage, through the lens of health, maternal mortality, nutrition, etc.
Modi, meanwhile, started doing the groundwork. In his Independence Day speech last year, for instance, the PM spoke at length about women's empowerment, and announced that a committee was deliberating over raising the legal age of marriage for women.
A few months later, in December 2020, the panel headed by former Samata Party leader and activist Jaya Jaitly submitted its recommendation that it would benefit women if the minimum age for marriage was increased.
The result is the Prohibition of Child Marriage (Amendment) Bill. With it, the Modi government is not just taking on child marriage but is also on its way to introducing some uniformity in the personal laws of several different communities — including Hindus, Muslims, Christians, and Parsis— at least when it comes to a woman's marriageable age.
The question now is, what next?
---
Also Read: Modi govt has been working for a Uniform Civil Code and we didn't even notice. Until now
---
A systematic progression
Even though the decision to raise the legal age of marriage for women is not directly linked with the UCC, it is being seen as a systematic 'progression' towards it.
The government has never wavered in its rhetoric about the UCC.
In March this year, for instance, Union Defence Minister Rajnath Singh said in a speech at the BJP's Uttar Pradesh state committee meet that the party is still "committed" to fulfilling its promise on the UCC. "Whenever we talked of Ram Mandir, people poked fun at us… we fulfilled that promise. We also fulfilled our promise on Article 370 and triple talaq. We will do what we have said about the uniform civil code also," Singh had said.
How the fulfilment of this promise might be rolled out is not certain, but there are clues.
Talking to the Print, a top Rashtriya Swayamsevak Sangh (RSS) functionary said that the government now needs to amend the personal law that permits polygamy — a clear reference to the Muslim Personal Law (Shariat) Application Act, 1937.
The functionary also expressed outrage over issues in Sharia law such as the lack of rights and compensation afforded to divorced women. "Other personal laws, including the Hindu Marriage Act, allow the woman to demand her right on property," he said.
It is also instructive to look at recent statements made by RSS chief Mohan Bhagwat. In October this year, Bhagwat made an interesting reading choice during his Vijayadashami speech: a resolution that the all-India executive committee of the RSS had passed back in 2015.
This resolution spoke of the need to address the purported "demographic imbalance" in India, namely an "increase" in the ratio of Muslims in the population. The resolution articulated anxieties around Muslims "outnumbering Hindus" and the need for a new population policy, even though the fertility gap between Hindu and Muslim women has been shrinking rather than increasing, according to a Pew report released this September.
Prime Minister Modi also described having a small family as a sign of "patriotism" in his 2019 Independence Day speech, and, earlier this month, Rajya Sabha MP and BJP leader Kirodi Lal Meena brought up the need for a population control bill during the winter session of Parliament, despite the fertility rate in India dipping below the replacement rate.
---
Also Read: How RSS chief Mohan Bhagwat dusted off a 6-year-old document to set new agenda for Modi govt
---
The Sangh's view on proposed law
Ram Madhav, a member of the RSS national executive, told ThePrint that it was time for everyone to start thinking of the "girl child" and her education and career rather than being in a rush to "marry her off".
He denied that the proposed new law had any direct connection with the UCC, although he said it remained a desirable goal.
"The government banned regressive laws like triple talaq. These are all progressive steps towards a balanced inclusive society. As far as the UCC is concerned, it is good for the country and there are several judgments on the need for it. The courts, starting from the 80s, said that the government must consider a common code in the country for all communities," Madhav said.
According to him, it is wrong of Opposition leaders to make the issue about "Hindus and Muslims".
"Left parties and some other Opposition members are saying that if a girl can choose the government at 18, then why not a partner? Is it the same?" Madhav asked, adding that arguments that some families make girls marry young for socioeconomic reasons do not hold water either. "They are trying to say that girls are commodities and they just need to be married off? Is that their argument?" he said.
Concerns about 'covert implementation' of UCC
Several Muslim leaders and members of the Opposition told ThePrint that they believe the Prohibition of Child Marriage (Amendment) Bill is an attempt to covertly implement the UCC.
Others said they objected to the lack of consensus-building before tabling the bill, while some claimed the move appeared to be aimed at winning political points ahead of the assembly polls in UP.
According to E.T. Mohammed Basheer, an MP who belongs to the Indian Union Muslim League (IUML), the new bill reflected a trend towards encroaching on religious personal laws. "The Modi government has already tweaked the divorce law of Muslims and now it is targeting marriage," he said, adding that inheritance and adoption may be next on the agenda. "This is surely a step-by-step way forward to the uniform civil code," he said.
Basheer told ThePrint that the IUML has already spoken to like-minded parties, including the Left and the Congress, and might explore seeking a legal remedy.
Asaduddin Owaisi, Hyderabad MP and All India Majlis-e-Ittehadul Muslimeen (AIMIM) chief, said the decision was "unilateral".
"To bring UCC, the government has to amend all personal laws including the ones of tribal people… According to the Law Commission, implementation of UCC is not practical. So, we do not know what the government is up to," he said.
Former Union minister and senior Congress leader Salman Khurshid also pointed out that the lack of consensus-building was problematic and there needed to be "more debate and deliberation". "This may be a signal to the minority that there would be another diktat coming. It outweighs an individual's right," the Congress leader added.
When asked for his views, former Union minister and Congress leader P. Chidambaram said his party would ask for the bill to be referred to the select committee, and he preferred to reserve his opinion for now.
It was later the same day that the bill was referred to the standing committee.
On Twitter, he expressed support for the age increase, but said it should be preceded by a year-long educational campaign on the benefits of the move.
But the amended law should come into force on 1-1-2023 or later

The year 2022 should be used for a massive educational campaign on the benefits of marrying only after a boy or girl attained the age of 21 years

— P. Chidambaram (@PChidambaram_IN) December 18, 2021
Congress Rajya Sabha MP and senior advocate Abhishek Manu Singhvi listed out several things that he thought wrong with the proposed law and what it sought to accomplish.
"Firstly… to believe that merely passing laws amounts to substantive and lasting social change, is to live in a fool's paradise. Secondly, these reform measures must be debated in standing and select committees of Parliament," he said.
"Thirdly, unless a lot of work goes in to reform mindsets, all that will end up, is criminalising large chunks of the female population between 18 and 21 years. Fourthly, the measure may not be bad if accompanied by solid, supportive, nutritional, dietary, educational, and employment reforms for women between 18 and 21 years," Singhvi added.
Senior Congress leader Adhir Ranjan Chowdhury linked the bill to the UP elections. "I think this is another ploy to polarise people along communal lines before the UP election. They might now say that they will bring UCC and portray this as a precursor," he told ThePrint.
(Edited by Asavari Singh)
---
Also Read: How Ambedkar, Munshi & Krishnaswamy Ayyar argued for Uniform Civil Code at Constituent Assembly
---