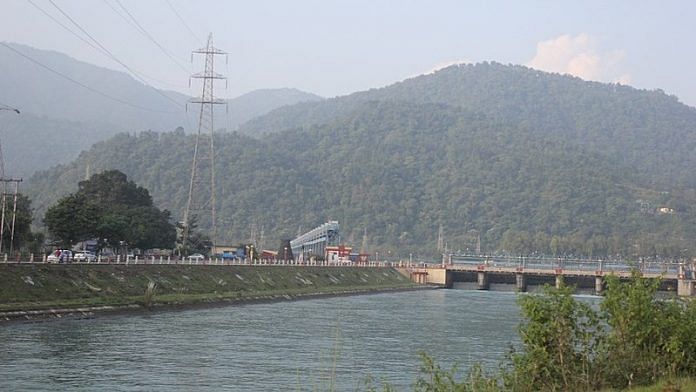 New Delhi: A graded fee system for water users, independent regulatory authorities in all states and finding cost-effective alternatives to constructing more dams — these are some of the major recommendations in the draft National Water Policy, 2020, government sources have told ThePrint.
The graded fee system has been designed to help the government recover operations and maintenance costs, while the new regulatory authorities will have a clear mandate to fix water charges. The recommendation on finding alternatives to dams to augment water supply, meanwhile, marks a significant departure from past policy.
The draft National Water Policy was submitted to the Union Ministry of Jal Shakti last month by an 11-member high-level committee headed by water policy expert Mihir Shah, a member of the now-defunct Planning Commission. The ministry, government sources said, is currently going through the recommendations. Eventually, it will be up to the states to implement the new policy.
Apart from Shah, the high-level committee also includes former water resources secretary Shashi Shekhar, former Central Ground Water Board chairman, A.B. Pandya, and former heavy industries and public enterprises secretary R.C. Panda. It was constituted by the Jal Shakti ministry in November 2019 to update the current National Water Policy, which was drafted in 2012.
U.P. Singh, Jal Shakti secretary, did not respond to ThePrint's phonecalls and text message asking for a comment for this report.
Independent water regulators & new fee structure
A government source, who did not wish to be identified, detailed the recommendation to set up independent water resources regulatory authorities, pointing out that currently, only Maharashtra has a functional authority of this kind, but even that does not have the power to fix tariffs for domestic water usage.
Other sources said the Mihir Shah-led panel batted for an affordable basic service fee for every user to cover the operations and maintenance cost. But it also recommended that while economic service for commercial and industrial usage should be charged at an "economic cost", vulnerable sections of the society should be charged at a concessional rate.
---
Also read: Govt procurement policy of wheat, rice aggravating water crisis — draft National Water Policy
---
"The draft policy has recommended that operation and maintenance cost should be fully recovered through water service fees," a second government source told ThePrint.
Besides, the draft National Water Policy also recommends setting up water meters at all levels across the distribution network. At present, many states including Maharashtra, Haryana, Bihar and Uttar Pradesh have fixed user charges for water, but they are too nominal and inadequate compared to the expenditure incurred in providing the service.
For instance, Haryana has fixed a flat rate of Rs 40 per month as water fee in rural areas for general category and Rs 20 for those belonging to the backward classes.
The committee said in many places, the farmers were not willing to pay the fee, leading to a "steady deterioration" of public irrigation infrastructure, and also impacting the quality of services.
In another departure from the past, the committee has also proposed empowering water users' associations to collect and retain a portion of charges. "The idea is to adapt a participatory approach by involving the community. And it will also make them accountable," said the second source.
A government taskforce set up to finalise the ambitious Rs 111 lakh crore National Infrastructure Pipeline had, in its February 2020 report, also recommended that infrastructure ministries need to work out ways to recover costs of economic infrastructure services through rational user charges that are indexed to inflation. It pointed out that while for a consumer, the lowest possible price is desirable, from a practical point of view, given the limited availability of budgetary sources for creating infrastructure assets, not all of it can be provided free or at a subsidised rate.
Moving away from more dams
The panel has also asked the government to shift its focus from building dams, a third government source said.
The draft policy mentions that there have been huge delays and massive cost escalation in construction of large and medium dam projects. There are unacceptable social and environmental costs, including submergence of large tracts of fertile lands and forests, loss of biodiversity and fragmentation of riverine ecology, the source said.
The timing of the proposal is significant, because the Narendra Modi government is pushing to build a 77-metre high dam across the Ken river, near Daudhan village in Madhya Pradesh, as part of the proposed Ken-Betwa river-linking project.
"The previous water policies primarily emphasised on the supply side, through construction of reservoirs and dams. This draft policy focuses on improving efficiency and river restoration. That's a paradigm shift," said the third source.
---
Also read: How the business of water scarcity can be tackled in India
---