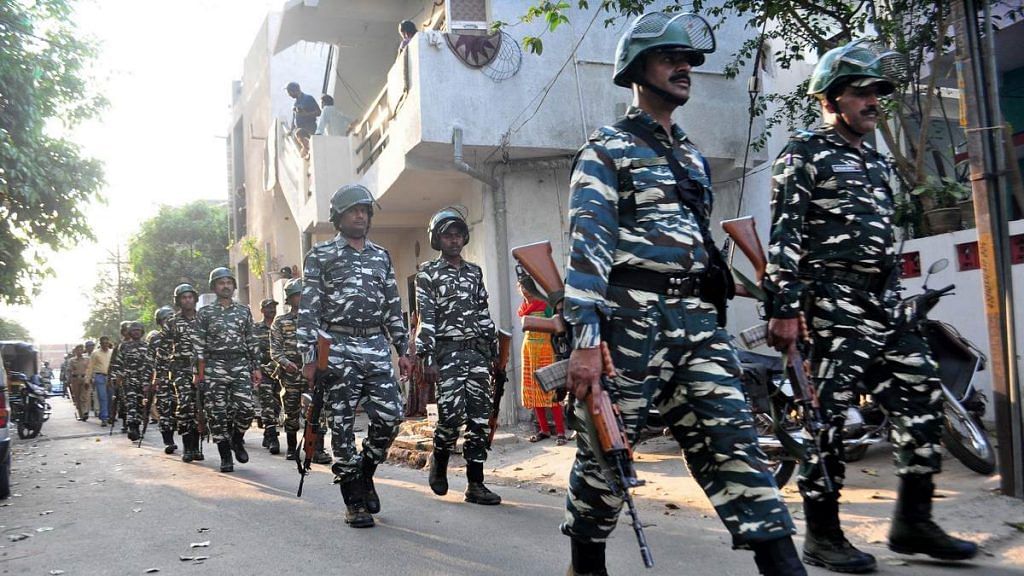 New Delhi: The Modi government has flagged the problem of states not sparing officers of the Indian Police Service (IPS) for central deputation, and asked chief secretaries to "personally" look into the matter. 
In a letter dated 22 February, Home Secretary Ajay Bhalla said the "acute shortage" of officers at the Centre is causing severe cadre management issues.  
"Kind attention is invited to various communications of this ministry regarding nomination of IPS officers from state/cadre for central deputation," states the letter, which has been accessed by ThePrint. 
"There has not been sufficient nominations of IPS officers for central deputation every year from states/cadres for filling up vacancies at different levels, i.e. from Superintendent of Police to Director General in various Central Police Organisations (CPOs) and Central Armed Police Forces (CAPFs)," the letter says. 
IPS officers on central deputation are generally deployed in CAPFs like the Central Reserve Police Force, Border Security Force, Central Industrial Security Force, etc. and in Central Police Organisations (CPOs) like the Central Bureau of Investigation, National Investigation Agency and Intelligence Bureau, among others.
The letter notes that "40 per cent of Senior Duty Posts in each cadre are marked as Central Deputation Reserve (CDR) posts". 
The CDR quota is the maximum number of officers from across state cadres that can be deployed at the central level. 
In 2019, the shortage of IPS officers for central deputation had prompted the government to effect a 50 per cent reduction in the number of posts reserved for them at the central level. 
According to a December 2019 letter from the Union Ministry of Home Affairs, there were only 428 IPS officers on central deputation against the authorised strength of 1,075, or 39.81 per cent of CDR posts. 
In the same letter, the ministry informed states that the central government is reducing the CDR quota of IPS officers to about 500, from 1,075. 
However, sources in the central government told ThePrint that pending inputs from states on the matter, the exercise is yet to be undertaken. According to sources, states have been reluctant to send officers for central deputation since there are massive vacancies of IPS officers even at the state level. 
Overall, there are 4,940 IPS posts across the country, of which 970 — or 19.64 per cent — were vacant as of 2018, according to a written reply from Union Minister of State for Personnel Jitendra Singh in the Rajya Sabha.
---
Also Read: Modi govt's order to Bengal IPS officers shows federalism is back to Indira Gandhi's ways
---
'A conscious attempt'
In the February letter, Bhalla notes the 40 per cent CDR quota for Senior Duty Posts and adds, "However, it has been the experience that the offer list of some states does not contain sufficient number of names vis-à-vis CDR utilisation. Hence, states need to sponsor adequate number of officers so that posts reserved for IPS officers in CAPFs and CPOs are manned by them." 
Bhalla has urged states to make a "conscious attempt" to forward names of officers for deputation such that "every eligible officer gets an opportunity to serve at the Centre at different levels". 
The shortage, he says, is particularly acute at the DIG and SP level, which causes "considerable delay in placement of officers at the Centre and adversely impacts the entire process of selection, deputation and cadre management".  
"I would request you to kindly look into the matter personally so that sufficient number of nominations of IPS officers for central deputation may be sent for filling up vacancies at various levels, i.e. from Superintendent of Police to Director General," the letter concludes. 
The government's letter about shortage of IPS officers comes even as a stand-off continues over the subject of IPS deputation to top positions in the CAPFs.
---
Also Read: 6 years on, PM Modi's core team is in the grip of IAS, IPS, IRS officers from Gujarat
---