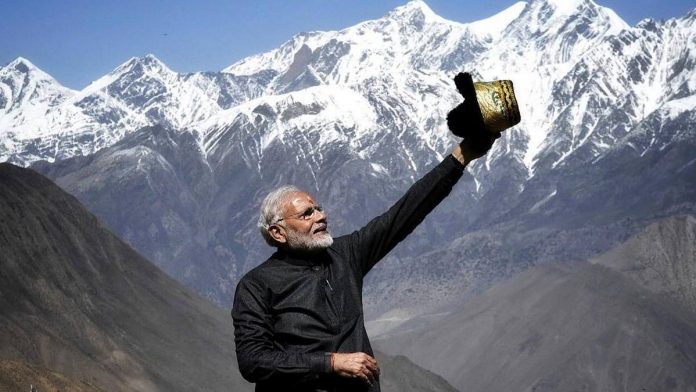 Text Size:
Narendra Modi has emerged as the most followed world leader on Instagram, millions ahead of US President Donald Trump, according to the study.
New Delhi: Prime Minister Narendra Modi has become the most followed world leader on Instagram with 15.4 million people following him on the photo-sharing platform as of early Wednesday morning.
Indonesian President Joko Widodo (14 million) comes second, with his US counterpart Donald Trump (10.9 million) rounding up the top three.
According to the latest 'Twiplomacy' study by public relations and communications firm BCW Global, published Tuesday, Instagram has become the fastest growing media platform among world leaders, governments and foreign ministers after Twitter and Facebook, with 81 per cent of the UN member states active on the platform.
The follower figures have risen since the period considered by the study's authors.
Except for Russian President Vladimir Putin and Chinese President Xi Jinping, all G20 leaders have personal Instagram accounts.
All leaders of the G7 nations (US, Canada, Japan, Germany, France, Italy and the UK) have a personal account and they have been milking the app to a T.
Meet the Pope
An unusual figure in the world of 'Instaplomacy' is Pope Francis, who is the fourth-most followed leader with 5.7 million followers.
The British royal family is eighth, after having tripled its follower count over the past 12 months, "in large part thanks to the pictures of the #RoyalWedding of Prince Harry and Meghan Markle which increased the followers by 570,000 on 19 May 2018", the study said.
Although PM Modi has posted only a total of 80 photos and videos on Instagram, which is 20 times less that Donald Trump's (1,556 posts), his interaction rate is far higher – "7.11 per cent compared to Trump's 1.58 per cent".
"India's Prime Minister Narendra Modi is the most effective world leader on Instagram, with each of his 80 posts receiving on average 873,302 interactions," the study said.
Modi (42.6 million followers) is also the third most followed world leader on Twitter, behind Donald Trump (52 million) and Pope Francis (47.6 million).
---
Also read: PM Modi followed 55 women on social media in a day, including 14 journalists
---
How do world leaders use Instagram?
"Just like millennials," answered the 68-year-old Chilean President Sebastian Piñera, 69, as he posted a selfie on his Instagram story with his 38-year-old Costa Rican counterpart Carlos Alvarado Quesada.
And "just like millennials", world leaders post selfies and pictures with their loved ones, "and they have started to use the full gamut of Instagram options, including emojis and stickers and live broadcasts", the study noted.
According to data collected by BCW Global from 426 accounts of world leaders, government and foreign ministers, a total of 98,372 posts had been published in the 12 months preceding 1 October 2018.
A photo posted on Instagram by German Chancellor Angela Merkel during the G7 summit in Canada this June – showing a tense face-off between Merkel, French President Emmanuel Macron, Japan Prime Minister Shinzo Abe and Trump – went viral. This photo completely overshadowed the official summit family photo in terms of audience interactions.
More than a third of the accounts analysed had used Instagram stories to interact with their audience in creative new ways.
The Twiplomacy study explains how Instagram stories have become a secondary channel for digital diplomacy and "Instaplomacy", where word leaders increasingly interact with each other virtually.
"To see what world leaders are doing at international conferences and summits, it is useful to follow their Instagram accounts to glean valuable behind-the-scenes insights into the halls of power," says the study.
Instagram stories are a popular means to share daily behind-the-scenes moments among the who's who of the world.
According to the Twiplomacy study, Instagram stories have an added benefit for world leaders as a shield from troll comments: "There are no public statistics on the engagement of Instagram stories, but their format makes them relatively safe for politicians to use since no one can publicly comment on the posts, shielding them from the widespread negativity present on other social networks."
Instagram stories also make sure the leaders frequently appear on the feeds of their audience, helping them stay visible on social media.
Selfies, please
Most leaders are also embracing the selfie culture as the digital equivalent of an autograph.
"Instagram accounts come alive particularly during election campaigns, with pictures of politicians surrounded by a crowd of admirers wanting to capture a selfie," the study said.
Sharing videos, through the live feature or via posts, is also emerging as an influential tool for world leaders.
"The share of video posts on the accounts of world leaders has tripled over the past two years, from 4 per cent in our first study in 2016 to 12 per cent in this year's edition," the study added.
"On average, video posts tend to get slightly more likes than photo posts and three times as many comments," it noted, "More than half of the publications of the Somali Prime Minister, the Presidency of Panama and the government of El Salvador are video posts."
The most famous video posted by a word leader on Instagram is a repost by Donald Trump, where a police officer can be seen rolling up an American flag dangling from the side of a building. This video has been watched almost 4 billion times.
Leaders are also using the live video platform to interact with citizens. "Argentina's President Mauricio Macri, who often records video statements for his followers, has become the first world leader to organise a live Q&A session on his Instagram channel," the study noted. "Live video conversations are a rarity since you never know what kind of questions will be asked," it added.
---
Also read: Smriti Irani may rage on Twitter, but she's always relaxed on Instagram
---
Modi, the biggest Instagram influencer
When Prime Minister Modi posted a picture with newlyweds Virat Kohli and Anushka Sharma in December last year, it went on to become the most-liked picture from a world leader with 1,856,424 hearts (likes).
The popularity of the image was influenced by the fact that there were three extremely popular personalities in the photo from the three most popular fields of politics, cricket and Bollywood. Together, the trio has a following of 55 million on Instagram, as reported by the BCW Global study.
The next most-liked picture posted by a world leader is again from the Indian Prime Minister — A photo of Modi standing at a bus stop in the snow, in Davos, during the World Economic Forum 2018. The photo gained 1,635,978 likes.
Tips and tricks
According to the study, unusual pictures like the one of Modi at Davos gain the best engagement on the platform.
"Pictures from birthdays, weddings and private moments with the family, wife, children and grandchildren on holidays and selfies tend to garner the best interactions on Instagram," it added.
Various leaders are using different tricks to get more traction. According to the study, Donald Trump often posts screenshots and quote cards of his tweets on the platform to increase their reach.
Italian Prime Minister Giuseppe Conte has been following this trend as well. "While that might not be the best visual use of the platform, the tactic does gain him considerably more engagement," the study added.
Some world leaders are also focussing on keeping the aesthetics of their Instagram profile top notch, by maintaining a clean grid, and posting collages.
"The foreign ministry of Vietnam inaugurated its Instagram feed with a series of three-picture mosaics, and the presidential administration of Honduras captured the meetings of President Juan Orlando Hernández with Chile's President Sebastián Piñera in six-picture collages," the study said.
Former US President Barack Obama was the first world leader to open an Instagram account in 2012. Since then, a whole new world of tools has opened up for those seeking to engage with the masses in their language. And as they learn to master these tools, the race to win virtual 'hearts' is on.
For ThePrint's smart analysis of how the rest of the media is doing its job, no holds barred, go to PluggedIn.