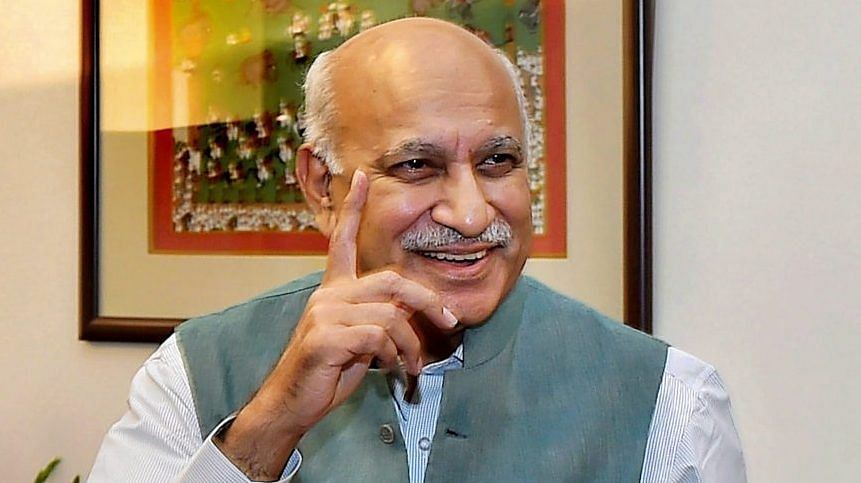 The first indication that the tide may be turning against MJ Akbar came Thursday after a tweet by top RSS leader Dattatreya Hosabale.
New Delhi: The Narendra Modi government may be publicly determined to brazen out the sexual assault and harassment allegations against minister M.J. Akbar, but "the dice is loading against him", a senior Cabinet minister told ThePrint.
The minister was speaking on the condition of anonymity.
As the MeToo movement gained pace in India this week, multiple women have levelled sexual assault allegations against junior external affairs minister Akbar, during his time as an editor.
The first indication that the tide may be turning against him came from a tweet Thursday by powerful Rashtriya Swayamsevak Sangh (RSS) leader Dattatreya Hosabale.
---
Also read: M.J. Akbar is not the only predator, sexual is not the only harassment for woman journalists
---
On Thursday, Ankhi Das, director of Public Policy for Facebook in India and South & Central Asia, posted, "You needn't have a #MeToo moment to support the woman journalists who have narrated their victimization. You needn't even be a woman. You just need to have a sensibility of what is right and what is wrong."
Hosabale quoted the post on Twitter and said, "I liked it. She has articulated what I was feeling…"
I liked it. She has articulated what I was feeling .. pic.twitter.com/2uQpYdmeQs

— Dattatreya Hosabale (@DattaHosabale) October 11, 2018
At around the same time in Mumbai, Union minister Smriti Irani spoke on the matter at a FICCI event.
"Do not judge those who are speaking out right now. They are mothers, daughters and wives. They are taking a big risk and it must be very difficult for them to speak out," Irani said.
In a reference to Akbar, she added, "It is for the gentleman in question to issue a statement. It would not be proper for me to comment because I wasn't present."
Don't cower
But to not be seen as bowing to pressure, the government determined that Akbar, on a tour of Nigeria and Equatorial Guinea this week, should complete his visit. He is expected to return to New Delhi early Sunday.
---
Also read: Modi govt, BJP plan to ride out #MeToo storm against minister M.J. Akbar
---
Until Thursday, the government wanted to brazen out the matter.
"What is the proof," a Cabinet minister had asked, in response to ThePrint's question on what the government was considering in the matter.
At the Cabinet meeting Wednesday, three ministers — Finance Minister Arun Jaitley, External Affairs Minister Sushma Swaraj and Women & Child Development Minister Maneka Gandhi — are believed to have had a short conversation on the issue before the start of formal proceedings, in the presence of Prime Minister Narendra Modi.
The Prime Minister, it is believed, didn't say a word.
Explain the situation
Upon his return, it now appears that Akbar will be asked to explain the situation. It is likely that he will be persuaded to quit his job on his own, some in the government believe.
Political sources pointed out that Akbar is a recent entrant to the BJP, and, although he is seen as a progressive Muslim face in a government that hardly has any Muslim representatives, there is no question of him being seen to compromise any of the pro-women initiatives taken by the Modi government.
With Beti Bachao Beti Padhao campaign, the anti-triple talaq law (in favour of which Akbar spoke eloquently in Parliament) and other such slogans, the Modi government cannot afford to be seen to be insensitive to allegations of sexual assault that are now emerging in the public domain.
With inputs from Sanya Dhingra.