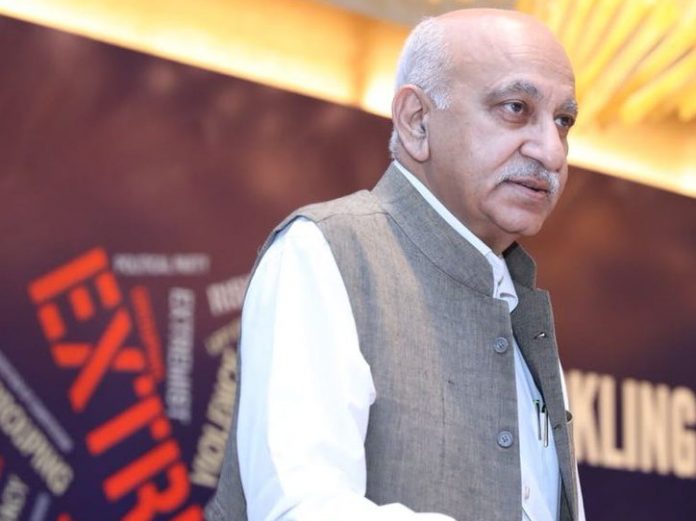 Text Size:
Modi cabinet discusses charges of sexual harassment against M.J. Akbar, some ministers say they are from his time as editor and might die down soon.
New Delhi: The Modi government and the ruling BJP have apparently decided to wait and watch the controversy over sexual harassment allegations against junior minister M.J. Akbar and could possibly brazen it out as they hope it will die down soon.
The issue came up at the Cabinet meeting Wednesday morning, sources in the government told ThePrint, and Prime Minister Modi kept quiet during the discussion on how the government should respond to the allegations.
---
Also read: Ask editors about M.J. Akbar, not me: BJP MP Meenakshi Lekhi
---
One cabinet minister is believed to have pointed out that the allegations against Akbar were incidents that had taken place in his previous incarnation as a journalist and editor.
"Nothing has happened in the party or in the government, and in the Ministry of External Affairs (MEA). So we cannot comment," one cabinet minister is believed to have said at the meeting.
Another cabinet minister is believed to have said Akbar, who is in Nigeria, can explain himself when he is back in the country, and that the government does not need to say anything on the issue.
One union minister, however, is said to have called for a probe against Akbar, another source said.
Over the past 48 hours, MEA sources have maintained that the allegations of sexual assault and abuse against Akbar had "nothing to do with the ministry", as all of them stemmed from the time he was an editor.
Over the last two days, several women journalists have come forward to give their accounts of alleged harassment by Akbar.
Party to brazen it out too
The BJP has, similarly, decided to brazen out the allegations. The party believes the noise will die down in a few days and that in any case it is restricted to the upper echelons of society who largely live in the metropolitan cities.
Party sources indicated that Akbar was a lightweight, had recently joined the BJP and that there was no point in expending political capital on this matter.
Importantly, according to the BJP source, Akbar doesn't have a political constituency, which means that he is dependent on his mentors in Delhi.
---
Also read: On M.J. Akbar, Narendra Modi doesn't have luxury of staying silent
---
"This is certainly not an election issue," said the cabinet minister.
According to a second cabinet minister who spoke on the condition of anonymity, the thinking in the party is that if the story refuses to go away, then as a last resort Akbar could be asked to explain his role.
"He should say what he has to say," the second cabinet minister said.
(With inputs from Ruhi Tewari)
Separate fact from fiction, the real from the fake going viral on social media, on HoaXposed .