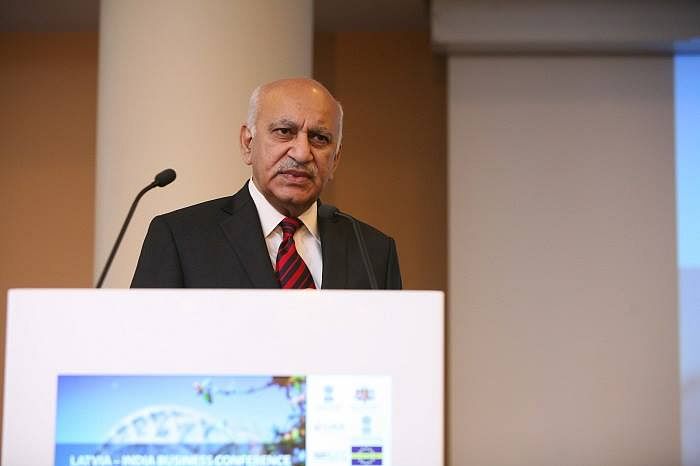 Junior foreign minister MJ Akbar vows to take legal action for what he calls 'accusations against evidence', which have been spreading like 'viral fever'.
New Delhi: Minister of state for external affairs M.J. Akbar said Sunday that all the allegations of sexual harassment and assault made against him as part of the #MeToo movement are "false and fabricated", and dispelled rumours that he would resign.
Hours after landing in Delhi from an official tour to Africa, Akbar reportedly said: "The allegations of misconduct made against me are false and fabricated, spiced up by innuendo and malice. I could not reply earlier as I was on an official tour abroad."
Giving a political twist to the sordid accounts of at least ten women journalists, Akbar said: "Why has this storm risen a few months before a general election? Is there an agenda? You be the judge. These false, baseless and wild allegations have caused irreparable damage to my reputation and goodwill."
Akbar reportedly vowed to take legal action for what he called "accusations against evidence", which were spreading like "viral fever".
"Lies do not have legs, but they do contain poison, which can be whipped into a frenzy. This is deeply distressing. I will be taking appropriate legal action," he reportedly said.
ThePrint had earlier reported that the during Wednesday's cabinet meeting, ministers were of the view that the government had nothing to do with the allegations levelled against Akbar since no allegation came up after he became minister. A senior minister had stated that Akbar can defend himself after he comes back to India if need be.
The Congress party had demanded Akbar's ouster over the allegations, as had several women journalists, who said they would boycott Akbar if he did not step down. Maneka Gandhi is the only minister from the current establishment who had asked for a probe into the allegations.
---
Also read: Modi govt left with little wiggle room as #MeToo allegations stack up against MJ Akbar
---
Saba Naqvi, one of the journalists who spoke out about Akbar harassing her, had told ThePrint: "As a political journalist, I would like to see every member of the ethics committee of Parliament give a written complaint against him."
Specific rebuttals
Priya Ramani was among the first woman journalists to write about Akbar as being a harasser, after which many other women came out with their own experiences.
Akbar responded to her allegations, saying: "Priya Ramani began this campaign a year ago with a magazine article. She did not however name me as she knew it was an incorrect story. When asked recently why she had not named me, she replied, in a Tweet: 'Never named him because he didn't 'do' anything'.
"If I didn't do anything, where and what is the story? There's no story. But a sea of innuendo, speculation and abusive diatribe has been built around something that never happened. Some are total, unsubstantiated hearsay; others confirm, on the record, that I didn't do anything."
There were also allegations of physical molestation by some journalists like Ghazala Wahab, who wrote: "He sneaked up behind me and held me by my waist. I stumbled in sheer fright while struggling to get to my feet. He ran his hands from my breast to my hips. I tried pushing his hands away, but they were plastered on my waist, his thumbs rubbing the sides of my breasts."
However, Akbar rebutted this allegation too, arguing that he had "a very tiny cubicle" at the time.
---
Also read: By removing M.J. Akbar from his government, Narendra Modi must do our dirty job
---
"It is utterly bizarre to believe that anything could have happened in that tiny space, and, moreover, that no one else in the vicinity would come to know, in the midst of a working day. These allegations are false, motivated and baseless," he said.
He also said it was pertinent to remember that "Ms Ramani and Ms Wahab kept working with me even after these alleged incidents; clearly establishes they had no apprehension and discomfort. Reason why they remained silent for decades is very apparent, as Ms Ramani has herself stated, I never did anything".