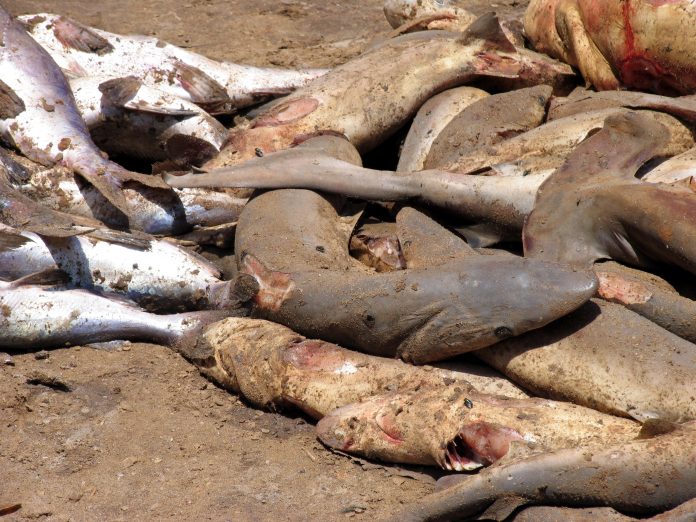 Text Size:
Finning is a cruel practice that sees fishermen slice off shark fins while they are alive and dump the bleeding fish back into the water.
New Delhi: A Kerala firm has been accused of using the state high court to get around a central government ban on the grisly practice of shark finning, which involves cutting off their characteristic fin while the fish are alive and exporting it.
Kochi-based Marine Finns, which exports about 15 tonnes of shark fins a year, has been accused of seeking repeated exceptions from the Kerala High Court to continue with the banned trade by claiming it was dealing with old stock.
While there is not much of a market for shark fins in India, they are considered a delicacy in China and southeast Asia, where it is used in soup.
The fin itself is believed to be tasteless cartilage, but taste for the chicken-broth-based soup has flourished on account of its projection as a status symbol.
Sharks use the fin to swim and steer themselves.
More often than not, after the fins are removed, the shark is discarded back into the ocean, rendering it incapable of swimming. As a result, the shark sinks to the bottom of the ocean and invariably dies of suffocation, starvation, blood loss, or is eaten by other predators.
The company in question, Marine Finns, insists it fishes for the entire shark and the fins are only harvested as a byproduct. However, the Centre's ban extends to the export of shark fins altogether, irrespective of the method through which the stock is obtained.
Millions of sharks are believed to be killed annually to fire a lucrative business where the going rate was reported to be as high as $500, or over Rs 34,000, for 450 gm at one time, although returns for Indian fishermen are said to have fallen of late in the face of a global crackdown, going down to Rs 3,000/kg.
Given that the practice is extremely cruel, and several species of sharks are considered endangered, the Centre had banned the export of its fins in keeping with the Convention on International Trade in Endangered Species, to which India is a signatory.
However, despite the ban, the export of shark fin thrives in Kerala due to some loopholes, animal and environment activists say. Dried shark fin is often exported by categorising it as dried fish, for example.
"The worry is that they (Marine Finns) are routinely using court extensions as a tactic to continue their business despite the ban", said Jayasimha Nuggehalli, managing director of Humane Society International India.
"By now, they shouldn't have had any stock at all… If they do, the forest department needs to have an idea of how much they do, which is clearly not the case," he added.
'Detestable activity'
After the Centre's ban was imposed in 2015, Marine Finns moved the Kerala High Court on at least three occasions to seek an extension to dispose of existing stock. The court granted an extension each time.
Last month, even as it upheld the ban and declared shark finning a "detestable fishing activity, leading to environmental and ecological calamities", a division bench headed by the Kerala Chief Justice added a caveat.
Observing that the "wholesale killing of sharks" could not continue, it added, "Yet only to adjust equities, we hold that the appellant can clear the stock it had accumulated until 31.12.2017."
This caveat, a forest officer has alleged, has become the modus operandi of a finning scam in the state.
It is possible to keep shark fin stock unspoilt for several years if it is salted under certain favourable conditions. But what makes the most recent extension by the court surprising is the fact that in a government letter dated 6 November 2017, it has been observed that the export of Marine Finns' entire stock predating the ban had been completed on 10 March 2017.
In an earlier order dated 2 February 2017 too, the Kerala High Court had granted the company permission to export 3,788 kg of shark fins in stock within two months, emphasising that it was the final opportunity to dispose of the shark fins remaining with them.
In a letter dated 14 June 2018 to the Thiruvananthapuram additional principal chief conservator of forests, G. Prasad, a divisional forest officer in the state who has routinely flagged the "illegal trade and export of shark fin" from Kerala, has questioned the extensions.
There is "an irony" in the latest judgment, Prasad wrote, which "also allows another piecemeal extension for fresh stock clearance".
'Just a byproduct'
"As seen from the company's modus operandi, it may be presumed that they will file another fresh (plea) and get another extension export permission order from another bench of… court, for another fresh stock clearance for the year 2018. Thus the collection and trade continues," said Prasad.
However, Marine Finns, which deals in dried shark fins, shark skin, sting ray skin, squalene, fish maws, etc., told ThePrint that it had, in fact, purchased more stock after April 2017 since some "suggestions" were made by the government that it may want to reconsider its ban.
In its National Action Plan on Sharks in 2017, the Central Marine Fisheries Research Institute of India suggested that the regulation of the shark fin business may be restricted to protected and listed species of sharks, instead of a blanket ban on sharks in general. The study was construed as possible "rethinking in the government".
"We thought we had a good case to win…so we made some bona fide purchases, which we will now export," owner Irshad Abdul Basheer said.
However, the study was never implemented, ensuring that the blanket ban on export  of fins from all shark species stayed in place.
Basheer, who maintains that it's "a complex matter which effects livelihood of the larger fisherfolk," said that the company would be approaching the Supreme Court, since its appeal in the high court challenging the 2015 notification has been rejected.
Check out My543, our comprehensive report card of all Lok Sabha MPs.