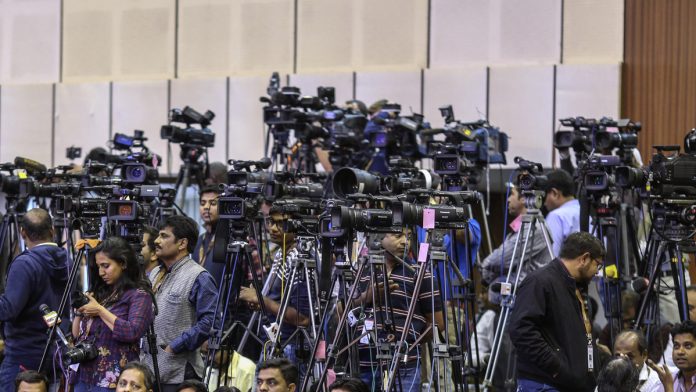 Text Size:
New Delhi: The Supreme Court Wednesday dismissed the Modi government's claim of 'privilege' over documents that were allegedly "stolen" from the defence ministry and used by The Hindu newspaper to publish articles, slamming the government's acquisition of 36 Rafale fighter jets from France.
The three-judge bench of Chief Justice Ranjan Gogoi and Justices Sanjay Kishan Kaul and K.M. Joseph unanimously agreed that the central government could not claim privilege over documents that were already in the public domain.
The apex court also observed that privileged information could be accessed under Right to Information (RTI) Act if the larger public interest far outweighed the claim of privilege.
More importantly, the apex court acknowledged that the validity of the three documents that were allegedly stolen were not "seriously disputed or contested" by the Modi government.
While upholding the freedom of press, the top court invoked the historic case of the publishing of Pentagon Papers by The New York Times.
On the submissions made by Attorney General K.K. Venugopal that the disclosure of the documents would threaten national security, the SC reiterated an opinion penned by Justice H.R. Khanna in the historic Kesavananda Bharati case, where he said: "…judges in order to give legitimacy to their decision have to keep aloof from the din and controversy of politics and that the fluctuating fortunes of rival political parties can have for them only academic interest. Their primary duty is to uphold the Constitution and the laws without fear or favour and in doing so, they cannot allow any political ideology or economic theory, which may have caught their fancy, to colour the decision."
Justice K.M. Joseph, who wrote a separate and concurring judgment, invoked an Australian judgment to drive home the point that if privilege was given to the documents, it would come close to conferring immunity from conviction to those who occupy high offices of the State.
ThePrint takes a look at the relevant extracts of the judgment.
Freedom of press
"No question has been raised and, in our considered opinion, very rightly, with regard to the publication of the documents in 'The Hindu' newspaper. The right of such publication would seem to be in consonance with the constitutional guarantee of freedom of speech."
"No law enacted by Parliament specifically barring or prohibiting the publication of such documents on any of the grounds mentioned in Article 19(2) of the Constitution has been brought to our notice. In fact, the publication of the said documents in 'The Hindu' newspaper reminds the Court of the consistent views of this Court upholding the freedom of the press…"
"We do not see how and why the above principle of law will not apply to the facts of the present case. There is no provision in the Official Secrets Act and no such provision in any other statute has been brought to our notice by which Parliament has vested any power in the executive arm of the government either to restrain publication of documents marked as secret or from placing such documents before a Court of Law which may have been called upon to adjudicate a legal issue concerning the parties."
---
Also read: Modi govt's 'main concern' in Rafale case — sensitive information coming out in public
---
Privilege cannot be claimed
"Insofar as the claim of privilege is concerned, on the very face of it, Section 123 of the Indian Evidence Act, 1872 relates to unpublished public records. As already noticed, the three documents have been published in different editions of 'The Hindu' newspaper."
"…a claim of immunity against disclosure under Section 123 of the Indian Evidence Act has to be essentially adjudged on the touchstone of public interest and to satisfy itself that public interest is not put to jeopardy by requiring disclosure the Court may even inspect the document in question though the said power has to be sparingly exercised."
"Such an exercise, however, would not be necessary in the present case as the document(s) being in public domain and within the reach and knowledge of the entire citizenry, a practical and common sense approach would lead to the obvious conclusion that it would be a meaningless and an exercise in utter futility for the Court to refrain from reading and considering the said document or from shutting out its evidentiary worth and value."
"…a public authority would be justified in allowing access to information, if on proper balancing, public interest in disclosure outweighs the harm sought to be protected."
---
Also read: SC will examine 'stolen' Rafale papers, rejects Modi govt objection to their use
---
Importance of unbiased media
"It (media) must realise that its consumers are entitled to demand that the stream of information that flows from it, must remain unpolluted by considerations other than truth."
"I would think that freedom involves many elements. A free person must be fearless. Fear can be of losing all or any of the things that is held dear by the journalist."
"A free man cannot be biased. Bias comes in many forms. Bias if it is established as per the principles which are applicable is sufficient to vitiate the decisions of public authorities."
"The rule against bias is an important axiom to be observed by Judges. Equally the Press including the visual media cannot be biased and yet be free."
"Bias ordinarily implies a pre-disposition towards ideas or persons, both expressions to be comprehended in the broadest terms. It may stem from personal, political or financial considerations."
"Transmitting biased information, betrays absence of true freedom."
"In some sections, there appears to be a disturbing trend of bias. Controlling business interests and political allegiances appear to erode the duty of dispassionate and impartial purveying of information."
"The Press in India has greatly contributed to the strengthening of democracy in the country. It will have a pivotal role to play for the continued existence of a vibrant democracy in the country. It is indisputable that the press out of which the visual media in particular wields power, the reach of which appears to be limitless. No segment of the population is impervious to its influence."
"It is, in fact, a wholly unjustifiable onslaught on the vital right of the people to truthful information under Article 19(1)(a) which, in turn, is the bedrock of many other rights of the citizens also. In fact, the right of the Press in India is no higher than the right of the citizens under Article 19(1) (a) and is traced to the same provision."
"The ability of truth to be recognised by a discerning public in the supposedly free market place of ideas forms much of the basis for the grant of the unquestionable freedom to the Press including the Media Houses."
"If freedom is enjoyed by the Press without a deep sense of responsibility, it can weaken democracy."
Get the PrintEssential to make sense of the day's key developments