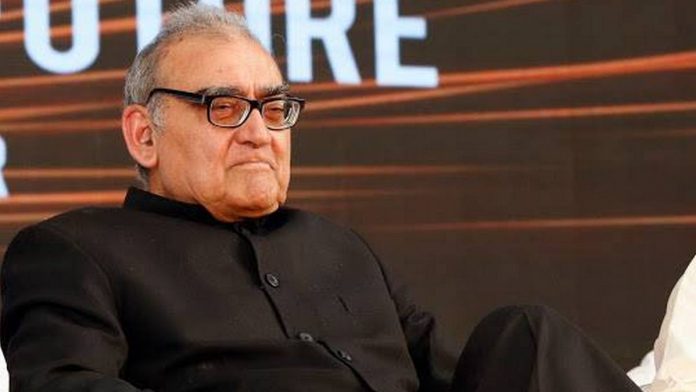 Text Size:
New Delhi: Former Supreme Court judge Markandey Katju has written a letter to Justice Rohinton Fali Nariman advising him not to lose his temper or be discourteous in court.
Katju's letter comes a day after a Supreme Court bench said it would get to the "root" of the allegation that "fixers" were targeting Chief Justice of India (CJI) Ranjan Gogoi with sexual harassment allegations.
Justice Nariman Wednesday threatened to throw out advocate Utsav Bains from the court if he didn't respect Attorney General K.K. Venugopal. Bains is the one who has claimed that the sexual assault allegations made by a 35-year-old former Supreme Court employee are part of a conspiracy against CJI Gogoi.
"I hold you u in the highest esteem. You are a man with the highest integrity… Recently, I saw on the internet that you said to a lawyer Mr Bains that he will be thrown out of court if he disrespects the Attorney General Mr Venugopal. This was not proper. You could have told him that Mr Venugopal is a highly respected lawyer, and if you speak disrespectfully against him we will not hear you. But you should not have talked of having him thrown out," wrote Katju.
The letter, accessed by The Print, read: "If this information is correct, you must correct yourself. There is one thing a judge must never do and that is lose his temper in court or be discourteous."
Katju said he considered it his duty to correct this trait in Justice Nariman.
"I regard u as a younger brother, and I was very happy when u were elevated as a judge of the Supreme Court of India… want to see you go down as one of the greatest judges of the Supreme Court. So please take this as an advice of an elder brother to a younger brother (like the advice I gave you when u were a lawyer and used to lose temper in court)," Katju wrote.
The Print reached Justice Nariman for comment, but did not receive a response. This report will be updated when he responds.
---
Also read: Election Commission seeks Fali Nariman's advice on fighting paid news menace
---
What had happened in court
Wednesday saw a day-long drama in the Supreme Court, surrounding the affidavit submitted by Bains about the alleged conspiracy to frame the CJI. It involved multiple submissions, heated arguments and a demand for apology, followed by a near-walkout.
The bench of Justices Nariman, Arun Mishra and Deepak Gupta Wednesday warned advocate Bains that it would take strong action against him if his allegations proved to be false.
The apex court observed that Bains mentioned two employees who were sacked in connection with the alleged tampering of an order on the appearance of Reliance Communications chief Anil Ambani in a contempt case.
Meanwhile, the bench also called the CBI director, the Intelligence Bureau chief and the Delhi Police commissioner to a confidential meeting before making a formal announcement.
Attorney General Venugopal, who is assisting the court in this matter, pointed out that Bains' Facebook post and submission were rather different.
In his post, Bains had said that a group of disgruntled judges had conspired against the CJI. However, there is no mention of this in the affidavit, the top law officer said. He also claimed partial privilege from disclosing all his sources. To this, the AG said: "I don't understand how one can make certain allegations, and claim rest is privilege."
Bains took offence to this and tried to defend himself, but the bar and the bench came to Venugopal's rescue and sought an apology from Bains. When he did not comply, he was reprimanded by Justice Nariman. At one point, the judge threatened to throw Bains out of the courtroom.
Bains responded to this by saying he would "walk out of the court on his own". Justice Arun Mishra intervened and asked him not to take things to heart.
---
Also read: Former Supreme Court judge P.C. Ghose appointed India's first Lokpal
---
Other instances Katju has cited
In his letter, Justice Katju has cited other instances where Justice Nariman has spoken "inappropriately".
"I was also told that once in open court you told an elderly lawyer who had been a high court judge, 'which high court have u disgraced?'. Is this appropriate language for a judge?" Katju wrote.
"I remember when I was appointed a judge of Allahabad High Court in 1991, I went to the residence of late Justice N.D. Ojha, who had retired as a Supreme Court judge, and had been my senior when I started law practice, to take his blessings. He gave me one very good advice, which I am passing on to you. He said that now that u r a judge, u r a man of authority… natural tendency in a person of authority to become arrogant, and realising this he must keep a watch over himself," Katju advised.
"Lawyers may be reluctant to give you this advice as they would not like to displease you, but as a former judge of the Supreme Court and as your elder, it is my duty to do so."
While concluding his letter, Justice Katju also mentioned that he tried to call Justice Nariman on his mobile number, but could not get through, further requesting him to call him up on his landline or mobile.
For ThePrint's smart analysis of how the rest of the media is doing its job, no holds barred, go to PluggedIn