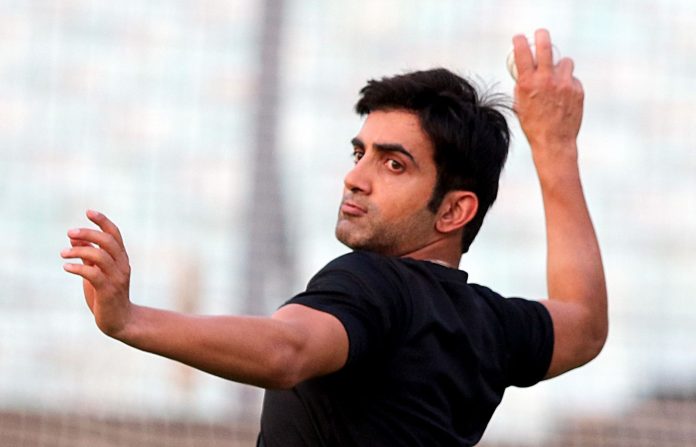 Text Size:
Gautam Gambhir had tweeted after the Mannan Wani encounter that the radicalisation of educated youth represented a failure of the political class.  
New Delhi: Cricketer Gautam Gambhir and former Jammu & Kashmir chief minister Omar Abdullah crossed swords on Twitter over the killing of a militant earlier this week.
On Thursday, security forces shot two militants, Mannan Wani and Ashiq Hussain Zargar, in Kashmir. Both were reportedly warned by police before the firing began.
In an increasingly tense Valley, Wani is said to have enjoyed considerable popularity since he dropped out of Aligarh Muslim University, where he was a PhD student of applied geology, and joined the Hizbul Mujahideen.
The Twitter spat was started by Gambhir, who, unlike many sportspersons, is known to take public political positions and wears his patriotism on his sleeve.
---
Also Read: AMU students organise funeral for slain Hizbul militant Mannan Wani, 2 booked for sedition
---
Referring to Wani's encounter, Gambhir suggested the death represented the failure of a political class that had failed to save young men from radicalisation. He tagged not only Abdullah and Peoples Democratic Party (PDP) chief Mehbooba Mufti, both former chief ministers, but also the Bharatiya Janata Party (BJP) and the Congress.
Mannan Wani's death: We killed a terrorist and lost a radicalised talent. @OmarAbdullah @MehboobaMufti @INCIndia @BJP4India all should bow their heads in embarrassment that they left a young man drift from books to embrace bullet.

— Gautam Gambhir (@GautamGambhir) October 12, 2018
Abdullah, who lost in the last assembly election, shot back, saying his party was losing activists to militancy and Gambhir was ill-informed about Kashmir. Gambhir replied that Abdullah was among those "trying to change maps", a suggestion that Abdullah was in cahoots with separatists.
Abdullah said Gambhir's knowledge of Kashmir was even less than his (Abdullah's) knowledge about cricket. He said he would engage in a discussion with Gambhir when he was better informed.
"Till then you can keep playing to the galleries", he said.
Mehbooba also interjected, saying young boys were indeed getting radicalised and it signaled a failure of the political class.
You aren't alone @OmarAbdullah, most of ur lot (read politicians) don't like mirror thrusted on u and that's why my country is bleeding. Nationalism and sacrifice need men of real character and not someone like u searching for lip-service in 280 character limit of social media!!!

— Gautam Gambhir (@GautamGambhir) October 12, 2018
Today a PhD scholar chose death over life & was killed in an encounter. His death is entirely our loss as we are losing young educated boys everyday. 1/2

— Mehbooba Mufti (@MehboobaMufti) October 11, 2018
https://twitter.com/OmarAbdullah/status/1050757890645090304)
Amid a tense election season
The public spat comes as J&K holds its first civic election since 2005. In the four-phase polls – the third of which was under way Saturday – the turnout was 53 per cent in the early hours of voting.
That is because the turnout has been high in the Jammu region, which has a considerable support for the BJP. In the second phase of the polls in the Valley, the turnout was a mere 3.4 per cent.
---
Also Read: PhD scholar-turned-Hizbul militant Mannan Wani killed in Kashmir encounter
---
The turnout was even poorer in Saturday's phase, given threats issued by militants and the boycott announced by the two main local parties, the NC and the PDP over efforts to get Article 35a scrapped.
Most candidates, where they have filed nominations, are from the BJP and the Congress, which have at best a marginal presence in the Valley.
Separate fact from fiction, the real from the fake going viral on social media, on HoaXposed .