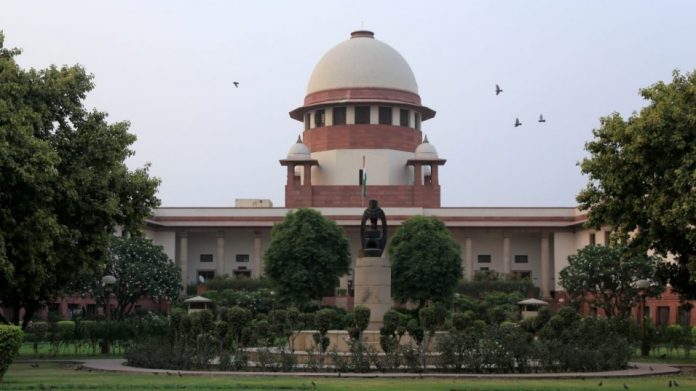 Text Size:
A five-judge bench of the Supreme Court, headed by incumbent CJI Ranjan Gogoi, will begin hearing the Ram Janmabhoomi-Babri Masjid title suit Thursday. 
New Delhi: A five-judge constitution bench of the Supreme Court, led by Chief Justice of India (CJI) Ranjan Gogoi, will Thursday begin hearing a clutch of petitions seeking a final resolution to the decades-old property dispute at the heart of the Babri Masjid-Ram Janmabhoomi controversy.
It's a heavyweight bench that comprises, apart from Gogoi, four judges who are set to hold the CJI's office over the coming years: Justices S.A. Bobde, N.V. Ramana, U.U. Lalit and D.Y. Chandrachud.
Here is a brief profile of the five judges.
CJI Ranjan Gogoi, 64
The son of former Assam Chief Minister Kesab Chandra Gogoi, the incumbent CJI is the first judge from the northeast to hold the office. He was sworn in on 3 October 2018, succeeding Dipak Misra.
A former judge of the Gauhati High Court and the Punjab and Haryana High Court, Gogoi was elevated to the Supreme Court in 2012.
Justice Gogoi is known to be a disciplinarian and famously issued a notice of contempt to former Supreme Court judge Markandey Katju in 2016 after the latter criticised a judgment in his blog. The case in question involved a woman's rape on a train in 2011 — the victim had reportedly jumped out of the train to escape the assaulter and died. The Supreme Court had acquitted the man of murder charges and subsequently taken him off death row, to which Katju took exception.
Since 2014, he has also been a part of the bench that is monitoring the upgradation and publication of Assam's National Register of Citizens (NRC) to identify illegal immigrants, and fencing along the Indo-Bangladesh border.
Gogoi was one of the four Supreme Court judges who participated in last year's unprecedented press conference to question then CJI Misra's functioning.
---
Also read: In Jerusalem, I saw a reflection of Ayodhya
---
Justice Sharad Arvind Bobde, 62
Justice Bobde is in line to take over the CJI's office from Gogoi this November. Bobde completed his law studies at Nagpur University and enrolled in the Bar Council of Maharashtra in 1978. He had a 21-year career as a lawyer in the Bombay High Court and the Supreme Court, before he joined the former as an additional judge on 29 March 2000.
On 16 October 2012, he was sworn in as the Chief Justice of the Madhya Pradesh High Court, making his way to the Supreme Court the next year, on 12 April 2013.
In 2018, as the Indian judiciary grappled with the crisis kicked up by the judges' press conference, Bobde donned the role of peacemaker between then CJI Misra and the four senior judges.
In May 2018, Justice Bobde was part of the constitution bench that heard a plea challenging Vice-President Venkaiah Naidu's rejection of an opposition motion to impeach then CJI Misra.
He was also part of the nine-judge bench that identified privacy as a fundamental right in August 2017.
Justice Nuthalapati Venkata Ramana, 61
Born into an agricultural family in Andhra Pradesh's Ponnavaram Village in Krishna district, Justice Ramana will succeed Justice Bobde as the Chief Justice of India in 2021.
Justice Ramana, who enrolled as an advocate on 10 February 1983, specialised in constitutional, criminal, service and inter-state river laws, and also served as counsel for various government organisations.
He was appointed as a permanent judge of the Andhra Pradesh High Court on 27 June 2000, and in March 2013, he took charge as its acting Chief Justice.
The same year, he was transferred to the Delhi High Court as its Chief Justice. He was elevated as a judge of the Supreme Court on 17 February 2014.
In 2017, Justice Ramana courted controversy when a member of the Supreme Court collegium, Justice J. Chelameswar (Retd), hinted at "unwarranted intimacy between the executive and the judiciary" after Andhra Pradesh Chief Minister N. Chandrababu Naidu and Ramana both objected to the appointment of six advocates as judges to the high court.
Justice Uday Umesh Lalit, 61
Justice Lalit, son of former Delhi High Court additional judge U.R. Lalit, enrolled as an advocate in June 1983. He practised at the Bombay high court before shifting base to the national capital in 1986. In 2004, he was designated senior advocate by the Supreme Court.
Known to be soft-spoken, Justice Lalit had a flourishing practice as a criminal lawyer and was appointed by the Supreme Court as the CBI's special public prosecutor in 2011 for the 2G scam trial.
In 2014, Justice Lalit became the sixth senior advocate to be directly elevated as a judge of the Supreme Court, and is slated to become the second direct appointee to become the Chief Justice of India, after S.M. Sikri (1971-73).
Justice Lalit, who is scheduled to take over as the Chief Justice of India on 27 August 2022, when Justice Ramana retires, will have all of 74 days in office, making his one of the shortest tenures.
---
Also read: 'Shree Ram bricks' used to construct drain are not from Ayodhya, says VHP
---
Justice Dhananjay Yeshwant Chandrachud, 59
When Justice Chandrachud is appointed Chief Justice of India on 9 November 2022, he will enter record books as the first son of a former CJI to also hold India's highest judicial office.
His father, Y.V. Chandrachud, served as CJI from 1978 to 1985.
After obtaining two advanced degrees in law from Harvard University, at age 39, Justice D.Y. Chandrachud became one of the youngest lawyers to be designated a senior advocate. In 1998, he was appointed the additional solicitor general of India and, two years later, a judge of the Bombay High Court, aged all of 41 years.
After serving in the Bombay High Court for 13 years, Justice Chandrachud was appointed the Chief Justice of the Allahabad High Court in 2013, and elevated to the Supreme Cuurt three years later.
Since then, he has been handpicked by three successive CJIs — T.S. Thakur, J.S. Khehar and Dipak Misra — to sit with them in Courtroom 1, barring a few days. This arrangement changed when Justice Ranjan Gogoi took office on 3 October.
In a little over two years, he has been on benches that have delivered more than 220 judgments. He has been part of landmark judgments on privacy, euthanasia, decriminalisation of homosexuality, adultery, entry of women into Sabarimala, the Hadiya case, the medical college cases, and mandatory playing of the national anthem in cinema halls.
In the August 2017 privacy judgment, Justice Chandrachud was hailed for overruling the infamous judgment in the ADM Jabalpur versus Shivakant Shukla case, more popularly known as the Habeas Corpus case, which was authored by his father.
Read Global Pulse for a sampler of the big international stories, and why they matter.