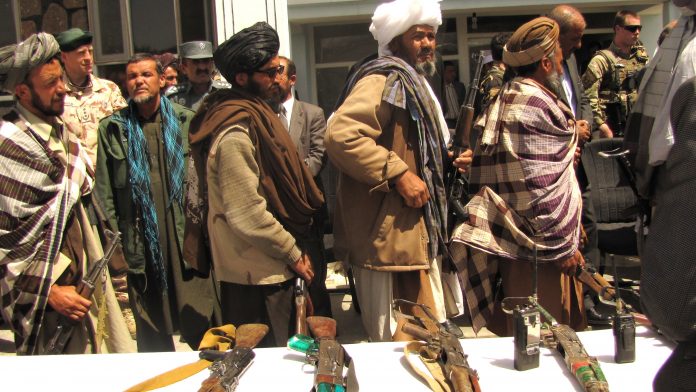 Text Size:
In Pakistan, only one entity makes the cut as a political pressure group — the Pakistan Ulema Council, whose chief had reportedly encouraged suicide attacks in 2013.
New Delhi: The CIA World Factbook has made headlines for tagging the Vishwa Hindu Parishad (VHP) and the Bajrang Dal as militant religious organisations, but it makes no such classification for well-known extremist outfits in India's restive neighbourhood.
Not even one 'political pressure group' — the heading under which the two groups are listed — from other countries in South Asia, including Pakistan, has been classified as either a militant or a militant religious organisation by the US intelligence agency in its latest Factbook update
Even the Afghan Taliban is listed just as a political pressure group in the country.
In Pakistan, much to the surprise of many, only one entity makes the cut as a political pressure group — the Pakistan Ulema Council (PUC), whose chief, Hafiz Tahir Ashrafi, had reportedly encouraged suicide attacks in 2013.
An Afghan channel had carried footage of Ashrafi purportedly saying, "I believe Palestine is occupied by Israel, Kashmir by India and Afghanistan by the US. So, if innocent Muslims don't have the atomic bombs, they have their lives and they sacrifice their lives for Allah…"
However, as Afghan officials demanded his arrest for promoting suicide attacks, he accused the country's media of running an agenda against him. At the time, the Pakistan government, too, had distanced itself from the statement.
India's neighbours don't have militant groups
Here are the entities the CIA World Factbook lists as political pressure groups around India's neighbourhood:
Sri Lanka
Buddhist clergy, Sinhalese-Buddhist lay groups, diaspora groups are listed as political pressure groups. The 'others' category lists "hardline nationalist Sinhalese groups such as the National Movement Against Terrorism.
There have been several instances of monks leading anti-Muslim violence amid a rise in hardline Sinhalese-Buddhist nationalism, but the CIA's list is shorn of any reference.
China
No substantial political opposition groups exist.
Burma
Groups classified under two sub-heads:
Along the Thai border: Federation of trade union – Burma (exiled trade unions and advocates) United Nationalist Federation Council (Nai Hong Sar)
Inside – KIO-KNPP, UWSA and others like Shan factions
KIO: An ethnic entity, the Kachin Independence Organisation (KIO) has an armed militant group, the Kachin Independence Army (KIA), which has been known to be involved in serious rights abuses, including the use of child soldiers, according to the Human Rights Watch. It represents the Kachin ethnic minority, among the groups allegedly persecuted in the Burman-majority nation.
They reportedly get a lot of their funding through illicit means — drug trafficking, trade through China with precious jewels and lumber — and have an estimated 10,000 to 12,000 active duty soldiers. The KIA is also reportedly involved in facilitating weapons access for rebels in India's northeast.
KNPP: The Karenni National Progressive Party (KNPP) is a political party in Kayah state. Its armed wing, the Karnenni army, has been fighting government forces for a separate State since 1957. The KNPP is in talks to join the government's Nationwide Ceasefire Accord (NCA) with armed ethnic groups and take part in the peace process, Myanmar News Agency reported in March.
UWSA: Signed a peace deal with the Myanmar government in 2013. The United Wa State Army is the military wing of the United Wa State Party, the de facto ruling party of Wa State (officially known as the Wa Self-Administered Division). It is an ethnic minority army of Wa soldiers, and has been described as "the most effective illegal weapons trader in Myanmar" for northeastern Indian armed groups.
Shan factions: Insurgents
Bhutan
Druk National Congress, United Front for Democracy (group in exile), United Front for Democracy against Dictatorship.
Bangladesh
Ain O Salish Kendro, Bangladesh Centre for Worker Solidarity, Bangladesh Rural Advancement Committee, Federation of Bangladesh Chambers of Commerce and Industry, and ministry of women's and children's affairs, among others.
Nepal
National Federation of Indigenous Nationalities, Tharu Kalyankari Sabha (Tharus rights advocacy group)
And all is peaceful in the US
The only political pressure groups the CIA identifies on US territory are "environmentalists, business groups, labour unions, churches, ethnic groups, political action committees, health groups, education groups, civic groups, youth groups, transportation groups, agricultural groups, veterans' groups, women's group and reform lobbies.
Even in Yemen and Syria the CIA could not find any militant organisation.
In Yemen, the Factbook cites Houthis (Abdelmalik Badruddin al-Houthi), the Shia sect at the centre of Yemen's ongoing civil war and at the receiving end of an attack by US allies, as well as the Muslim Brotherhood. Also on the list are al-Qaida in the Arabian Peninsula; Islamic State of Iraq and Sham in Yemen (ISIS-Y).
Get the PrintEssential to make sense of the day's key developments.