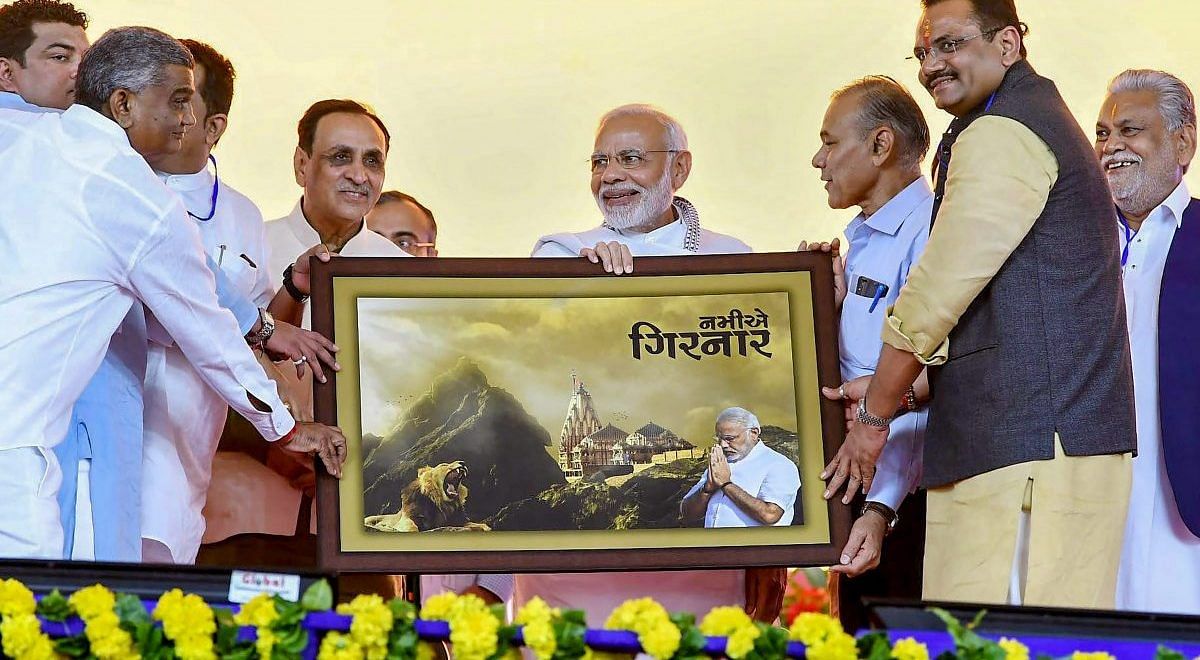 Northern Gujarat is battling fluoride contamination of its groundwater as poor rainfall has led to water scarcity.
New Delhi: Northern Gujarat, which is reeling under a fluoride crisis following an extended dry spell, missed out when Prime Minister Narendra Modi inaugurated a Rs 586-crore water supply scheme for the southern part of the state.
It was part of a number of development projects that the Prime Minister launched in the state Thursday.
The scheme — which will provide drinking water to 175 villages — along with a week of good rainfall, has allayed fears in South Gujarat, where rainfall deficit in the Narmada catchment area had threatened a water crisis.
---
Also read: The only hill station in Gujarat has a sleepy charm that tourists would love
---
It, however, will do little to ease the crisis in North Gujarat, where a severe water shortage has left dangerous levels of fluoride in the groundwater. The contamination has led to a growing fluorosis crisis in the population.
Three districts of North Gujarat — Mehsana, Patan and Banaskantha — are among the worst affected, with fluoride levels in groundwater at least five times over the World Health Organisation (WHO)-mandated safe limit of 1.0 mg/L.
As per the water contamination data put out by the ministry of water and sanitation for 2018, 79 villages of Mehsana district have fluoride levels reaching up to 6.07 mg/L, while 40 villages of Patan have water with unsafe fluoride levels, with the highest being 17.5 mg/L at Ranavada village.
According to the data, close to 160 villages of Banaskantha have excessive fluoride in their water, with the highest level of contamination at Teravada village (6.41 mg/L).
In contrast, only one district (Navsari) in entire South Gujarat has contamination above 3.5 mg/L.
While the data does not provide details on the extent of the contamination, a 2013 study, by researchers from INREM foundation, a private research institute based out of Gujarat, found that 240 people suffered from fluorosis in 25 villages of Northern Gujarat. The study had surveyed around 207 families in the region.
Fluorosis, a life-long painful debility, causes increased bone density that disrupts bone growth, putting pressure on nerves and blood vessels. In the extreme, it can lead to bone damage and paralysis.
According to WHO, consuming fluoride content above 1.0 mg/L makes individuals susceptible to dental fluorosis while anything above 2.5 mg/L leaves them susceptible to skeletal fluorosis.
"One unit of fluoride in your body can suck out 40 units of calcium from your body," Rajnarayan Indu, director, INREM foundation, who has been researching on fluorosis in Gujarat, told ThePrint.
Dr. Ashish Sharma, who has worked with the Public the Health and Dentistry department of the Unjha municipal corporation, Patan, told ThePrint, "I have seen at least eight to 10 cases of crippling skeletal fluorosis in patients who had to tie knots of cloth around their knees and elbows because of the pain. Dental fluorosis cases have been innumerable."
The fluorosis problem
North Gujarat, which includes the districts of Gandhinagar, Banaskantha, Sabarkantha, Aravalli, Mehsana, and Patan, has only received 37 per cent of its average rainfall (723 mm) this year.
This has led to a shortage of surface water to exploit for drinking, forcing the residents of the region to rely on groundwater. Researchers, however, say that the water table here has been completely depleted, pushing residents to pump water from deeper and deeper underground. This water, they say, is contaminated with excessive fluoride.
The problem is compounded by the Aravalli range passing through the region, as it contains abundant fluoride.
Such is the contamination, says Shubhoshree Banerjee, a training and capacity building officer at INREM foundation, that farmers at Unjha, a small town in Mehsana famous for its cumin (jeera), don't recommend consuming it themselves.
Dhara Ben, a resident of Mehsana who has worked on a 2017 fluoride study by Arid Community and Technologies (ACT), says the most affected are the primary government schoolchildren of Mehsana.
"All the children had dental fluorosis (in 2017). Many had skeletal fluorosis too. In fact, children start complaining of pain in their joints from the age of nine," she says, adding that Reverse Osmosis (RO) facilities to treat the water in the schools are "poorly maintained".
Banerjee says that malnutrition has aggravated the crisis in schools here.
"The midday meals these children get in Gujarat only consist of only dal and rice. There is no source of calcium to combat fluorosis," she says.
Dhara Ben says that villagers have protested against the poor quality of water to their respective panchayats but adds that there has been no tangible solution to the problem so far.  "The water table has depleted completely and it hasn't rained here. It is not that the political leaders aren't aware, it's just that they don't do anything," she says.
Politics of water
Gujarat deputy chief minister, the BJP's Nitin Patel, who is the Mehsana MLA, says the government has ensured drinking water for the region.
"The fluoride is in the groundwater. We make sure that even the poorest of all in Gujarat get surface water from the Narmada. The drinking water is all surface water from Dharoi dam," he told ThePrint.
He also denied allegations that the government had done nothing to ease the crisis. "These are all false accusations. We have been providing surface water to 3 crore people of Gujarat. There is no problem here," he says.
Residents of Mehsana, however, told ThePrint that many of them can't afford the water from Dharoi dam. According to Dhara Ben, the villagers are supposed to deposit money with their respective panchayats to pay for water supplied by the Water and Sanitation Management Organisation (WASMO) from Dharoi.
"They can't pay the panchayats for the water on time, which in turn can't pay the Dharoi dam office. So, water supply is cut."
Nilam Thakur, a resident of Aithor village in Unjha, says this has made villagers rely solely on the contaminated groundwater.
"The borewell water is free and the villagers are habituated to this water, so they don't like paying for the Dharoi water. No one understands the danger," she says.
---
Also read: Punjab's worst ecological crisis in years cannot be cleaned up anytime soon
---
In some villages of Mehsana, the government has tried to improve water quality by mixing the Dharoi water with that from the borewells to dilute the excess fluoride but that hasn't been showing any improvement either.
"We had proposed to shift the water pipelines to safer sources but the panchayat keeps changing. We are trying to convince them but the panchayat will change again in 2019, so we'll have to start the whole process again," Banerjee told ThePrint.