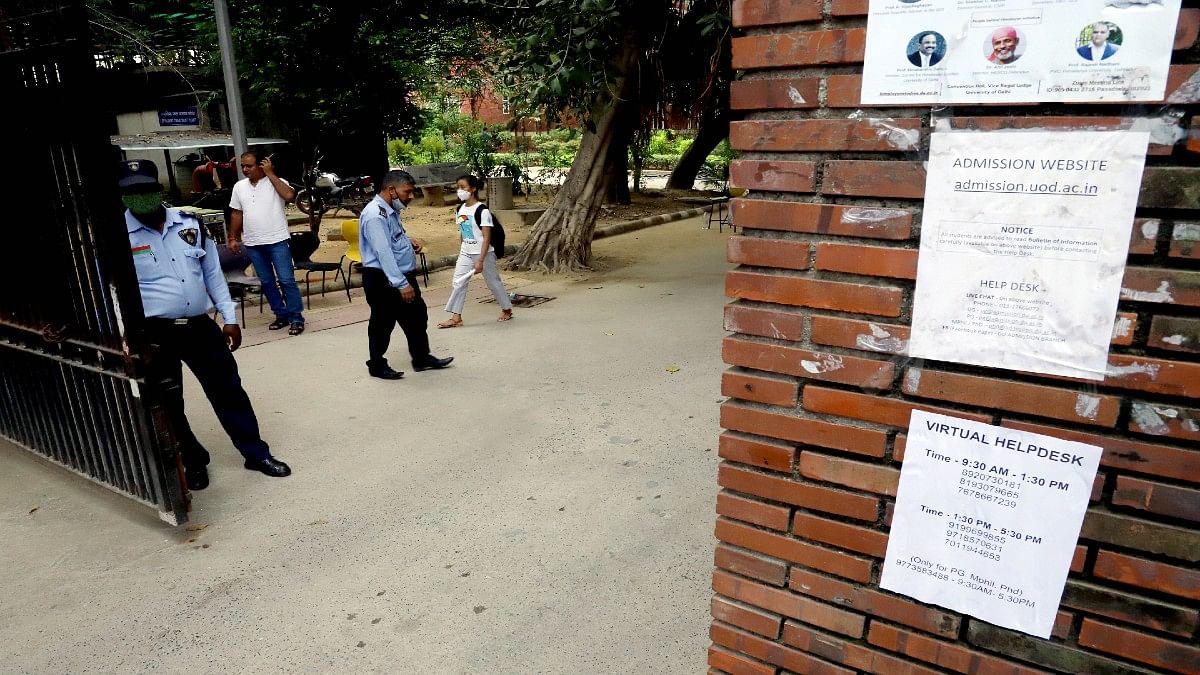 New Delhi: Students from state boards, who are often at a disadvantage while seeking admission in universities or applying for government jobs due to different systems of marking and assessment, will soon get qualification equivalence for their Class 10 and 12 certificates.
In order to end the disparity between different school boards, the education ministry has entrusted the Association of Indian Universities (AIU) with the task of granting equivalence to the secondary and senior secondary school certificates from various boards in India, ThePrint has learnt.
Various boards have their own ways of allotting marks and assessing students, and this sometimes becomes an issue with universities. The latest example is of Kerala board students filling up maximum seats in most sought after Delhi University colleges in the last couple of months.
In November, the education ministry had written to the AIU, asking it to start working on standard operating procedures (SOPs) that would help give equivalence to secondary and senior secondary school certificates issued by various boards.
"It has come to the notice of the government that difficulties are being faced by students in respect of equivalence of certificates issued by various school education boards in India for the purposes of admission in higher secondary institutions and employment in central and state government," said the ministry letter, a copy of which is with ThePrint.
"The Ministry of Education is entrusting the responsibility of granting equivalence to secondary/senior secondary certificates awarded by examination boards in India with grade 10 and 12 examination qualification," it added.
AIU is currently in the process of formulating SOPs for certificate equivalence. According to officials, the SOPs will ensure that school boards follow examination bylaws in accordance with the National Curriculum Framework (NCP), the new National Education Policy (NEP) and provisions of the Right to Education Act.
"Equivalence shall only be granted in accordance with the laws," the ministry letter to AIU said.
---
Also Read: As CBSE Class 12 students score 499, non-CBSE state boards worry about DU edge
---
Equivalence to foreign degrees
The AIU has been granting equivalence to foreign higher education degrees in India. Foreign degrees, primarily the one-year postgraduate degrees, need to have an equivalence certificate from AIU, if the student wants to enroll in a PhD programme or apply for a government job.
They have also been doing it for foreign education boards like Cambridge and International Baccalaureate (IB). However, so far there was no mechanism to do the same for the 60-odd state boards (public and private) in the country.
Conditions for granting equivalence for foreign boards are: for class 10, the student should have completed at least 10 years of studies and passed in at least five subjects including English. For class 12, the student should have completed at least 12 years of school education and passed in at least four subjects. Moreover, the school board should be recognised by the ministry of education.
"We have been granting equivalence to foreign higher education degrees for a long time now and hence we have the expertise to do the job. We are currently working on finalising the SOPs for the process and should be able to come up with it in the next three months," Pankaj Mittal, AIU secretary general, told ThePrint.
"There are many boards in India which are not known by universities and government establishments and students face issues while seeking admission or when they apply for a government job. Hence a need was felt to bring in the system of equivalence so that the establishments understand where the board stands in terms of assessing their students," he added.
---
Also Read: Here's how you can be eligible for a PhD in India after a 1-year Master's abroad
---
A DU example
A Delhi University professor on condition of anonymity told ThePrint, "When we are granting admission to a student from a state board, say Bengal or Bihar or some other board, we are not sure how they are marked because some boards are very conservative with their marking and others are very gracious, like the CBSE. So we have no way of finding out the real knowledge of a student."
The Indian Certificate of Secondary Education (ICSE) and Central Board of Secondary Examination (CBSE) are the two Indian school boards that fall under the purview of the central government.
Delhi University had recently formed a panel to study admission rates and mean admission percentage of students from various boards, including state boards, CBSE, and Council for Indian School Certificate Examination (CISCE). In its report submitted to the university's academic council last week, the panel found that maximum number of students admitted were from CBSE, Kerala board, Rajasthan board, and Haryana board.
The acceptance rates for these boards was high — CBSE (16.47 per cent), Kerala (39.18 per cent), Rajasthan (27.75 per cent) and Haryana (18.39 per cent). Acceptance rate is the number of admissions that took place out of the number of students who applied.
It also found that the highest mean admission percentage was for Kerala board (98.43 per cent), followed by Telangana State Board of Intermediate Education at 95.41 per cent, and the Rajasthan Board at 94.68 per cent.
For the CBSE board it was 91.3 per cent, and 92.33 per cent for CISCE. Mean admission percentage is the average cut-off percentage at which students were admitted.
(Edited by Gitanjali Das)
---
Also Read: Not prepared for boards, say poor, rural students after year of online classes that never were
---