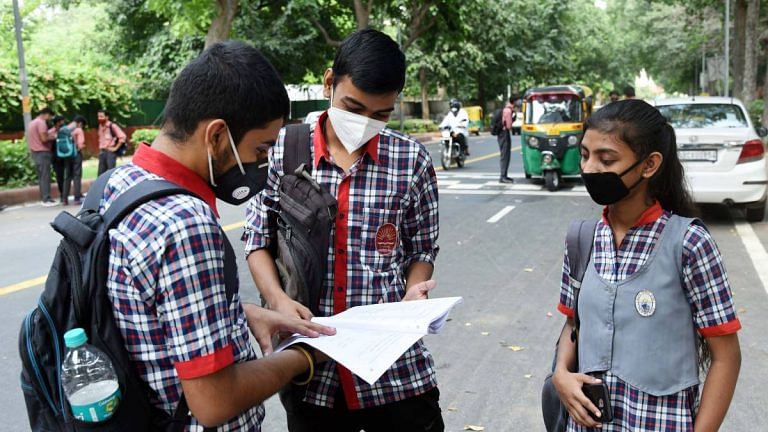 New Delhi: Tenth and twelfth graders of schools affiliated to the Central Board of Secondary Education (CBSE) will have to appear for only one board exam from next year, instead of taking it twice like they had to this year and last year, CBSE exam controller Sanyam Bhardwaj told ThePrint.
For the 2021-22 academic year, CBSE had conducted two board exams. However, Bhardwaj said that this was a one-time measure taken because of the Covid pandemic, adding that with schools now open and things going back to normal, the board will be reverting to the old pattern.
"The decision to go for two board exams was taken as a special measure during Covid-19 pandemic, the board never said that it is going to continue for the coming academic sessions as well," he said.
Although the new National Education Policy (NEP) mentions conducting two board exams for classes 10 and 12, the board has decided not to go ahead with the decision as a permanent policy.
Talking about making the board exams easier, the NEP says, "Board exams will also be made 'easier', in the sense that they will test primarily core capacities/competencies rather than months of coaching and memorisation; any student who has been going to and making a basic effort in a school class will be able to pass and do well in the corresponding subject board exam without much additional effort."
About conducting two exams in a year, it says, "To further eliminate the 'high stakes' aspect of board exams, all students will be allowed to take board exams on up to two occasions during any given school year, one main examination and one for improvement, if desired."
Board officials, however, told ThePrint that conducting two board exams in a year was 'cumbersome'.
"The kind of infrastructure that is required to conduct a board exam is huge – teachers, invigilators, exam-setters. It is difficult to repeat it twice every year. We have also received some representations from schools that said that conducting boards twice a year is too cumbersome," an official said.
"Even when we announced two exams, we never intended it to be a permanent affair, it's the interpretation of people that made it look like it," he added.
The notice announcing conduction of exams twice in 2021 had read, "The syllabus for the academic session 2021-22 will be divided into two terms by following a systematic approach by looking into the interconnectivity of concepts and topics by the subject experts and the board will conduct examinations at the end of each term on the basis of the bifurcated syllabus."
---
Also read: CBSE changes rules mid-exams, answer sheets won't be evaluated by teachers on same day
---