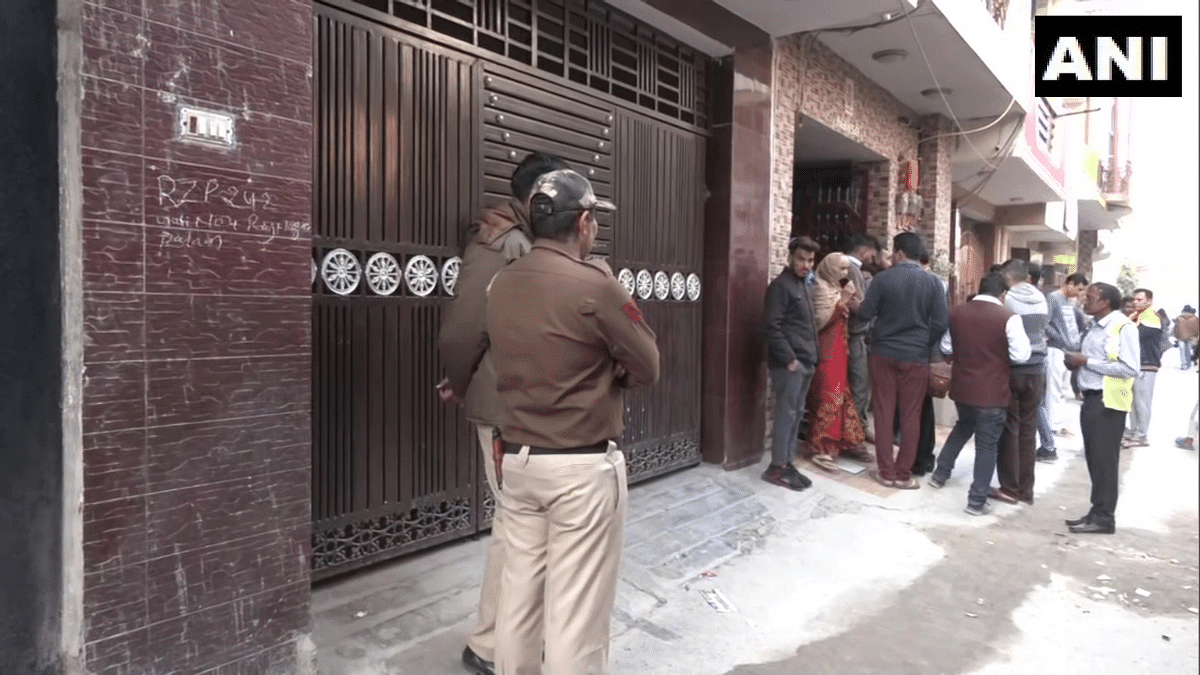 New Delhi: In a gruesome killing spree that unfolded in Delhi's Palam area, 25-year-old Keshav – who was in rehab till a few months ago for his drug addiction – allegedly stabbed to death his parents, younger sister and grandmother after a family quarrel upset him late Tuesday.
The police arrived at the crime scene around 10.30 pm to find the four family members dead. The accused was attempting to flee but was arrested on the spot. They said he had used a sharp object to slit their throats and 'stabbed' them multiple times.
A case under section 302 of the IPC has been registered against him, according to the Delhi Police. The accused has also been sent to three-day police custody.
It was Keshav's cousin, Kuldeep, who made the call to the police after hearing screams coming from the second floor of a building, where they all live on separate floors.
He heard Keshav's sister, Urvashi, screaming "Bhaiya, bacha lo (Brother, please save me)," around the time of the incident. The shrieks prompted Kuldeep to ring up the Palam police station and report the happenings.
"On reaching the spot, the staff found four of the family members of the accused dead. At that point, the accused was trying to escape but was caught by the relatives and the Police Control Room staff," the Delhi Police stated.
According to initial investigation, the "motive for the crime appears to be a quarrel" between Keshav and his family members as the accused "did not have a stable job". Police also said that he was under the influence of drugs when he allegedly committed the murders.
"During questioning, Keshav said that the family members would taunt him and discipline him," sources said. The accused claimed that his family members would "mentally torture" him.
Keshav's problem with drugs
It had only been a few months since Keshav was out of the rehabilitation centre, where he was admitted to tackle his substance abuse.
"Out of a mother's love, my aunt brought him back 5-6 months ago, but he never stopped indulging in these habits. He would often consume smack (heroin) and marijuana," the cousin, Kuldeep, told ThePrint.
A police source also claimed that he had started going to work after "getting clean".
"He was in a rehabilitation centre, and returned after getting clean. He started working and was going to his present place of work until 10 days before the crime," the source said.
A 'daily affair' 
On the morning of the fatal day, the cousin heard Keshav arguing with his mother. "On my way to work, I heard Keshav fighting with his mother but I don't know what it was about," Kuldeep said. But since it was a "daily affair", he was "not very concerned then".
He narrated that Keshav had a history of being nonchalant regarding his work, which used to be a point of contention between him and his family. Neighbours described him as vella (a good-for-nothing person) due to his habits.
According to his cousin, the accused did not have a stable job or income and was notorious for running away from the house and not returning for days.
On 3 November, Keshav had asked his grandmother for money. When she refused to give it to him, Keshav allegedly stole the inverter of a battery from his cousin's house and fled. "He took the inverter and ran away with his friends," said Kuldeep.
"Only when he ran out of money, he returned to his house on the morning of 22 November," the cousin claimed.
---
Also read: 'Educated' juveniles committed crimes more than the 'illiterate' ones in 2017, says NCRB
---