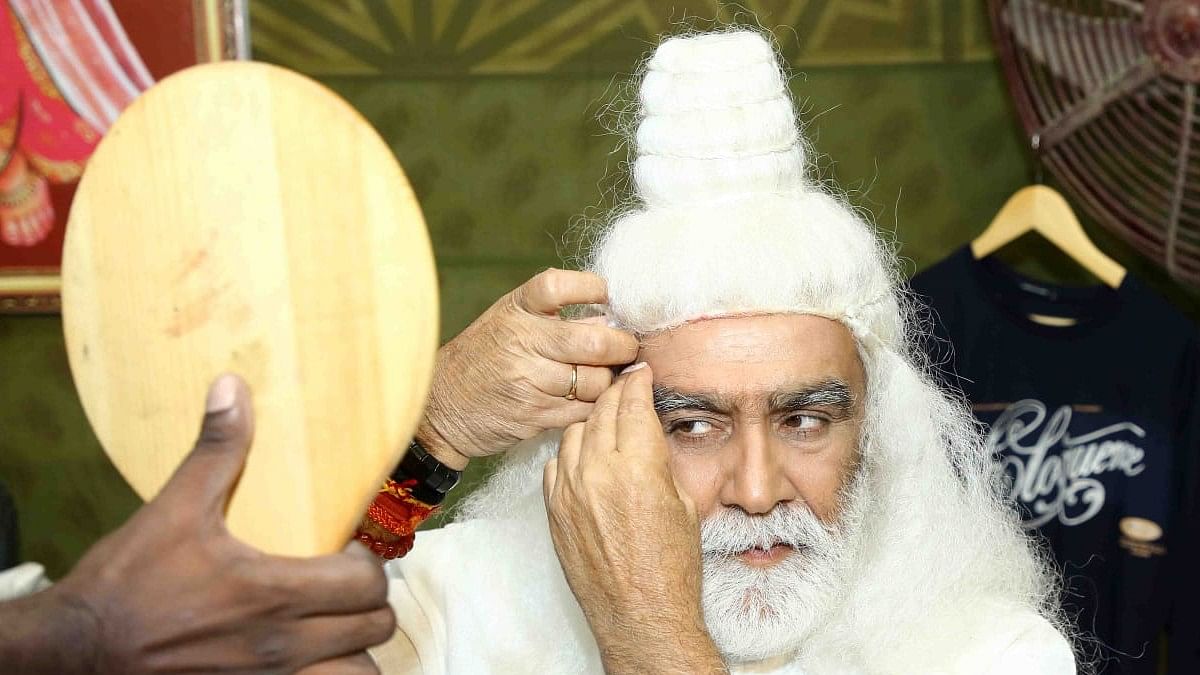 New Delhi: Union Minister of State for Environment Ashwini Kumar Choubey stands surrounded, not by towering piles of files from his ministry, but by make-up artists. As an assistant holds up a mirror, he adjusts his white wig one last time before stepping onto the stage.  
Choubey is playing the sage Vishvamitra in Delhi's iconic 'Lav Kush Ramlila', organised by the Lav Kush Ramlila Committee at the Red Fort every Dussehra. And he isn't the only political leader preparing to step into a whole new role. The event, which began on 26 September and will go on till 5 October, is seeing a motley bunch of politicians perform — from Union ministers Faggan Singh Kulaste and Arjun Ram Meghwal, to Delhi BJP president Adesh Gupta, to even Aam Aadmi Party's Brijesh Goyal.
So how do politicians find the time to squeeze in a play that runs for 10 continuous days?
"We approach them [politicians] beforehand to play a certain character, often a small role that does not require much work or preparation and has minimal dialogues," Shailesh Giri, the show's publicist, told ThePrint. "Then 2-3 days before the actual event, they rehearse and learn a couple of their dialogues. Most of them are extremely sincere and enthusiastic about it."
And so, the 'Lav Kush Ramlila' has Arjun Ram Meghwal, the minister of state for parliamentary affairs, singing bhajans, former North Delhi mayor Avtar Singh playing Kumbhakarna, king of demons Ravana's gigantic brother with a voracious appetite, while Delhi BJP president Gupta essays the role of Hindu god Vishnu. 
Also in the show is Gupta's predecessor and North East Delhi MP Manoj Tiwari, who's playing Kewat, a character in the epic Ramayana who helped Ram, Sita, and Lakshman cross the Ganga in his boat during Ram's exile years. Meanwhile, Union minister of state for rural development Kulaste plays Guha, the Nishad king who was a close friend of Ram, and BJP legislator Vijender Gupta plays the role of King Janak, Ram's father-in-law.   
---
Also Read: There's something about the way Modi's using BJP—Like Left Front, it hurts democracy
---
Where politics meets spirituality
The 'Lav Kush Ramlila' is often a popular cocktail of spirituality, politics, and Bollywood. The last few years have seen actors such as Akshay Kumar, John Abraham, and Ajay Devgn attend the event.   
This year, organisers have invited Telugu actor Prabhas (of Bahubali fame) to their Dussehra celebrations. President Droupadi Murmu and Delhi Chief Minister Arvind Kejriwal will also attend the event. 
Show publicist Giri told ThePrint that past Ramlilas have also seen former Union ministers such as Suresh Prabhu and Harsh Vardhan play various parts. Harsh Vardhan played the role of King Janak in the 2018 edition of the Ramlila.   
"Even last year, (BJP MLA) Vijender Gupta's wife also played a character. (Congress leader) Alka Lamba was also supposed to play a role, but it didn't work out at the last moment," Giri added.
AAP leader Brijesh Goyal plays Angad, the leader of the Vanar Sena, or the monkey army, which helped Ram find Sita and fight her abductor, Ravana. 
Goyal, who's been part of the Ramlila before, told the media that he'd even put on weight for the role.
"I have been preparing for this role for over a month," Goyal said before he went on stage Sunday. "I hope that when I go on stage, people don't look at me as Brijesh Goyal but as Angad."
Union minister Choubey tweeted last week that he was proud of his role: "I'm from Buxar and this has been the land of the sage Vishvamitra. I'm proud that I could play the role of Maharishi Vishvamitra."
An earlier version of the story said that this is the first time an AAP leader has been part of the 'Lav Kush Ramlila'. The story has been updated to clarify that Brijesh Goyal has been part of the show before.
(Edited by Uttara Ramaswamy)
---
Also Read:  BJP targets 'AAP CM face' Medha Patkar in Gujarat, AAP says it's 'like saying BJP's PM pick is Sonia'
---