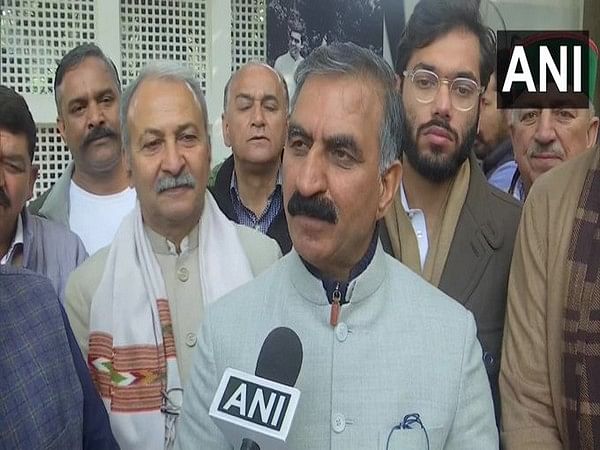 Shimla (Himachal Pradesh) [India], February 2 (ANI): Himachal Pradesh Chief Minister Sukhvinder Singh Sukhu on Wednesday termed the Union Budget tabled by Finance Minister Nirmala Sitaraman as an 'artful trickery'.
Speaking to mediapersons, the CM added that the budget was disappointing and contrary to the expectations of the masses.
He said the exercise was a 'mere artful trickery' to achieve electoral goals.
Significantly, this was, in all probability, the last full Budget presented by the BJP-led NDA government at the Centre before the next general elections, which are scheduled early next year.
"There is nothing in this Budget for any section of the society, be it the middleclass, poor, youth and farmers. There is not a word in this Budget about controlling rising inflation and unemployment. This Budget is nothing but disappointing for the masses," said Sukhu.
He added that the people were still waiting for 'Achhe Din' as the BJP had promised ahead of the general elections in 2014.
"The Budget lacks vision for the job sector and no reasonable thinking has been done in this direction. There is no mention of urban employment and farmers, apart from raising their loan limit which will push them further into a debt burden. No subsidies on farming tools or fertilisers were announced," the chief minister said.
He added that there was no additional allocations under MNREGA, which only shows the government's lack of intent to boost rural employment.
"No promises have been made for the state and there is no allocation for expansion of railway infrastructure and National highways here. Even the changes in the income tax slabs were not in line with the expectations of the people. They haven't brought much relief for the middleclass," the CM said.
"This is a Budget for making the rich richer and the poor poorer. It is a pro-rich Budget. The central government should put a stop to this soap opera which has been going on since 2014," he said.
He claimed further that no special grants were announced for states, including Himachal, which reeling under a debt burden.
"We inherited the debt burden of around Rs 75,000 crore from the previous (BJP) government. We also have to pay arrears to (government) employees and pensioners amounting to nearly Rs 11,000 crore. There was no mention of reimbursement of GST since June 2022 in the Budget to hill states," the Himachal CM added. (ANI)