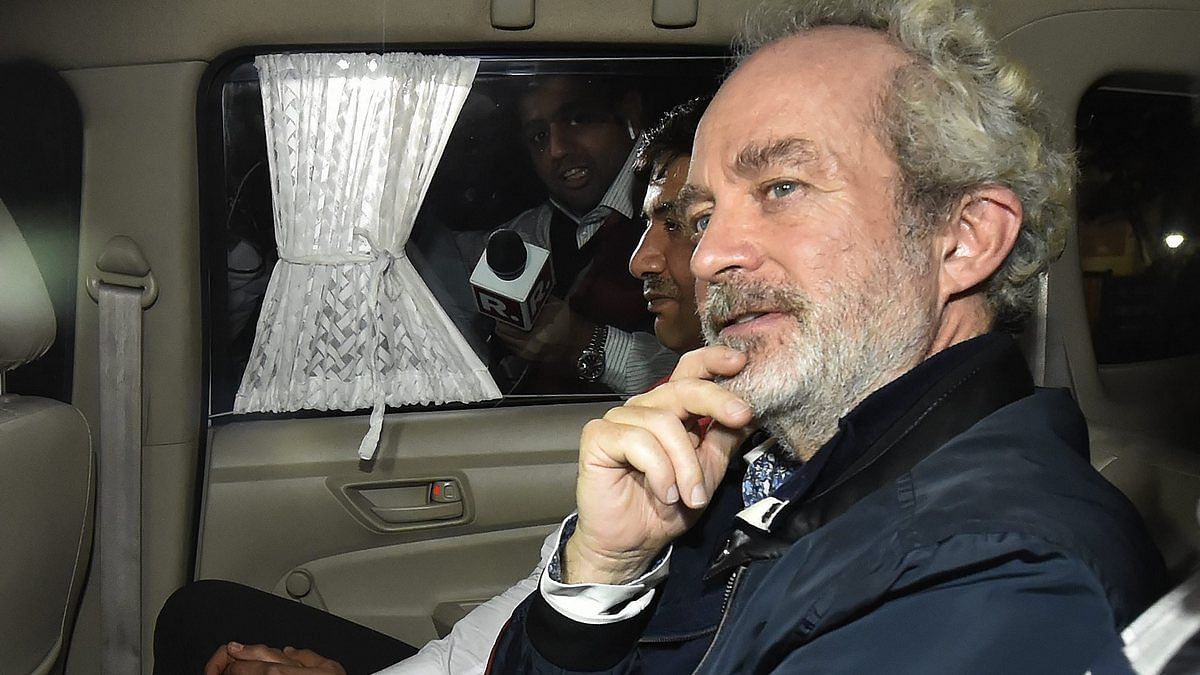 New Delhi: Christian Michel, the alleged middlemen in the Rs 3,600 crore AgustaWestland VVIP chopper scam who is now being questioned by the Enforcement Directorate (ED) inside Tihar jail, was again asked to name "prominent political leaders" involved in the case, Michel's lawyer M.S. Vishnu Sankar told ThePrint.
Last Saturday, the ED sought permission from the Delhi Special Court to interrogate the accused in the light of fresh evidence. The court then allowed three ED officials to interrogate Michel inside Tihar, considering the requirement of investigation and the sensitive nature of the case.
While a senior officer quizzed Michel from 10 am to 1.20 pm and then from 2.30 pm to 5 pm Monday, ED Director S.K. Mishra interrogated him Tuesday, sources told ThePrint.
"ED had said they wanted to question him about some documents, but in fact, they again asked him to name political leaders, including Sonia Gandhi, asked about her role, give details about the person behind the deal," Sankar said.
"They need him to confess, give them some documents and give some names. They just want to establish that Michel gave money to politicians under UPA," he added.
ED officials, however, refuted the allegations.
In December 2018, the ED had told a Delhi court that during questioning in the AgustaWestland VVIP chopper case, Michel had taken "Mrs Gandhi's" name in reference to a query.
The ED had also said in one of the contract negotiation documents, "it is mentioned 'son of an Italian lady… Going to be the next PM', which the ED said they need to confront Michel with and then identify the proceeds of crime.
Michel, however, had later alleged that the ED was trying to "extract a false confession from him that he personally knew UPA chairperson Sonia Gandhi".
---
Also read: AgustaWestland accused Christian Michel moves Delhi HC for bail citing Covid-19 threat
---
'Not confronted with any new evidence'
Although the ED sought the court's permission to interrogate Michel again about a new set of evidence, he was yet again posed the same set of questions, answers of which have already been provided to the agency, Sankar claimed.
"They did not confront him with any new evidence, instead, repeatedly asked him the same questions that they asked him while he was in ED's custody," he said.
"It is just their way to trick Michel into throwing some prominent names," he added.
ED, however, called the allegations baseless.
"An investigation is an ongoing process and there are many questions that arise during this process. We sought permission from the court to interrogate Michel on valid grounds and were granted the same," a senior officer said. "These allegations are baseless. We will share the information with the court," he added.
Michel's lawyer had applied for bail and interim bail after the lockdown in March, stating he was not safe inside the prison considering the ongoing pandemic, but the applications were rejected by the court. One of his bail pleas is still pending with the Delhi High Court.
---
Also read: CBI court allows ED to further interrogate Christian Michel in AgustaWestland case
---
'Seeking Michel's help to obtain evidence against him' 
Michel's lawyer also alleged the ED doesn't have sufficient evidence against Michel as they have not been able to establish a money trail in the case, and are now asking Michel to help them fetch some documents.
"They asked him, where are the bank statements of your company (in Dubai and UK), which they have not been able to access until now even after all these years of investigation and interrogation," Sankar said.
"They (ED) are seeking Michel's help to obtain evidence against himself and hand it over to them so that they can make a case, since they do not have anything concrete. This is like asking Michel to turn into a witness against himself, which is against the law," he added.
According to the Indian constitution, every accused has a right against self-incrimination in India. According to Article 20(3), no person accused of an offence can be compelled to be a witness against himself.
Sankar further said the ED, so far, has no documentary proof showing transactions to link Michel with this case and the money trial.
'Being tortured mentally'
Sankar further said despite Michel cooperating with the agency, they have not allowed him to keep in touch with his 85-year-old ailing mother in England or his lawyers abroad.
"He was earlier allowed a call once in a while, but now is not being allowed to either keep in touch with his family or lawyers abroad," Sankar said. "The ED is constantly asking him to fetch details of bank accounts of his companies, which he cannot give as he is unable to connect to any of his lawyers abroad. He is not in a position to do it," Sankar added.
---
Also read: AgustaWestland accused Christian Michel's business partner summoned by Delhi court
---