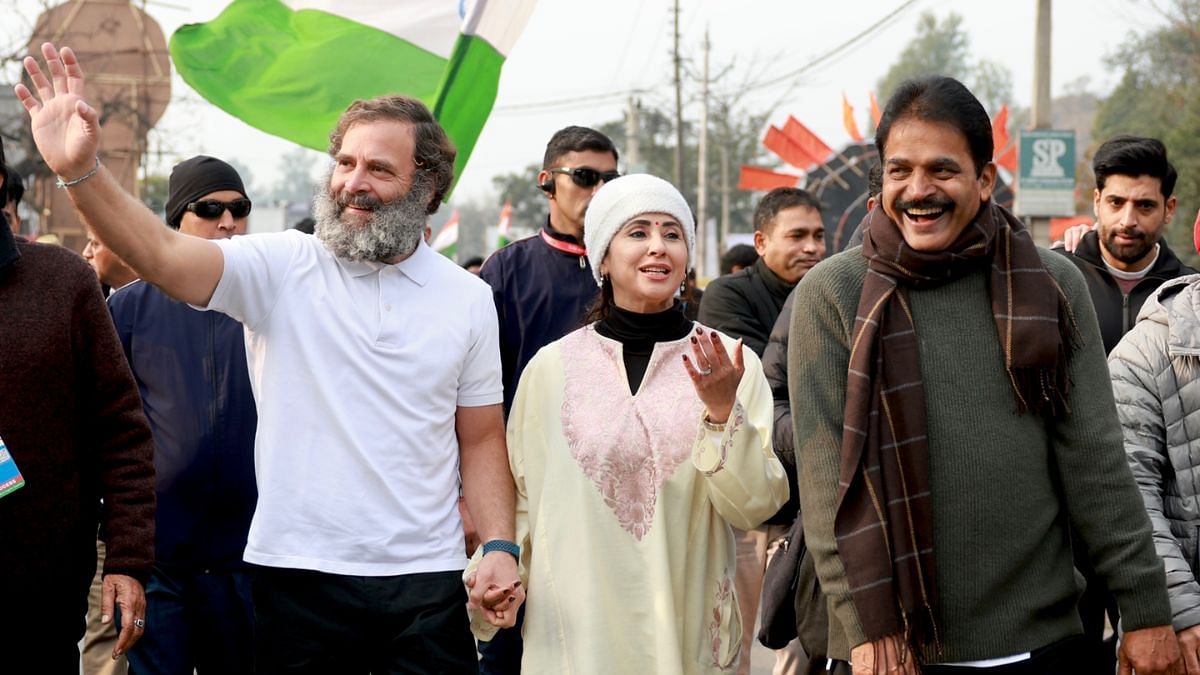 Nagrota: Actor and Shiv Sena politician Urmila Matondkar joined the Congress' "Bharat Jodo Yatra" in Jammu on Tuesday and walked hand in hand with Rahul Gandhi — exactly three years after she left the party for its "petty in-house politics".
In the cold winter morning in Nagrota, Matondkar walked to robust bellows of "Jodo, Jodo, Bharat Jodo" as the party's outreach march looked to enter its last leg in Kashmir on 27 January.
The yatra on Tuesday moved from Nagrota to Udhampur before it will stride up to the Valley later this week.
Matondkar had quit the Congress in September, 2019, after a brief six-month stint, and had said at that time: "My political and social sensibilities refuse to allow vested interests in the party to use me as a means to fight petty in-house politics instead of working on a bigger goal in Mumbai Congress."
Matondkar had also blamed the Mumbai leadership for ignoring her grouse with her 2019 campaign coordinators whom she had called "politically immature" and said they could not mobilise ground workers in her favour.
The actor represented the Congress in the Mumbai North constituency in the 2019 Lok Sabha elections. She lost by a huge margin of over 4.6 lakh votes to sitting BJP MP Gopal Shetty.
Matondkar joined the Shiv Sena in December, 2020.
Months later, she told ThePrint, "I just feel that the way things were going on at that time as far as I was concerned, they were not suiting my sensibilities as to how I wanted to work and go ahead and progress in life, and let me just leave it at that now."
On Tuesday, the award-winning actor — who has worked across Tamil, Telugu, Marathi and Hindi cinema – was all smiles as she walked with her former political colleague Rahul Gandhi. Wearing a cream firhan, she was also seen posing for photographs with the leader and supporters.
#BharatJodoYatra में शामिल हुईं प्रसिद्ध अभिनेत्री @UrmilaMatondkar

देश से प्यार करने वाले, देश जोड़ने की मुहिम से जुड़ रहे हैं। pic.twitter.com/rHeBM90k9t

— Congress (@INCIndia) January 24, 2023
The Yatra, which started on 7 September from Kanyakumari, moves to Kashmir this week, though it is yet to receive a security clearance. There will be a mega event on 30 January in Srinagar where presidents of 21 political parties have been invited.
---
Also read: Rahul Gandhi meets Kashmiri Pandit delegation in Jammu, says 'shocked' at what they were facing
---