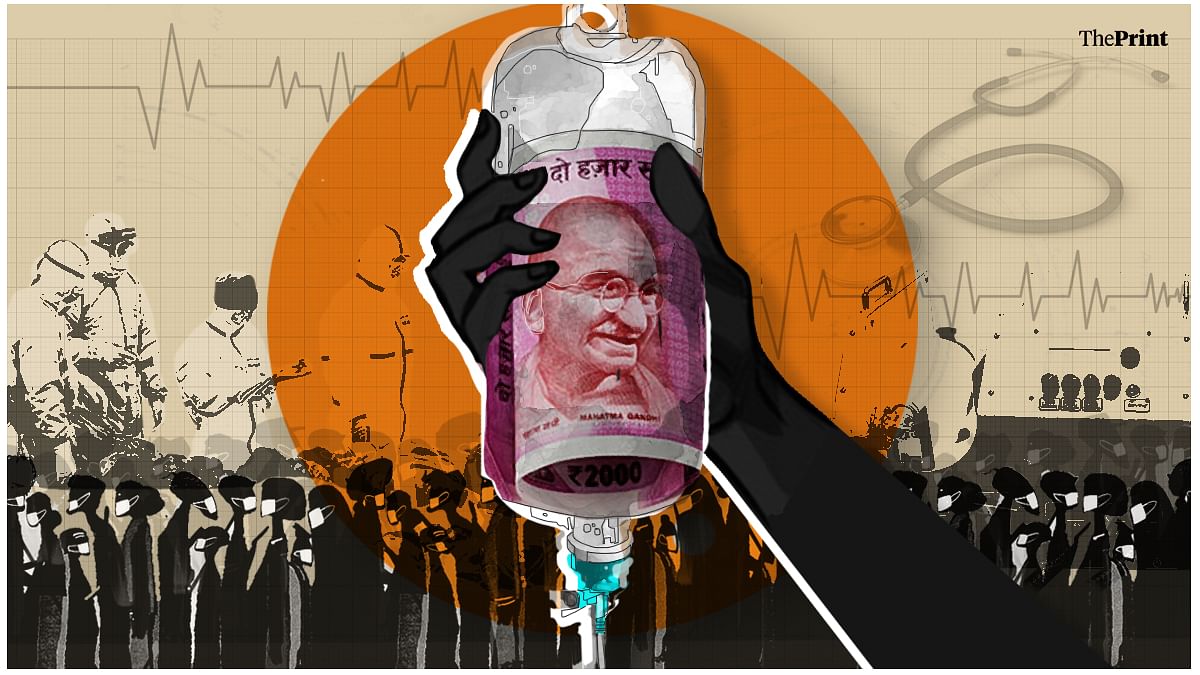 Announcing a 137 per cent increase in the allocation for the health sector over last year, Finance Minister Nirmala Sitharaman defined health and well-being — encompassing both preventative and curative measures — as the first pillar of Budget 2021-22.
Some experts criticise this definition, as they favour greater spending on curative health, which usually falls directly under the health sector. An economist's interpretation is that money spent on public goods resulting in better health outcomes gives the best bang for the buck.
Curative healthcare becomes the last resort for an individual who has fallen ill, and governments can bring valuable gains of scale when they reduce the probability of getting sick in the first place. This requires policies that run parallel to, but outside of, the Ministry of Health and Family Welfare (MoHFW).
This is reflected in this year's health Budget, which focuses not only on strengthening initiatives under the health ministry, but also areas outside its purview, including the universal coverage of water supply, waste management and clean air.
---
Also read: Total allocation for health ministry up only 7%, no increase in budget for Ayushman Bharat
---
Water, sanitation and nutrition
For curative health, a new PM Atmanirbhar Swasth Bharat Yojana was announced, and allocated Rs 64,180 crores over six years, aiming to develop all levels of curative care systems.
For better health outcomes, the allocation for the Department of Drinking Water and Sanitation increased significantly to Rs 60,030 crore from Rs 21,518 crore under the health and well-being pillar, which will create a direct impact on outcomes, even though the health ministry may not be directly involved.
Existing literature links improved water and sanitation with better health outcomes. For example, reduced open defecation increases child survival rates. Aside from child mortality, better sanitation reduces child morbidity, and therefore, India's burden of disease. This is seen in the Swachh Bharat Mission, which led to a drop in diarrhoea and malaria cases in children below five years, as well as decreased stillbirths, and new-borns with weight less than 2.5 kg.
This year, the Urban Swachh Bharat Mission 2.0 was allocated Rs 1,41,678 crore over the next five years.
For nutrition, the Supplementary Nutrition Programme and the Poshan Abhiyan were merged and the Mission Poshan 2.0 was launched, to improve nutritional outcomes in 112 districts. The Jal Jeevan Mission (Urban) has been announced for universal water supply in all 4,378 Urban Local Bodies, to be implemented over five years with an outlay of Rs 2,87,000 crore.
The LPG Ujjwala scheme, providing free cooking gas, is to be extended to one crore more beneficiaries, despite household coverage already reaching 98 per cent. Similar to water and sanitation, studies find clean fuel for cooking improves child health, with higher infant mortality in households using biomass, particularly due to respiratory disease. These preventative measures should be included in health expenditure, as they improve health outcomes.
There has been a new Budget allocation of Rs 2,217 crore towards reducing outdoor air pollution. This is a step in the right direction. Estimates suggest that air pollution cost India 18 per cent of the total deaths and an economic loss of 1.4 per cent in 2019. Aside from the Covid-19 pandemic, air pollution has emerged as the biggest risk factor to health in India, with the country containing 14 of the 20 most polluted cities worldwide.
The impact of air pollution is reflected in India's shifting disease burden. While deaths from neonatal pre-term birth decreased by 39.5 per cent from 2005-2015, ischemic heart disease increased by 11.1 per cent in that period, emerging as the biggest cause of premature as well as total deaths.
Other such pollution-linked diseases have also been rising and are more expensive and time consuming to treat than the traditional poverty related diseases, making their prevention paramount.
---
Also read: Nirmala Sitharaman has sent a very clear message to revive economy. Now, it needs follow-up
---
Two facets of health burden
There are, thus, two facets of the health burden India faces — the first being poverty related issues such as poor sanitation, unclean water and malnutrition, and the second being from new risks that have emerged from rapid growth.
Over the last 35 years, India achieved an average GDP growth of 6.3 per cent per year, doubling every 11 years. Development resulting from this growth both increased and decreased certain health risks. On one hand, GDP growth improved income and the ability to purchase health-care. On the other, unsafe buildings, unplanned cities, bad drainage and sewage, dysfunctional garbage disposal systems and polluted air and water generated new health risks.
Historically, India's disease burden was related to poverty and resultant health problems, such as high infant and maternal mortality. Since the Bhore Committee in 1946, health policy focused on provision of curative health care. But India's emerging disease burden today increasingly relates to growth that is not sufficiently mindful of the new health risks emerging from it.
Both need to be addressed, and both benefit from a preventative approach.
Ila Patnaik is an economist and a professor at National Institute of Public Finance and Policy.
Sanhita Sapatnekar is a PhD student of Macroeconomics at the Universidad de Navarra (Spain).
Views are personal.
---
Also read: How Modi govt can finally meet its ambitious 'privatisation' target
---