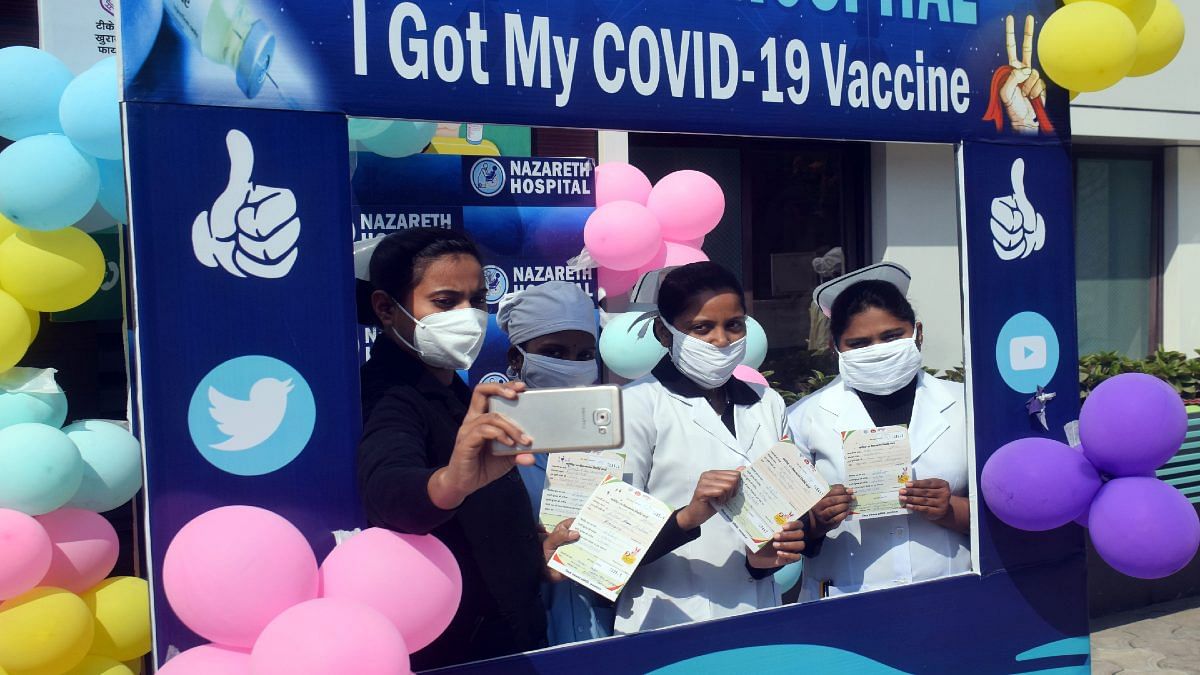 New Delhi: In a tweet Sunday, Uttar Pradesh government claimed it had vaccinated over 85 lakh people, however the data it cited reveal the state miscalculated the total.
The tweet in Hindi by the official handle of the Government of Uttar Pradesh read: "So far 72,72,734 people have been given the first dose of vaccine and 12,42,562 people have been given the second dose of vaccine. In this way, vaccine doses have been given to a total of 85,15,296 people."
The tweet claims to be a Covid-19 update by Amit Mohan Prasad, the additional chief secretary (health) in the state. The tweet has been liked over 500 times and shared more than 100 times.
अब तक 72,72,734 लोगों को वैक्सीन की पहली डोज तथा 12,42,562 लोगों को वैक्सीन की दूसरी डोज दी गई है। इस प्रकार कुल 85,15,296 लोगों को वैक्सीन की डोज दी जा चुकी है: ACS, चिकित्सा एवं स्वास्थ्य, श्री अमित मोहन प्रसाद जी

— Government of UP (@UPGovt) April 11, 2021
However, the data in the tweet has been miscalculated. The tweet states that 85,15,296 'people' have been vaccinated but this is false since only 72,72,734 people have received the first dose. Furthermore, of these, 12,42,562 people have been inoculated with the second dose.
These two datasets of vaccine doses — 72,72,734 and 12,42,562 — cannot be added to arrive at a total number of people vaccinated since they are not mutually exclusive. The second dose of the vaccine is given to people only after they have received the first dose.
Therefore, it isn't 85,15,296 people that have been vaccinated, rather 85,15,296 doses have been given out in UP. The total number of people vaccinated stands at 72,72,734, according to the data in the tweet.
---
Also read: 176 recipients died in 71 days of India's Covid vaccine drive, but no direct link found
---
Covid vaccination in Uttar Pradesh
This is not the first time Covid-19 vaccination in the state has made news.
Earlier this month, three elderly women were administered the rabies vaccine when they went to get Covid shots in the Kandhla area of Shamli in western Uttar Pradesh.
When the news broke out, the district magistrate ordered an inquiry and a pharmacist was suspended. A show-cause notice had also been issued to the medical superintendent of the community health centre where the doses were administered to the women.
The second wave of the Covid-19 pandemic has seen a massive surge in cases across the country. In the past 24 hours, India recorded 1,68,912 new Covid cases, which is the sixth record rise in seven days.
Vaccinations have been opened up for people over 45 years of age and so far, 10,45,28,565 inoculations have been carried out.
In collaboration with SM Hoaxslayer
(Edited by Rachel John)
---
Also read: Why India sees a return of Covid-19 surge and faces a vaccine crisis
---