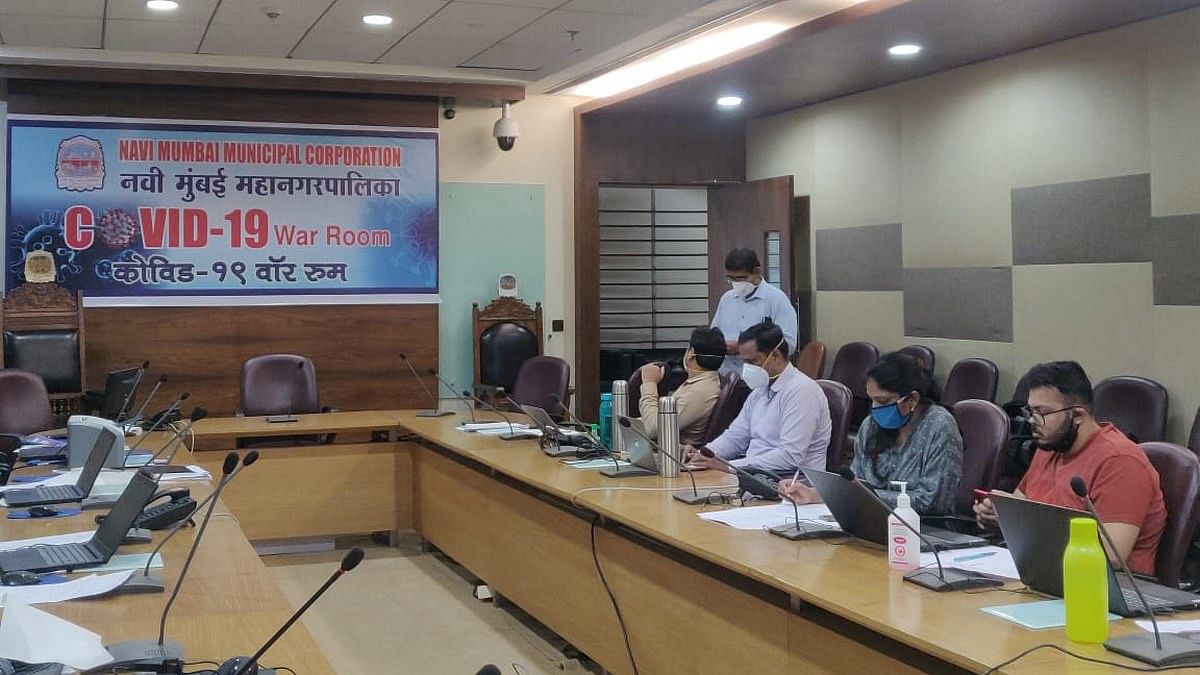 Navi Mumbai: It's 9 am on a Monday, and 20 data entry operators and analysts are hard at work on their laptops, juggling names, addresses and numbers.
At the other end of the room, two health experts are constantly on the phone with chief medical officers stationed at various urban health posts (UHP) across eight wards in Navi Mumbai. They are checking for updates on Covid-19 patients, and on whether they have been assigned to a quarantine facility or a hospital.
This is the Covid-19 'war room' at the Navi Mumbai Municipal Corporation Head Office, which has been set up to record real-time data of patients and their possible contacts, to try and curb the spread of the disease.
Navi Mumbai is one of the eight regions among Mumbai's suburbs and satellite cities that have seen a sharp spike in coronavirus cases in the last month. The other seven are Mira-Bhayander, Bhiwandi-Nizampur, Ulhasnagar, Kalyan-Dombivli, Panvel, Thane and Vasai-Virar. Of these, Thane has the highest average daily increase in cases — about 380.
Navi Mumbai's daily average increase is 234 cases. The number of cases on 28 June stood at 6,200, with active cases totalling 2,465 and deaths numbering 205. Between 1 and 23 June, the total number jumped from 2,673 to 5,923.
---
Also read: Now, Thane, Navi Mumbai wrestle with Covid surge, find 'a Mumbai contact' in most cases
---
Data crunching
A day at the war room begins at 8 am and ends at 10 pm. The Indian Council of Medical Research (ICMR), through the Maharashtra government, sends a list of Covid-19 positive cases to all regions including Navi Mumbai.
This list includes names, addresses and contact details of infected patients.
Once the list is received, the operators start work on it.
"Once we are given the data, we put it in the system software that can be accessed by officials concerned, including all chief medical officers and staff posted in our UHPs across wards," said a data operator who did not wish to be named.
"All UHPs are then tasked with assigning medical facilities to all Covid-19 patients through that system itself. It is all done electronically," he said.
"Once we have the address and phone number of the patient, we share it with the UHP in that area through this system, and they then assign a facility to the patient through this software itself," the operator said.
A single link click on the system shows all Covid-care facilities near the patient, and he/she is sent there by medical officers posted in that area. But the entire process is controlled from the war room, where all data is maintained.
"The facility that is assigned to the patient depends on his or her condition. If they are asymptomatic, then they are sent to Covid-care centres in case we feel that they cannot isolate themselves at home since they live in small apartments. If the patient is symptomatic, he or she is referred to a hospital," the operator added.
---
Also read: Delhi and Mumbai's high Covid tally linked to severe air pollution levels, say experts
---
'Rigorous' contact-tracing
After details of Covid-19 patients are fed in the system and they are assigned a facility, the UHPs also trace down the potential contacts of the patient.
"To contain the spread, rigorous contact-tracing is a must," a senior official from the Navi Mumbai Municipal Corporation said.
For this, the medical officers meet the positive patients and take down details of people they were in touch with.
"The details (phone numbers and addresses) of the contacts are then fed in the system as 'suspected cases', and then they are followed up on by the UHPs," the official said.
Telephone operators posted in the war room also make calls to people who may have come in contact with the patients, to know if they have developed any symptoms, and whom they should contact in case of an emergency.
"We have all the data on our system so the process is smooth. Many times, we find that the patient who tested positive lives in another region, so the civic body of that area is then informed," said Dr Sridevi, who works in the war room.
"We have 138 teams working on the ground in Navi Mumbai to ensure that no case goes unnoticed," the official quoted above added.
A daily report is also compiled by the war room operators, for the analysts to see the trends in Covid-19 cases, and to devise solutions.
"Once the data is compiled, recorded and mapped, we can then see clear graphs on where the cases are on the rise, and devise ways to contain the spread accordingly. These reports are prepared on a daily basis and reviewed," the official said.
Testing and screening
Until now, of the 15 lakh people living in Navi Mumbai, one lakh have been screened, and 24,280 tests have been conducted.
"In the Mumbai Metropolitan Region, Navi Mumbai has conducted the maximum number of tests ⁠— 16,187 per million. An entire record of the tests conducted and the lag, which is about 800 tests that are pending results, is duly maintained," a second official said.
"Our focus is to increase the testing and minimise deaths. It is good if more positive cases are identified, as they can be treated at the right time," he said.
Speaking to ThePrint, Navi Mumbai Municipal Commissioner, Annasaheb Misal said that they have created the war room to ensure no patient goes untraced. The focus, he said, was to identify as many cases as possible so treatment can be given sooner.
"The cases are increasing because we are testing the most. Also, mass screening, rigorous contact tracing has helped us identify cases and give them timely treatment. Our focus is that no one should go untraced. We believe that if we test more, screen more, it will help us in the future to bring numbers down," he said.
---
Also read: Eyebrow threading device, kaadha instead of tea: Mumbai's beauty salons reopen with tweaks
---
Why Navi Mumbai is seeing a spike
Navi Mumbai is a planned city just like Chandigarh, with 15 lakh people residing in high rise apartments, most of whom travel to Mumbai on a daily basis for work. Many of them work private jobs in the IT sector.
Then there are traders and labourers who work in the fisheries business and a major section of them that work at the APMC market, which is the biggest wholesale market in Asia for food grains, vegetables, spices, fruits.
The initial spike in the cases in Navi Mumbai was blamed on the market, which became a hotspot. Even now, the market has a footfall of over 20,000 buyers in a day from several states and areas of Mumbai and continues to be a challenge for authorities.
"Many cases were reported from APMC and became a concern. That is because so many truck drivers from different states come here to take vegetables, spices and fruits. Many retailers from Mumbai come here to take the stock. When they came here, they got the virus with them and so it spread," a third official said.
"It became a super spreader of sorts as many traders and workers also got positive. We then carried out effective screening and controlled the spread to an extent," he said.
"We, however, could not shut the market for long as it dealt with products that come under essential services and hence it became, and still is, a major challenge for us," he added.
Another reason for the spike in numbers was the decision to not seal the borders, Navi Mumbai municipal commissioner Misal said.
"The increase in infection is because of free movement between cities and no social distancing norms being followed. But, we are countering it by conducting house to house surveys in containment zones and isolating suspected cases at the first instance in the Covid Care Centres," he said.
The third official quoted above added that the movement across borders makes it extremely difficult to contain the spread. "We do not know who is getting the virus from where. So to effectively deal with it, rigorous testing and contact tracing is the only solution," he said.
Misal said his administration was conducting a separate survey for senior citizens with co-morbidies. "…Data is being maintained because they are our focus to reduce fatality rate. This is the lot that we have to give ample care to, to ensure there are no deaths," he said.
---
Also read: Wholesale vegetable prices soar as demand rises, retail rates to spike too if supply gap stays
---