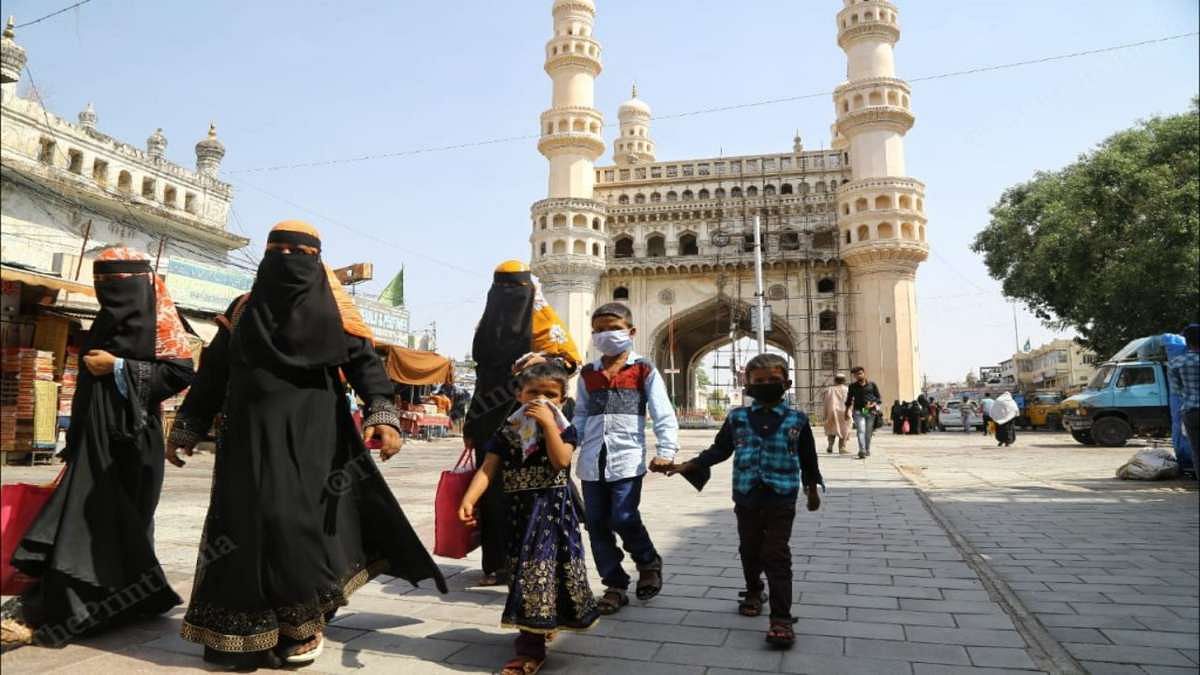 New Delhi: Telangana capital Hyderabad has decided to suspend Covid-19 testing until the backlog of tests is cleared, ThePrint has learnt. Hyderabad already has the lowest testing rate among big Indian cities like Delhi and Mumbai, and a positivity rate of 30.6 per cent, which means approximately 31 out of every 100 people tested are diagnosed with Covid-19. The average positivity rate for India between 10 and 23 June was about 8 per cent.
According to a state government officer involved in the testing process, there is a "backlog of thousands" in the Greater Hyderabad Municipal Corporation (GHMC) area, which also comprises some parts of neighbouring districts. "So, until that's cleared, it will be difficult to resume testing," the officer said.
The clearing of samples collected until Wednesday, the officer added, is likely to take at least another two to three days.
"There is a shortage of not only manpower but also machines to test the target group on the ground," a second government officer said. This is also because the Telangana government has been relying only on RT-PCR tests as "they don't believe in the authenticity of antibody or TruNat testing kits", the official added.
In a statement issued Thursday evening, public health and family welfare director G. Srinivasa Rao said testing will only be halted at the camps set up by the government since 16 June.
"Health minister has organised camps for testing those with symptoms since 16 June. To date, 36,000 samples have been collected in the Greater Hyderabad area. Of these, 8,253 samples are pending," the statement, translated here from Telugu, added. "Each sample has to be tested within 48 hours of collection or it will be futile," it said.
"For two days, we are not in a position to collect new samples as the old ones are waiting to be tested," it added, stating that suspected patients can still get tested at hospitals.
---
Also Read: High infection rate, low testing, tired doctors — KCR's messy Covid battle in Telangana
---
Promise of 10,000 tests a day
The decision to suspend testing comes a day after Telangana Health Minister Eatala Rajender announced that the state will conduct 10,000 tests daily. 
Speaking to the media on the sidelines of his visit to the Telangana Institute of Medical Sciences and Research (TIMS), a repurposed 14-storey sports complex that was declared a designated Covid care facility Wednesday, Rajender also said the state was waiting to receive the new COBAS 8000 machine for Covid-19 testing "since the previous one was diverted to West Bengal by the central government". 
Meanwhile, despite ramping up testing in the past 10 days, the state continues to bar asymptomatic persons from getting a Covid-19 test unless they are a high-risk contact of a patient. Officials of the state department of health and family welfare said they were testing high-risk asymptomatic contacts of Covid-19 patients, while private labs have been directed to only test people with coronavirus symptoms. 
A senior government officer defended Hyderabad's positivity rate, saying it could be attributed to the state's focus on testing symptomatic patients. "There is at least a target group," the officer added.
The Union health ministry said in a statement Thursday that a central team led by joint secretary Lav Agarwal will visit Telangana, besides Gujarat and Maharashtra, between 26 and 29 June. The team, the ministry stated, will interact with state officials and coordinate with them to strengthen its efforts to manage Covid-19.
---
Also Read: How Andhra is firmly testing, treating its way out of Covid crisis, but Telangana struggling
---
75% of Telangana tests in Hyderabad
Hyderabad has the lowest testing rates among all the major cities. In the two weeks between 10 and 23 June, it performed 11,054 tests, compared to 51,485 in Mumbai, 1,36,932 in Delhi, and 14,132 in Gurugram. 
The numbers also tell another tale. The bulk of Telangana's tests — 75 per cent — appear to be taking place in Hyderabad. There are 33 districts in the state and the testing is almost negligible in the others. 
Between 10 and 23 June, Telangana had the highest positivity rate of all Indian states, at 27.7 per cent. Delhi, where the Covid-19 incidence has been marked by big spurts in recent days, has a marginally lower positivity rate 27.5 per cent. 
While the positivity rate is comparable, it is the low testing base that has raised questions about Chief Minister K. Chandrashekar Rao's efforts to tackle the pandemic. 
The state conducted all of 14,690 tests between 10 and 23 June, compared to Maharashtra's 2,18,714, Andhra Pradesh's 1,46,462 and Tamil Nadu's 2,66,271. At 41.73 tests per lakh population, its testing rate is the lowest in the country.
Among the top five districts in the state in terms of case load, Hyderabad conducted 7,102 tests, Warangal Urban 176 tests (positivity rate of 25 per cent), Jangaon 108 tests (58 per cent), Ranga Reddy 433 tests (38 per cent), and Sangareddy 72 tests (44 per cent). This data is for the time between 17 and 23 June.
In the past one week, the state has recorded 3,200 cases, or 41 per cent of its total so far. Health department officials, however, said this could be attributed to increased testing in the state.
It was on 15 June that the KCR-led Telangana government allowed private laboratories to carry out Covid-19 tests while capping the costs at Rs 2,200 (Rs 2,800 for home-collection of samples). 
Former director of the department of virology at the Indian Council of Medical Research (ICMR), Dr T. Jacob John, said all states with major cities will see this surge.
"Telangana has Hyderabad, and we've seen this happen to Mumbai, Delhi, Ahmedabad, Chennai," Dr Jacob said, adding that the lack of uniformity in testing in the country has also led to a mess. "There is no protocol to also address rural areas with migrants returning to their native states," he said, also noting that Telangana was not conducting enough tests in villages. 
The camps referred to by the Telangana director of public health and family welfare were announced by Chief Minister Rao on 14 June, when he claimed that 50,000 tests will be conducted across 30 assembly constituencies in Hyderabad, Rangareddy, Sangareddy and Vikarabad.
The process started on 16 June, with a focus on frontline health workers and sanitation staff, a senior health department officer told ThePrint. 
TIMS ready to admit Covid-19 patients
The state's capacity to tackle a Covid-19 surge got a boost Wednesday as Rajender announced that TIMS, located at Gachibowli, has been readied to admit Covid-19 patients. 
The hospital has 1,224 beds, of which 1,000 have oxygen facility and 50 areas have mechanical ventilators. Doctors, nurses and other healthcare workers for TIMS will be recruited by the end of the week. 
Meanwhile, postgraduate doctors at the Osmania General Hospital isolation ward also resumed work Wednesday after boycotting duties for four days over workload. "Additional staff has been deployed and we've been told the workload will be shared with TIMS, but we will only believe the authorities once this happens," a doctor said.
This report has been updated with the Telangana government's statement
---
Also Read: Publish Covid-19 data on front pages of all newspapers daily: Telangana HC to govt
---