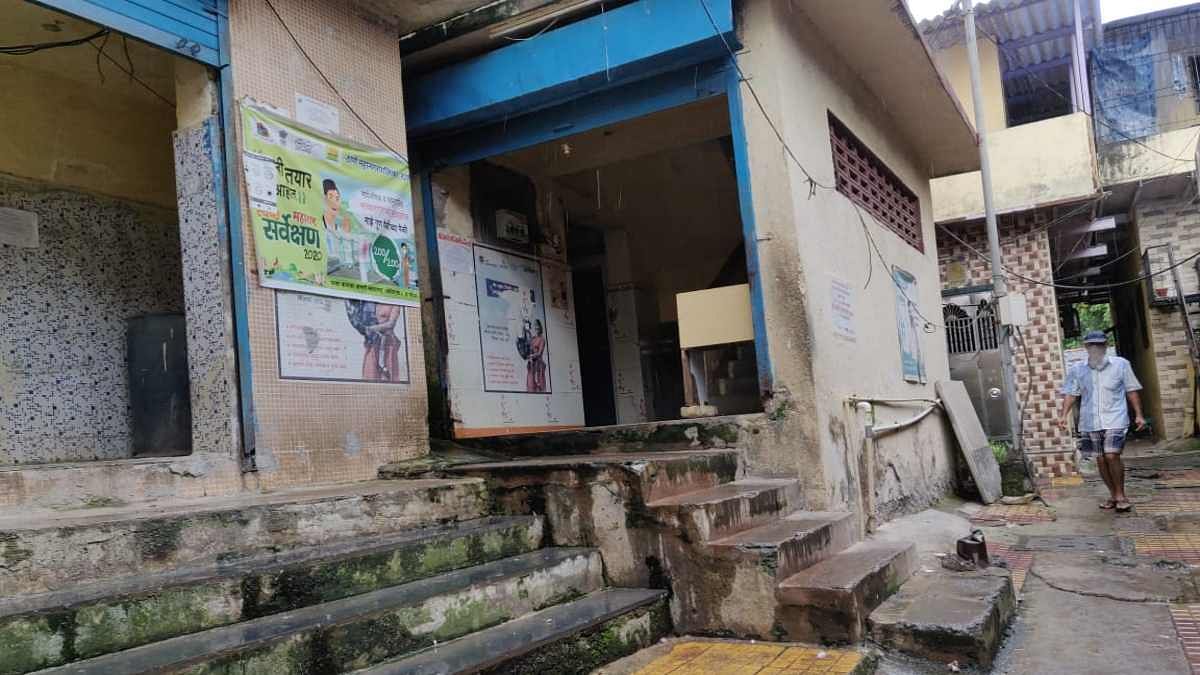 Thane: Rekha, a 20-something resident of Thane's Pujari chawl, has been controlling the urge to go to the toilet for over an hour now. She finally musters the courage to step out of her 10×12 room at the chawl, located in Lokmanya Nagar, wraps her face with a stole, picks up a soap and heads out.
Rekha's reluctance to walk to the toilet unit becomes at once clear as one approaches it. The stench emanating from the urinal is unbearable. The toilet unit, which is used by over 700 people, has not been cleaned in the last week, residents claim. There are no soaps, no sanitisers, no disinfectants.
Thane, a satellite town of India's financial capital, is part of the Mumbai Metropolitan Region (MMR). As much as 60 per cent of its area comprises slums (of two kinds, one-room houses in buildings known as vertical slums, and clusters of small tenements or jhuggis), with high-rises accounting for the remaining 40 per cent. 
Amid the Covid-19 spurt witnessed in eight satellite towns since June, Thane has emerged as the worst-affected. It has recorded the highest number of Covid-19 cases among the satellite towns, with much of its initial spurt reported from slums.
Thane had recorded 3,271 Covid-19 cases until 1 June, a number that nearly tripled to 9,644 by 30 June. 
Until 1 June, Thane had recorded 149 Covid-19 deaths, which more than doubled to 380 by 30 June. 
In the first three days of this week, Thane reported more than 380 cases on a daily basis, a steep rise from the average of 150 cases a day until last week. 
As things stand, the slums are believed to constitute 45 per cent of Thane's Covid-19 burden. While the cases in high-rises have been linked to eased travel to and from Mumbai as part of the Maharashtra government's 'Mission Begin Again', which entailed phased easing of the lockdown beginning 3 June, the slums appear to be paying the price of neglect.
The civic authorities claim that the situation in slums is under control, and say there has been no lack of effort on their part. But the situation on the ground and residents' claims appear to suggest otherwise.
The rising numbers have forced the city to go under a 10-day lockdown from 2 July. Maharashtra, too, has extended its lockdown until 31 July and once again imposed restrictions on travel within the MMR unless for work or essential services.
---
Also Read: Spitting, no masks, vegetables dragged through urinal — inside a Navi Mumbai Covid hotspot
---
Saddled with dirty toilets
Thane has a population of 18.5 lakh and, over the years, it has become an anchor to over 10 lakh people working in Mumbai, thanks to cheaper rents and seamless connectivity through local trains.
Considering the number of people commuting between the two places, the Mumbai Metropolitan Region Development Authority (MMRDA) has also started work on a Metro rail project to connect Thane and Mumbai's eastern suburbs. 
Now considered a wing of Mumbai, Thane has attracted many real estate developers to start new residential projects and malls in the area.
Even so, much of its landscape still comprises slums, where families of six to seven members either stay in a single room or in jhuggis. Among the two kinds of slums, the vertical type has roughly two toilet complexes for seven to eight households. In the remaining slums, the situation differs. While some like Pujari chawl have one unit (with four urinal compartments) for the entire slum, others may have two to three among hundreds. 
Speaking to ThePrint, an official of the Thane Municipal Corporation said shared toilets were a factor in Covid-19 transmission in slum areas.
"All of them use the same toilet, as there are only two toilets for seven to eight rooms. So, it became a major reason for the spread of infection," he said.
The official, however, claimed the situation in slums is now "under control" due to "effective measures" taken by the corporation to ensure the community toilets stay clean.
"We have deputed over 57 teams to ensure that the community toilets are cleaned twice a day, sodium hydrochloride is put and a liquid disinfectant, Zoono, that has been imported from New Zealand, is also sprayed," the official said. "The teams have also carried out defogging in all these areas." 
The claim came into question, though, when ThePrint visited slums in Lokmanya Nagar, Mumbra and Wagle, where the toilets were all in a filthy condition and, according to resident accounts, had not been cleaned in over a week.
"They cleaned the toilet a week ago. It stinks very bad now. The staff in charge of cleaning it, does it once in a while with detergent and water," said Rama Kehar, a resident of Pujari chawl, located 27 kilometres from Mumbai's Dharavi, Asia's largest slum that has successfully been able to contain the spread of coronavirus after an initial spurt. 
"Someone from the corporation came to put a white powder two weeks ago, but not after that," Kehar added.
The Thane Municipal Corporation official mentioned above said they had equipped each toilet with soaps and sanitisers, but Subadhra, a resident of Gyaneshwar Nagar, scoffed at the claim. The toilets do not even have water, let alone sanitisers and soaps, she said.
"People leave their excreta as it is as there is no water in the toilet to flush. There are no soaps or sanitisers. I take a bucket of water and soap from my own house every morning," she said.
Covid-19, a highly infectious respiratory disease, is known to primarily spread when one comes into contact with the droplets a patient or carrier releases when they cough or sneeze. There's also a risk of infection from surfaces that may have been touched by an infected individual.
There is no conclusive evidence so far to establish faecal-to-oral transmission, but experts have urged extreme caution around faeces.
In a document issued 3 March, for example, the World Health Organization (WHO) and the United Nations International Children's Fund (UNICEF) advised healthcare staff to only handle a suspected or confirmed Covid-19 patient's faeces while in personal protective equipment (PPE), saying it should be treated as a biohazard in healthcare settings.
For shared toilets at healthcare facilities with suspected or confirmed Covid-19 cases, the WHO guidelines advise disinfection twice daily at least. They also advise flushing with the lid closed as an additional precaution, but that prospect is ruled out with the Indian commode system.
Asked if she was afraid of catching infection, Subhadra said, "I do not know about that. All I know is that we do not have an option but to use these toilets as they are."
---
Also Read: How big city Bengaluru managed to beat coronavirus while Mumbai, Delhi, Chennai struggle
---
'Claims of door-to-door screening not true'
Residents of Thane's slums also question the municipal corporation's claims about door-to-door screening.
Pujari chawl resident Kehar said, "Some people came, noted down our details and left."
When asked if they underwent thermal scanning or if their oxygen levels were tested through oximeters, she added, "No. They just took our details — name, where we work and how many members in a room, and left." 
Approached with the residents' accounts, a second Thane Municipal Corporation expressed disbelief. "It is not possible. Our teams are on the ground working painstakingly to screen people and send the suspected cases for isolation. That is the reason why the cases of infection from slums have decreased."
"Now the situation in slums is under control (as of now) but the cases are increasing in the high-rises," the second official added. "These are people who are travelling to Mumbai for jobs and returning to Thane with the virus, which is leading to the spread in the high-rises," he said.
---
Also Read: Dexamethasone, favipiravir, plasma therapy — how India's Covid care has evolved in 5 months
---
A 'super-spreader' market
Civic agency officials also point to the Jamli Naka market, which offers everything from vegetables to fruits, spices, fish and groceries, as a source of many infections.
"Analysis of our data shows that almost 60 per cent of the people who caught the infection had visited the Jamli Naka market for buying vegetables," said a third official of the Thane Municipal Corporation.
The vegetables and fruits in this market are sourced from the APMC mandi in Vashi, Navi Mumbai, which has also been identified as a super-spreader and accounts for 45 per cent of the total Covid-19 cases in the town.
The shutdown that kicked in Thursday will also cover the Jamli Naka market despite the fact that it qualifies for an exemption as a nerve centre of essential supplies.
"Vegetables come under essential services, but we still have to shut it down as it is becoming a major challenge for us. It is difficult as the market is the main source of vegetables for Thane," said the third official. "Even vendors source their supply of vegetables from here, but since it is leading to a spread of Covid-19, it has to be shut down for a few days," the official added.
"This 10-day break will help break the chain and we will also sanitise the entire place in this time," the official said.
---
Also Read: How Covid hotspot Dharavi, Asia's largest slum, fought against all odds to flatten the curve
---
Why the sudden spurt?
The dirty toilets and the market may be major contributors to Thane's Covid-19 load, and possibly acted as catalysts, but don't explain the sudden, massive surge in June. 
Thane deputy municipal commissioner Sandeep Malvi said the surge could be blamed on the state's efforts to lift the lockdown, including easing the movement of people to and from Mumbai.
"Until mid-May, the situation was under control with a limited number of cases. It is only after the lockdown was lifted and people started moving around, going to their workplaces, vegetable markets, that the case increased almost three times," he added.
"The healthcare workers, police, people working in medical shops are contracting infections and, when they go home, it is being spread to their family members and neighbours. What started with a section of people who had gone abroad, is now spreading everywhere," he said.
Malvi added that they are conducting door-to-door screening, including thermal scans, besides distributing a homoeopathy-based medicine (advised by the central government as a preventive in a controversial suggestion). However, he said the town faced a major challenge in controlling the "death rate". 
The reason, according to data from the municipal corporation, is that 56.4 per cent of the patients in Thane are above 40 years of age, and most have co-morbidities. 
"We have so far tested 44,272 people… The challenge is the 380 deaths reported until now. Although we have made arrangements to contain the spread of infection, the main challenge now is to reduce the death rate," Malvi said.
"For this, we have instructed officials to visit the hospitals in their areas and get regular updates on the condition of patients there. They have been asked to ensure that they are given proper care and there is no carelessness from the end of healthcare workers," he added.
Lack of hospital beds is another challenge Thane is grappling with.
Dr Santosh Kadam, coordinator of the Covid-19 taskforce in Thane, said the number of people getting infected in Thane is very high and hospitals do not have much space left to handle the surge.
"Community spread has begun. It initially percolated to the slums and has now reached the high-rises, and so a strict lockdown in Thane is needed," he said.
"In order to deal with the numbers, Thane requires more dedicated Covid-19 facilities. The 18 private hospitals engaged for Covid-19 treatment are now full. Only a few beds are left at the government hospitals. A new 1,000-bed centre came up in Thane, of which 350 beds are already occupied," Dr Kadam added. "If the numbers keep growing like this, it will become a major challenge."
---
Also Read: Inside Navi Mumbai's 'Covid war room', data and logistics lead the fight against the virus
---