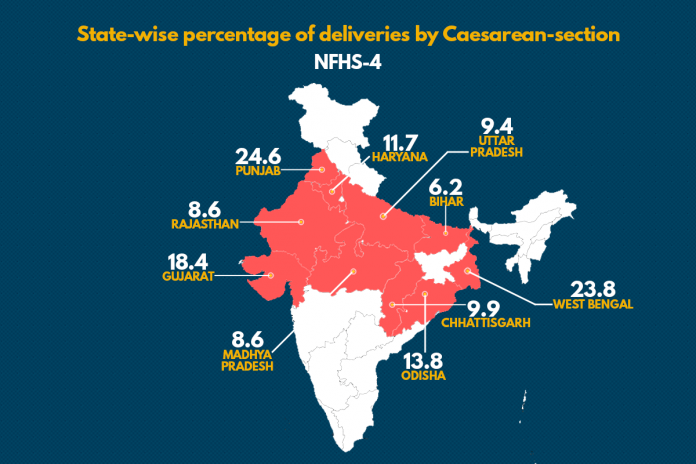 Text Size:
The National Family Health Survey reveals where caesarean sections are used the most and the data raises some concerns.
New Delhi: The number of babies delivered by caesarean section has almost doubled in India in the last decade, but the disproportionately high number involving wealthy, urban women makes it a cause for concern.
The National Family Health Survey (2015-2016) shows that the number of babies delivered by caesarean section has gone up to 17 per cent. It was 9 per cent in the last survey in 2005-2006.
According to the World Health Organisation, the ideal rate for births by caesarean section should be between 10-15 per cent. WHO says that the procedure should be avoided unless absolutely necessary despite it becoming more common worldwide.
For instance, Britain's National Health Service says the rate in the nation is 25 per cent, which is slightly above India. But in India, there are fewer women delivering by the procedure in rural areas, while the number in urban areas is higher than even in the UK.
Dr. Arun Gadre, who is a member of the Alliance of Doctors for Ethical Healthcare, blames this statistic on "medical consumerism".
"One of the reasons for an increased rate is the risk of foetal death," he said. "Doctors are under severe pressure to do a caesarean."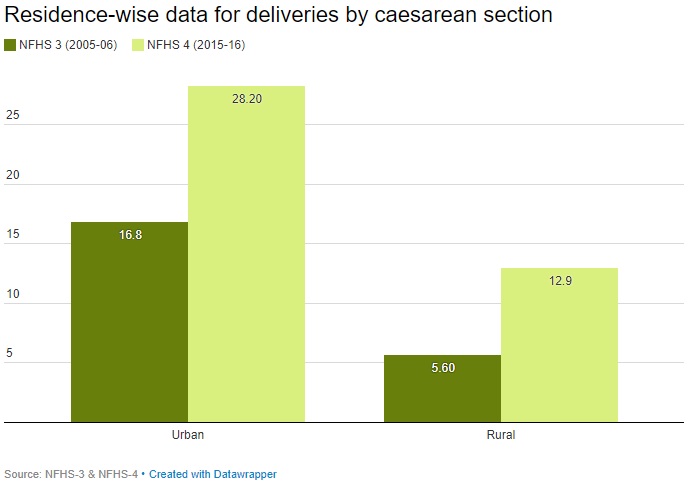 Dr Gadre says because urban parents are extremely invested in their child's health,  doctors are often scared of the consequences if something goes wrong in a natural birth.
Dr. Rashmi Kukreja, a public health consultant at ABT Associates, says the data also reveals that there is a problem of poor health facilities, lack of access to primary healthcare, and absence of doctors and nurses in rural areas.
"If you see rural Madhya Pradesh or Bihar, you will see there is an unmet need for caesareans," she said.
"They assign caesareans much below the required number. Even those who need a caesarean don't get it. But if you see developed states, urban areas and metropolitan towns, you will find particularly in the private sector, Caesareans are going up to 50 to 70 per cent. So you average this out, you get 17 per cent," Dr Kukreja said.
Who's undergoing caesareans?
The survey also examined mothers based on which community they belonged to and it shows that the number of caesarean sections performed is highest among women in the Jain community.
While the number of caesarean procedures performed on Jain women fell when compared to the previous National Family Health Survey, it was still the highest. The number of caesarean sections performed on women of other communities rose compared to the last survey.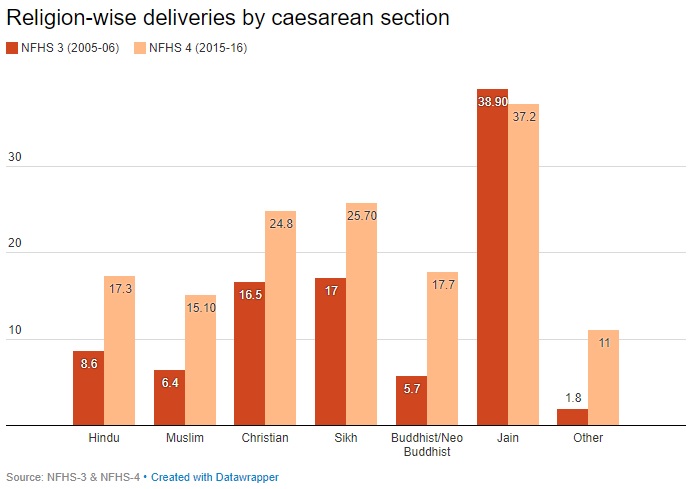 The survey also revealed that while the number of caesarean sections had risen across income groups, it was highest among women in the highest economic class. Data shows women in the wealthiest households are more likely to deliver through the procedure as compared to mothers in the lowest wealth quintile. The cost of hospitalisation for a natural delivery is anywhere between half to two-thirds that of a caesarean delivery.
Dr. Gadre said doctors in urban areas who treat wealthier women find reasons to perform ceseareans even when they aren't strictly necessary.
"Money is the biggest driving force," he said, adding that unnecessary caesareans are performed the most in the unregulated private sector.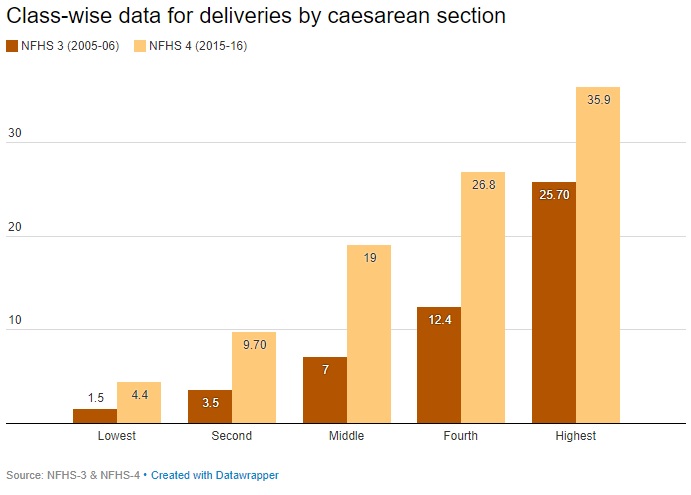 Dr. Mala Shrivastava, a gynaecologist at a private hospital in Delhi, said that urban women are getting married at an older age, and having children when they are between 35 and 40, which leads to age-related complications. Urban women are also opting for caesareans when given the choice, she said.
"They don't want to take pain. They want to time their delivery. They want to make arrangements for their delivery. They don't want to deliver at a random time. They have to prepare so many things – help at home, leave from hospital and leave from work," she said.
From interviews to news reports, catch ThePrint live in action on our YouTube channel. Subscribe here .