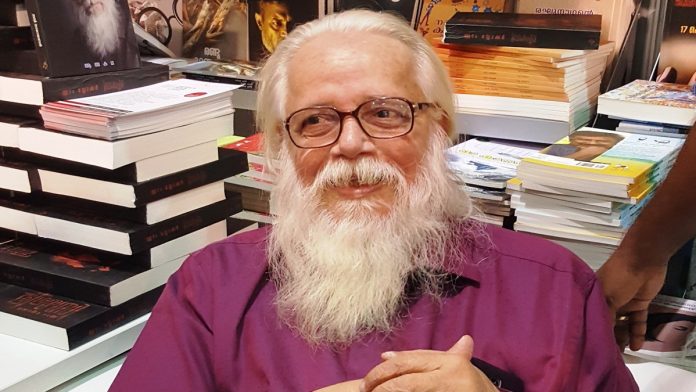 Text Size:
Nambi Narayanan was implicated as a spy in the 1994 case but was acquitted of the charges in 1998.
New Delhi: The Supreme Court Friday directed the Kerala government to award compensation of Rs 50 lakh to former space scientist Nambi Narayanan for being falsely implicated as a 'spy' in 1994.
A three-judge bench led by chief justice Dipak Misra also ordered a judicial probe to inquire into the role of police officials involved in the case, then dubbed the ISRO spy incident.
It appointed retired judge D.K. Jain to investigate the role of former Kerala ADGP Siby Mathews, senior police officers K.K. Joshwa, who was then deputy SP (CID), and S. Vijayan, then inspector (special branch).
---
Also read: The ISRO spy case that became a potboiler of 'sex, spies and rocket science'
---
The court was hearing the septuagenarian's plea for enhanced compensation and a fresh inquiry against police officials who had allegedly framed him in the scandal.
The Kerala Police had booked six people, including two scientists D.Sasikumar and Narayanan.
Narayanan, who then headed the Indian Space Research Organisation's (ISRO) cryogenics department, was booked under the Official Secrets Act and accused of selling sensitive technology to enemy countries.
The Central Bureau of Investigation, which took over the probe, found the charges to be false. The central agency had also pointed out lapses by state police in a report submitted to the Kerala government in 1996.
In 1998, the apex court dismissed all charges against Narayanan.
A long fight to restore reputation
Even after the charges were dismissed, Narayanan has waged a two-decade legal battle to restore his reputation, which has taken him to the Kerala High Court, National Human Rights Commission and the Supreme Court.
In 2001, the NHRC had directed the government to pay Narayanan a compensation of ₹10 lakh for the "mental agony, torture and social stigma" he suffered.
---
Also read: The barely told stories of Indian and Pakistani spies making peace while waging war
---
Narayanan, who spent 50 days in jail, also wanted action against the errant officers who allegedly tortured him to force a confession. He also took on the government for ruining his distinguished career as a scientist.
In 2011, however, the Kerala government closed all cases against the police officers arguing that they had all retired a decade ago and it would not be "proper or legal" to take action against them after 15 years.
Read Global Pulse for a sampler of the big international stories, and why they matter.