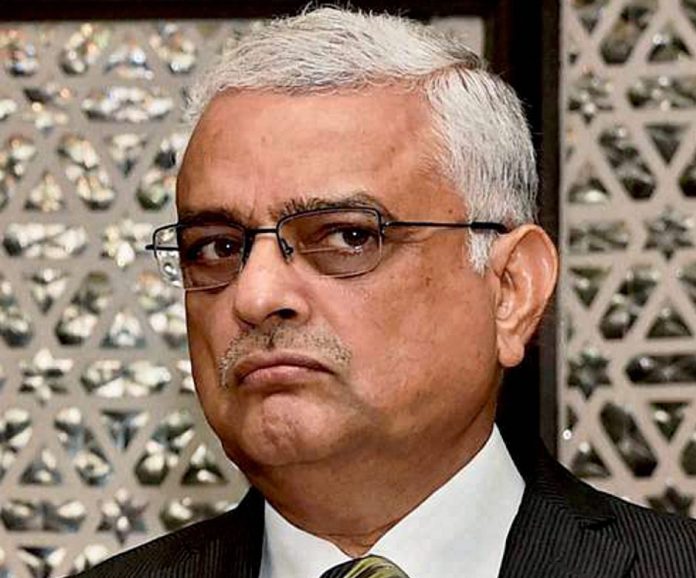 Text Size:
Former IAS officer insists the EC always acts with objectivity, agrees that a lot of areas of the electoral process need reform.
New Delhi: Om Prakash Rawat takes over as India's Chief Election Commissioner (CEC) Tuesday at a time when questions are being raised on the credibility of the institution, allegations of political affiliation made freely, and ahead of multiple state elections and the 2019 Lok Sabha polls.
In a wide-ranging interview, the 1977 batch retired IAS officer answered all these questions and more. Excerpts:
What are the key challenges before you as you take over as CEC?
First, it is to continue the cherished tradition of the Election Commission of India (EC), which has earned a global image of delivering free, fair and credible elections every time. We are recognised the world over for successfully managing 800 million voters and one million polling stations with just 400-500 people in the EC.
Then there are challenges of the current times – especially in management of money, media, social media, and also lifestyles and job scenarios necessitating quick change of residences for many voters.
We have to align our framework with the emerging environment on all these fronts, and we have already begun. For instance, change of voter registration area/constituency for people on the move at the click of a button will be completed by June this year, across states.
There have been several questions raised on the EC's credibility recently.
Being an insider, I can tell you that the EC always takes decisions based on all the available facts, circumstances and legal provisions, because we know our decisions will always face judicial scrutiny at the highest level.
I can vouch for the fact that EC does not act partially, and always has objectivity in all its decisions.
However, when all the facts involved in decision making are not available to all people or certain sections and groups, they may have a perception that there has been some partiality. That is due to lack of comprehensive information. That does not mean the credibility of EC is at stake.
But leading political parties and leaders, including some chief ministers, have raised questions on the EC's credibility.
When I say the "public", I mean all stakeholders who do not have resources to get comprehensive information on all issues.
Political entities generally function on the basis of "supporters are never wrong". We can do nothing to tackle that except disseminate information, and nor is it in our jurisdiction.
However, you were concerned enough to recuse yourself from the AAP 'office of profit' hearings after some allegations were made against you. Later, you rejoined the hearings. Can you explain?
Yes, that was on the spur of the moment. I felt pained about it, and felt that it was the right decision to recuse myself. But slowly, it emerged that this may have been part of tactics to buy time.
Then, after CEC Dr Nasim Zaidi's retirement, the EC asked me to join it in deciding the case. And I, being a member of the EC, had to submit to that system, so I joined again.
We also noticed that there are court rulings on the issue. These observe that if some interested parties instigate you to recuse, you don't have to fall in that trap. I am only saying this in hindsight, as these court rulings only came to light recently.
There was a lot of criticism about the EC separating the Gujarat election dates from the one in Himachal Pradesh. 
Facts available during that period indicated that relief and rehabilitation work in flood-affected areas in Gujarat was in full swing, and most of the district administrations were busy with that. So, giving them a little more time did appear justifiable.
However, during our visit to Himachal Pradesh, all the political parties wanted the elections before 15 November, as snowfall starts after that. Also, in the case of Gujarat, the life of the previous state assembly was until 22 January, so there was lot of time available.
Even after we came to that view, we felt that first we must visit Gujarat and satisfy ourselves on the facts being reported by the state and its chief secretary. After the visit, it was clear that even if a week or 10 days were available to the district machinery, it would be able to complete sizable rehabilitation and relief work, and it would help them in a major way.
People looked at it with suspicion because traditionally these elections are announced and held together, but our decision was purely fact-based.
It has been alleged that some election commissioners, such as yourself, who are former bureaucrats and worked closely with certain ministers or chief ministers, are politically aligned. Many say former civil servants should not be appointed to bodies like the EC.
I feel that the possibility of constructive change comes from insiders, because outsiders may suggest highly innovative and disruptive solutions, many of which may be quite impractical.
On the other hand, civil servants go through that process continuously – interacting with the political masters, people's representatives, ministers and even conducting elections – facing the same kind of questioning and pressures and issues. So that prepares them well for this job.
In fact, in one of the matters in the Supreme Court where the election process was discussed, even the court said that though these appointments were made without the law, the appointees had conducted themselves well.
If you read former President Pranab Mukherjee's address on the occasion of the National Voters' Day over the last two years, he observed that people who sit in the EC don't come from heaven. When they serve under their political masters, they carry out their orders diligently, and when they sit here, they ensure that these political masters behave.
What are the key electoral reforms you think are most necessary ahead of the upcoming state elections and Lok Sabha polls next year?
There is an Electoral Integrity Project by the University of Harvard and the University of Sydney, which grades elections the world over on a scale of 1 to 100. For the last many years, India is graded at 59, which indicates moderate electoral integrity.
They have 11 indices, and on eight of these we score very high – in the 70-66 range – but on three indices we score very poorly. One is money management (funding, expenditure limits, freebies), where we score just 34; media management, where we score poorly again at 37-38; and electoral roll management, where we score 40-47.
That's the scope to improve. I will try and improve these ahead of the Lok Sabha elections.
We also think that all the laws and rules related to the EC need a revisit. For instance, a strict implementation of Section 126 of the Representations of the People's Act could actually end up criminalising many innocent people in elections nowadays. So we have constituted a group of experienced officials to review all these, and align them with the current reality.
When it is ready, we will consult political parties, and wherever there is consensus, we will immediately seek its implementation.
On money management in elections, the government has just announced details of electoral bonds, about which the EC has expressed its reservations. What is your view now? 
We find that most issues which EC raised when the Finance Bill on this came – transparency, only profit-making companies permitted to donate, transparency of disclosure – all those issues are still not adequately addressed in this scheme.
So, the EC is keeping a watch and will ensure that whatever wrong comes up or is visible, we will revert to the government on it. We are in the process of examining this scheme for the last few days, and we will take a view. We will formulate our first response and then see. Lawmakers are also seized of the issue.
How challenging is to conduct an election in the time of social media? 
It is a big challenge because this technology doesn't submit to any legal regime. There is no system to scrutinise what is right or wrong, and even if some sort of check is there, even that is very time consuming.
So if something wrong is posted, yes it can be edited etc., but it takes so much time that the damage is already done before that.
We need to closely examine Section 126 and all dimensions of social media, so that without curbing the freedom and usefulness of this media, we can also ensure credibility.
Get the week's top science news with ScientiFix .