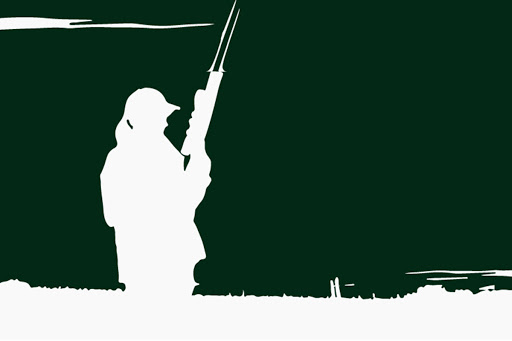 Text Size:
Here's what's happening across the border: Confusion over US secretary of state's call to Pakistan PM; and a dollar garland for minister.
Cut off by families, women commandos pursue their dream
Many of the 600 freshly-minted elite commandos of Punjab police are women lashing out against patriarchy to take a frontline role in the fight against terrorism, reported Voice of America Urdu Service.
During their recent training at Punjab's Naushera city, the cadets underwent rigorous physical training, besides learning to use weapons like the RPG, a shoulder-held grenade launcher. According to reports, no concessions were made for the women cadets on account of their gender.
Chief instructor Islam Noor said all the women had joined the force voluntarily. "Once they started training, women proved that they can perform just like men," he added.
For commando Pari and her sisters, residents of Khyber Pakhtunkhwa, their dream to join police came at the cost of family ties. "When we decided to join police, all of our close relatives cut ties with us. But my father always told us that he wanted to prove that daughters are no less than sons," she told Voice of America.
US says raised terror with Pakistan. Islamabad 'takes exception'
Did terrorism come up, or did it not? Confusion followed US secretary of state Mike Pompeo's congratulatory call to Pakistan Prime Minister Imran Khan, as both countries released two very different statements on their interaction, The News International reported.
While the White House said Pompeo raised the "importance of Pakistan taking decisive action against all terrorists", the statement issued by Islamabad didn't mention it at all.
After US state department spokesperson Heather Nauert tweeted a roundup on the conversation, the Pakistan foreign office said it "took exception" to the reference to terrorism, saying it was not talked about at all.
.@SecPompeo spoke today with #Pakistan's Prime Minister @ImranKhanPTI. The Secretary wished him success and expressed his willingness to work with the new govt towards a productive bilateral relationship. pic.twitter.com/74kPTLlDq1

— Heather Nauert (@statedeptspox) August 23, 2018
Pakistan takes exception to the factually incorrect statement issued by US State Dept on today's phone call btwn PM Khan & Sec Pompeo. There was no mention at all in the conversation about terrorists operating in Pakistan. This shd be immediately corrected.

— Dr Mohammad Faisal (@ForeignOfficePk) August 23, 2018
US-based Pakistani academic Adil Najam subsequently posted a video of a state department press meet where Nauert, when asked about the row, said the US stood by its statement.
The latest storm-in-a-teacup about who said what in #ImranKhan–#Pompeo call is comical but also pertinent. A good metaphor for how ???????????????? relations have ALWAYS been:

What USA believes it has said, Pakistan does not believe it has heard. And, vice versa.pic.twitter.com/u0biWZhpgc

— Adil Najam عادل نجم (@AdilNajam) August 24, 2018
According to some reports, Pompeo will visit Pakistan and meeting Khan on 5 September.
Interesting Tweets of the day
Human rights activist Kashif N. Chaudhry commented on the alleged rise of violence against the minority Ahmadi community after Imran Khan's election as PM. On Thursday, a mob of Sunnis allegedly torched an Ahmadiyya mosque in Faisalabad, with the attack leaving six Ahmadis injured.

Dear PM @ImranKhanPTI, since your inception, dramatic rise in anti-Ahmadi hate crimes/violence. First vigilante mobs harassing Ahmadis celebrating Eid & now mob attack/arson of Ahmadiyya Mosque.

What is your govt. doing to protect religious minorities? https://t.co/NiWsbEPKLT

— Kashif N Chaudhry (@KashifMD) August 23, 2018
Newly elected Prime Minister Imran Khan extended "humanitarian assistance" on behalf of people of Pakistan to the Kerala flood victims.
On behalf of the people of Pakistan, we send our prayers and best wishes to those who have been devastated by the floods in Kerala, India. We stand ready to provide any humanitarian assistance that may be needed.

— Imran Khan (@ImranKhanPTI) August 23, 2018
Bakhtawar Bhutto Zardari, sister of Pakistan Peoples Party chairman Bilawal Zardari, sought to address the "unsanitary" way animal remains are discarded, especially during Eid-ul-Azha.
Very unsanitary the way animal remains are thrown and where animals are slaughtered we need allocated, hygienic areas to prevent spread of disease & where clean up is immediate – everywhere else in the world has this! #Pakistan #LetsStartWithSindhGov #PPP

— Bakhtawar B-Zardari (@BakhtawarBZ) August 22, 2018
A user Thursday asked journalist Reham Khan, Imran Khan's ex-wife, if she could tell him where the PM offered his Eid prayers while she was with him. She replied that there were three Eid days while with her that Khan did not pray altogether, saying he did not offer prayers on Friday either.
He never once went for Eid prayers 3 Eid days together. No Fri prayers in my presence or woke up for Fajr. https://t.co/YcLsQ1Ba8D

— Reham Khan (@RehamKhan1) August 22, 2018
A garland of dollars for information minister Fawad Chaudhry
Pakistan Tehreek-e-Insaf (PTI) leader and information minister Fawad Chaudhry was offered a garland of dollar notes as he arrived in his hometown JhelumTuesday, reported Geo TV.
 The garland was PTI leader Maqbool Hussain's way of congratulating Chaudhry for his appointment in the new Pakistan cabinet. According to sources, the notes in the garland totaled $150 (approximately INR 10,500).
One of Imran Khan's biggest challenges: Foreign policy
Pakistan Prime Minister Imran Khan has cited domestic peace and security as the country's biggest foreign policy challenge, but bringing the country back from "international isolation" will be no easy task for the diplomatic novice, news agency AFP quoted experts as saying.
The country has had strained ties with the US, especially under Donald Trump, with tensions also defining its equations with neighbours Afghanistan and India.
Khan's tone has softened on India and Pakistan since assuming office, but experts say his foreign policy stance may be defined by the military, which the opposition alleges facilitated Khan's election victory.
PML(N) doesn't want to give Punjab govt Twitter account to PTI
The Pakistan Muslim League (N) has reportedly refused to hand over the credentials of the verified Government of Punjab account to its Pakistan Tehreek-e-Insaf successors, reported Daily Pakistan.
The newly elected chief minister Sardar Usman Ahmed Khan Buzdar has just 540 followers on Twitter, while the verified account has 226,000.
---
Contributors: Aastha Singh, Alind Chauhan, Manisha Mondal, Priyamvada Grover and Rupanwita Bhattacharjee 
Check out My543, our comprehensive report card of all Lok Sabha MPs.