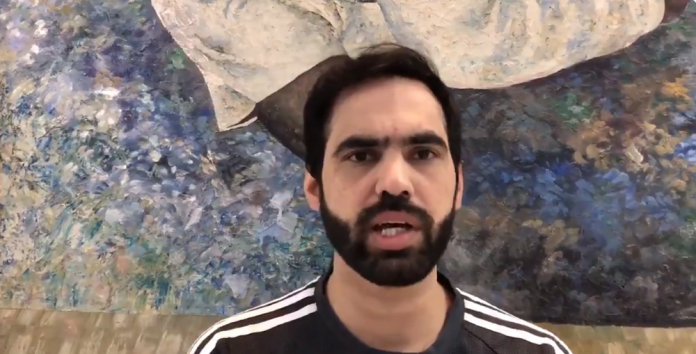 Text Size:
Here's what's happening across the border: Pakistan's Presidential Palace opened to public for first time in history; Nandita Das'sManto cleared by Pakistan's censor board. 
Farhan Mehboob alleges Indian officials approached him in the guise of match fixers
Pakistani squash player Farhan Mehboob Saturday alleged that he was offered Rs20 million by Indian officials to drop out of a match during the 2014's Asian Squash Team Championship, reported Dawn.
Mehboob was speaking to journalists following the CNS International Squash Championship held in Karachi.
He claimed that few Indian officials approached him in the guise of match fixers during the 2014 tournament.
The squash player claimed that he turned down their offer and told them that he "would not sell [his country] even if [he's] offered a billion rupees".
He also said that he immediately apprised his coach, manager and officials of the Pakistan Squash Federation about the episode.
The Pakistan squash team had emerged as the tournament champions. India had claimed the third spot.
Pakistan's Presidential Palace opened to public for first time in history
People in Pakistan for the first time in history were allowed Saturday to witness the grandeur of the country's Presidential Palace, reported Dawn.
A visitor who travelled from Rawalpindi remarked that he "just came to see how the rulers live in big houses".
The Presidential Palace, formally called Aiwan-i-Sadr, is the official residence and work place of the President of the country, including the incumbent Arif Alvi.
It was reported that the gardens were the principal attraction for visitors along with the halls where the prime ministers, chief justices of Pakistan and presidents take their oath.
In an unprecedented happening,the doors of the Aiwan-e-Sadr were opened to the public for the first time in the country's history to gv them access to public building.The ppl felt amused while having the opportunity to roam arnd the President House @PresOfPakistan @ArifAlvi pic.twitter.com/LkY53zxxTy

— PTI (@PTIofficial) December 8, 2018
The building is situated between the Parliament House and Pakistan's Secretariat cabinet block in Islamabad.
WHO supports Pakistan move to impose 'sin tax' on cigarettes, sugar beverages
The World Health Organisation (WHO) has welcomed the decision of Pakistan's government to introduce a 'sin tax' on cigarettes and sugar beverages and divert the proceeds from this to increasing revenues of the health budget, reported Dawn.
Aamer Mehmood Kiani, minister for health services, announced on 4 December that the government was in the process of tabling a draft bill in the parliament that would charge consumers tax on harmful products such as cigarettes and sugar beverage.
"We appreciate the move because it would lead to improvement in healthcare of the people. Several countries around the world are charging such taxes and use them for making the healthcare activities effective," Nima Saeed Abid, WHO's acting chief in Pakistan, was quoted as saying.
Asked to comment on the government's move, Abid said, "It can lead to promotion of public health and healthy lifestyle and we support the move completely."
He also added that Pakistan's attempts to reduce tobacco consumption would bring down the burden of diseases such as cancer, asthma and tuberculosis.
'Manto' cleared by Pakistan film certification board with 'four major cuts'
Indian filmmaker Nandita Das's Manto, a biopic on Pakistan's prolific and controversial Urdu literature Saadat Hasan Manto, has been passed by the country's film certification board but with four major cuts, reported The News International report.
The report quoted Entertainment Pakistan to mention that the film was cleared by the board on 4 December.
Das's film was released in India on 21 September and screened at multiple prestigious international film festivals, but until recently had not been cleared in Pakistan.
Earlier, it was being reported that Manto would be released in Pakistan under the banner of Geo Films if it received clearance from the country's censor board. But the film hadn't received certification at the point.
Manto, based on the writer's most difficult times during Partition, was released on video streaming platform Netflix a few days back.
Fawad Chaudhry invites British and Hollywood crews to shoot in Pakistan
Fawad Chaudhry, Pakistan minister for information and broadcasting, Friday visited the British Film Institute (BFI) and discussed opportunities for cooperation with the film industry in Britain, said a News International report.
Chaudhry discussed about setting up a find for film, certification and training. He also said Pakistan could provide for skilled workers in the British film industry since they are facing a shortage of manpower.
He invited British and Hollywood actors to shoot their films in the northern areas of Pakistan — famous worldwide for their pristine natural beauty. He said the government would provide incentives and other tax rebates in movies shot in Pakistan.
Chaudhry also talked about his plans of establishing a University of Media Communication, which would impart performing arts education and knowledge about film engineering and technology.
He also expressed an interest in increasing movie screen count in Pakistan to 1,000 from the current 187.
Strings plays to sellout concert in Karachi
In Pakistan's largest city Karachi, the country's most famous pop rock band Strings played to a large crowd Saturday in what turned out to be a massive sellout concert.
Journalist Omar R. Quraishi posted a video of the concert which he said was also a knock-out between Strings and singer Ali Azmat, best known for being the voice of Pakistani Sufi rock band Junoon.
Massive sellout concert in Karachi on Saturday night – Strings Vs Ali Azmat

This is Strings playing one of their best known songs pic.twitter.com/4ohVZZFRbp

— omar r quraishi (@omar_quraishi) December 9, 2018
For ThePrint's smart analysis of how the rest of the media is doing its job, no holds barred, go to PluggedIn