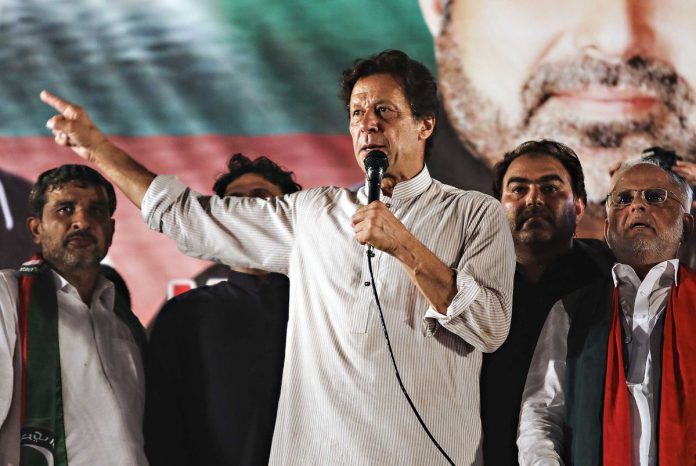 Text Size:
Here's what's happening across the border: President Arif Alvi admits to bribery, and Pakistan businessman courts global renown.
Imran Khan slams India's treatment of Muslims
Pakistan Prime Minister Imran Khan has said that the treatment meted out to Muslims in India today proved why Partition took place, Geo TV reported.
He was addressing students from Balochistan in Islamabad. "The way Muslims are treated today in India has made people realise now why Pakistan was born", he was quoted as saying.
Khan had made a similar allegation in a recent interview with The Washington Post. When interviewer Lally Weymouth asked him about India's rejection of his overtures to resume dialogue, Khan said, "I know, because India has elections coming up. The ruling party has an anti-Muslim, anti-Pakistan approach."
"They [Modi government] rebuffed all my overtures", he added.
Nawaz Sharif says economy was strong under his tenure
Former Pakistan prime minister Nawaz Sharif has lashed out at successor Imran Khan for alleging that his government had used artificial means to control the dollar to keep the rupee stable, reports Geo TV.
He said that, under his tenure, there had been a balance between the rupee and the dollar.
"There was a balance between the dollar and rupee during my time," he said, "The world called our economy strong and balanced from 2013 to 2017."
The Pakistan rupee witnessed a steep slide recently, with its value falling to 140/$ before recovering slightly.
"If they say we used artificial means to stabilise the dollar, then they can do it too," Sharif said.
When President Alvi paid a bribe
Pakistan President Arif Alvi has claimed that, back in the 1970s, he paid a bribe of Rs 50,000 to get an analog telephone installed, reported Geo TV. 
Alvi was addressing a ceremony in Islamabad Friday to commemorate National Voters' Day. "When I became a dentist, I got a telephone installed," he said, "You will be astonished to hear that in those days, this was in the 1970s, Rs 50,000 went in bribe for the telephone installation."
In his speech, the President also spoke about the importance of promoting e-voting to ensure elections were held in a transparent manner.
"Democracy has been hijacked in the whole world with power and with money," he said, "I am requesting you, the [Pakistan Election Commission] and legislators, whatever you have to decide on how the 2023 elections will be held should be decided beforehand."
Co-founder of Uber rival only Pakistani on Bloomberg achiever list
Mudassir Sheikha, the co-founder and chief executive officer of a West Asia-based ride-hailing app, is the only Pakistani among the 50 people identified by Bloomberg as the top achievers of 2018. Others on the list include Hollywood star Reese Witherspoon and director Ryan Coogler.
In 2012, Sheikha helped found Careem, which today allows people to hail not just cars, but also bikes and boats, reported The Express Tribune.
Careem has grown into a more than $2 billion business, and emerged as a tough competitor to Uber. The company has more than a million drivers.
"Technology is enabling regional economies to leapfrog traditional infrastructure challenges around transportation, banking, and communication," Bloomberg quoted Sheikha as saying.
Careem Pakistan congratulated Sheikha from its Twitter handle for making it to Bloomberg's 2018 list.
Hot off the virtual press – @MudassirSheikha, our Co-founder & Director, has been included in @business' annual list of people who are shaping modern culture and defining the global business landscape – the #Bloomberg50!😃https://t.co/vvgjwvKww2 pic.twitter.com/CSJiXoSXz0

— Careem Pakistan (@CareemPAK) December 6, 2018
Check out My543, our comprehensive report card of all Lok Sabha MPs.