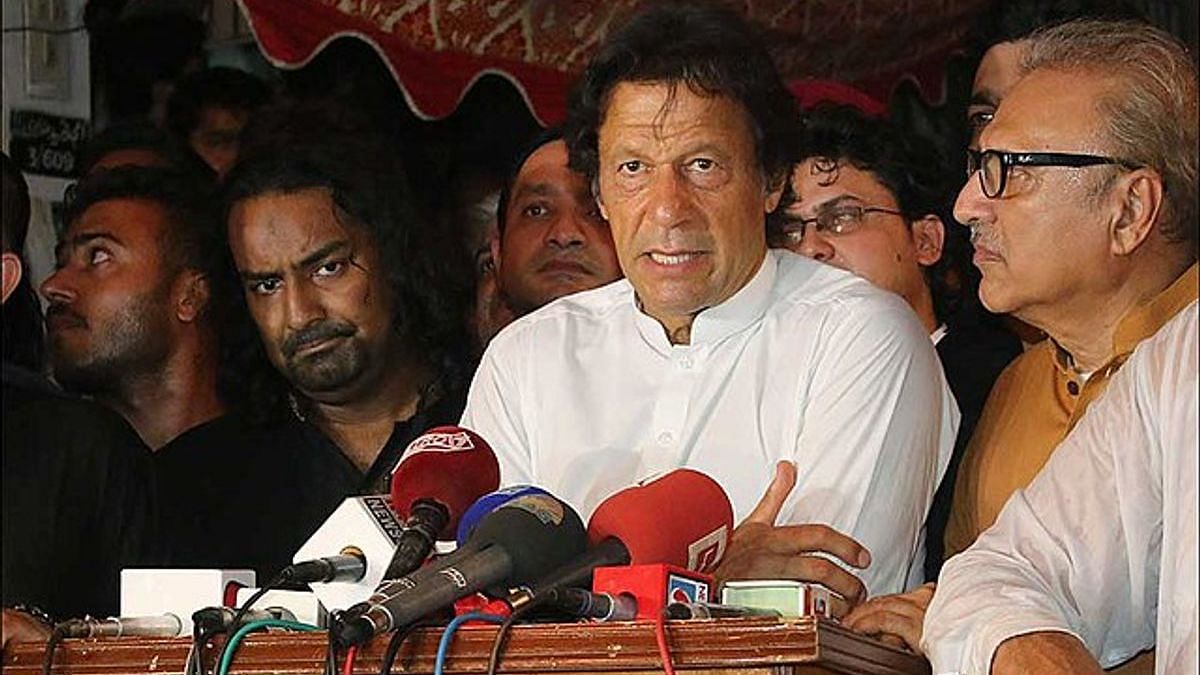 New Delhi: Pakistan's ousted Prime Minister Imran Khan has reiterated the demand for general elections in the country, saying that they should be conducted under the supervision of a 'neutral' Chief Election Commissioner.
As reported by The News International , this comes after the Islamabad High Court (IHC) recently directed the Election Commission of Pakistan (ECP) to decide the PTI's foreign funding case, pending since November 2014, within 30 days.
The single bench order of 1 April was later suspended by the division bench of the court, however, it did not restrain the ECP from going ahead with the case.
Intensifying his tirade against the ECP, Khan called Chief Election Commissioner (CEC) Sikandar Sultan Raja  "a planted agent" while addressing PTI parliamentarians in Peshawar on 26 April.
The ECP wrote to the Pakistan Electronic Media Regulatory Authority (PEMRA), asking for the speeches of Imran Khan, Sindh assembly lawmakers Khurram Sher Zaman and Haleem Adil Sheikh, and Senator Ijaz Ahmed Chaudhry. It also issued a statement on 28 April, rejecting Khan's accusation.
#ECP #ElectionCommissionofPakistan pic.twitter.com/BmtJHFKK27

— Election Commission of Pakistan (OFFICIAL) (@ECP_Pakistan) April 28, 2022
It also said that in all the decisions taken since January 2020 — when Sikandar Sultan Raja assumed office — not a single dissenting note was has been given.
---
Also Read: Watches, iPhone, table mats — Pakistan PM Shehbaz Sharif says Imran Khan kept & sold state gifts
---
PTI's foreign funding case
The foreign funding case against PTI has been pending since 14 November 2014, and it was filed by PTI founding member Akbar S. Babar who had alleged that there are some serious financial irregularities in the PTI's funding from Pakistan and abroad.
According to the ECP's scrutiny committee report, based on eight volumes of record requisitioned through the State Bank of Pakistan, it was found that the PTI leadership had allegedly committed gross violations of funding laws.
Khan's PTI has been demanding that the foreign funding cases against all major political parties be heard together before deciding the party's foreign funding case, but the ECP rejected its plea on 28 April. As per Gulf News, this comes after the high court, on 27 April, asked the ECP not to single out PTI and scrutinise funds of all political parties.
However, the CEC said that the high court had made no such determination and noted that the PTI's foreign funding case had already been delayed for almost eight years and thus demanded an early conclusion. It has set the next hearing for 10 May. As per Dawn, CEC Raja said a detailed report of other cases would be presented before the high court on 17 May.
---
Also Read: Jinnah wanted Pakistani press to be fearless but the leaders didn't listen— Zia to Imran
---
Khan's 'angst' against the Election Commission
The tussle between Imran Khan and the ECP, however, is not limited to PTI's foreign funding case and holding general elections. The bone of contention between the two also has been Imran Khan's push for electoral reforms for the introduction of electronic voting machines (EVMs) for the 2023 general elections and enabling overseas Pakistanis to cast their vote from their countries of residence.
The ECP came up with 37 specific objections to the use of EVMs, including the contention that they could be tampered with. "The ECP's feedback reinforced the misgivings the opposition had already voiced over this method of polling," noted Dawn.
An opinion article in Dawn, titled 'Controversial poll reforms' by Ahmed Bilal Mehboob, president of the Pakistan Institute of Legislative Development and Transparency, also noted that the reason these differences were more serious was the ECP's opinion that many of the proposed reforms were in conflict with the Constitution. The ECP also felt that some of the proposed laws, if passed, will dilute its powers.

Meanwhile, advocating for the introduction of EVMs, Khan said that those desiring to take advantage of the old system "will never let change come in".
The relationship between Khan and the CEP remained scarred by repeated disagreements, noted Dawn in an editorial titled 'Undermining the ECP', referring to instances of Khan being served notices and imposed with fine for violating the ECP rule of conduct for attending an election rally in Lower Dir, Swat and Malakand.
Khan's clash with the ECP included him questioning its role in Senate polls after then-ruling PTI candidate Abdul Hafeez Shaikh was defeated by opposition Pakistan Democratic Movement (PDM) candidate and former Prime Minister Yusuf Raza Gilani. He raised a question over the use of a close ballot and said, "Your (ECP) major responsibility was transparency (during Senate polls) but why did you ask for a close ballot?"
The electoral body issued a statement and said that if someone disagreed with the ECP's results, they should come forward with evidence and not engage in 'mudslinging'.
Later in July 2021, the ECP had even served a show-cause notice to Imran Khan, the chairman of PTI, for not holding intra-party elections within the stipulated time.
Despite the criticism, Raja has rejected Imran's demand for his resignation. He said, "I have no intention of tendering my resignation," adding that there was no valid reason to "think like that".
Meanwhile, Pakistan's recently appointed Foreign Minister Bilawal Bhutto has praised the CEC for withstanding the pressure and said Imran Khan's politics now is to target all institutions with his 'Mujhe kyun nahin bachaya' (Why was I not saved) campaign, adding that his politics is now based on lies and propaganda.
Defending the ECP, Pakistan Supreme Court Bar Association also advised political parties against making the electoral body controversial if it issues decisions under the law and not as per a ruler's whims.
(Edited by Zoya Bhatti)