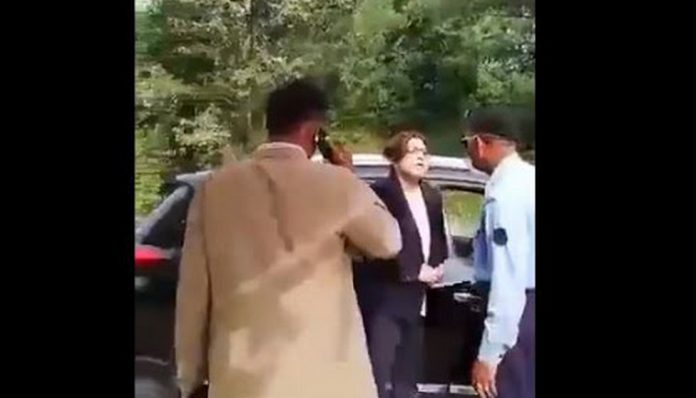 Text Size:
Here's what's happening across the border: Minister Shireen Mazari in tweet feud over Coke Studio cover of classic, and China denies CPEC responsible for Pakistan's economic woes.
Pakistan woman's rant against police goes viral
While North India has secured its place in several jokes for its "Tu jaanta nahi mera baap kaun hai" rebuttal, a woman across the border has used a variant to social media's great amusement.
Caught driving a car without a number plate near Islamabad's Diplomatic Enclave last week, the woman tore into the policemen who intercepted her, screaming abuses and saying at one point, "Dekhti hun kiska baap rokta hai, yah President rokta hai (I'll see whose father stops me, or if the President does)." The woman has been arrested, Dawn reported.
Vehicles without licence plates are not allowed inside the high-security area that houses diplomatic missions. The incident came to the notice of senior law enforcement and government officials after a video of the exchange went viral Saturday.
In Islamabad's Diplomatic Enclave pic.twitter.com/As5o87OXNM

— Abdullah W Rajput (@AWRajput) October 21, 2018
A case was subsequently lodged against the woman, who was then arrested from a housing society and remanded in judicial custody. However, soon afterwards, the woman complained of chest discomfort. At the hospital, it was discovered that she had premature ventricular contractions, or extra heartbeats. If released with an all-clear from the doctors, she will be sent back to jail.
Shireen Mazari in Twitter feud with Pakistan singer
Pakistan Coke Studio has rubbed several netizens the wrong way with a new cover of the late playback singer Ahmed Rushdi's 1966 classic Ko Ko Korina, The Express Tribune reported.
Popular singer Momina Mustehsan of Afreen Afreen fame and debutant Ahad Raza Mir performed a rendition of the foot-tapping number on the recently concluded Season 11 of the show.
Human rights minister Shireen Mazari was among the critics of the performance, saying the cover was a "massacre of the old classic".
Horrendous! Destroyed a great classic – why oh why did Coke Studio allow such a massacre of this classic song? https://t.co/Iq5gfCPYcr

— Shireen Mazari (@ShireenMazari1) October 21, 2018
The tweet triggered a war of words between Mazari and Momina, who replied with an apology, but added that, as the human rights minister, she should "appreciate Coke Studio" for allowing the singers to express their freedom of expression.
Apologies for hurting ur sentiments. It is ur right to judge us & express ur outrage,just like it was our right to exercise our #FreedomOfExpression. As our Minister of #HumanRights, u should appreciate @cokestudio for allowing us to express ourselves, esp if it was horrendous 🙂 https://t.co/OkYdSE0jCz

— Momina Mustehsan (@MominaMustehsan) October 22, 2018
Mazari hit back, saying that her opinion had nothing to do with her portfolio and that this was just a personal view on a non-political issue.
I gave my personal opinion which I am entitled to esp on a non pol issue having to do with music. To each his/her own! And why bring the ministry into it?! https://t.co/io9q0y6nAf

— Shireen Mazari (@ShireenMazari1) October 22, 2018
The singer responded to the minister in a series of tweets, saying she expected Mazari to be more responsible.
I respect that ma'am – I apologized & acknowledge u had every right to judge & express outrage. I was only answering ur question of why coke studio allowed it. And as someone holding office, I'd hope u'd appreciate the allowance of freedom of expression- however bad it turned out https://t.co/5cX0Z8OaMl

— Momina Mustehsan (@MominaMustehsan) October 22, 2018
As someone holding office, I'd expect you to be more responsible with how you express yourself on public platforms. We look up to you, ma'am, as citizens of this country. Uncle Ben from Spider-Man said "with great power comes great responsibility". Don't let us down #NayaPakistan https://t.co/Ghvw5tivkd

— Momina Mustehsan (@MominaMustehsan) October 22, 2018
When you hold office, its not about politics or his/her own anymore – it's about the country at large. You represent all of us now, not just yourself or #PTI. In a time when we're trying to curb cyber-bullying and hate speech, please don't fuel it further #SocialResponsibility https://t.co/5cX0Z8OaMl

— Momina Mustehsan (@MominaMustehsan) October 22, 2018
R u serious! Liking or disliking a song has nothing to do with anyone or any politics! It's a personal choice. I did not like the song. End of story. https://t.co/7v01spfVZQ

— Shireen Mazari (@ShireenMazari1) October 22, 2018
Loved this! And again it's my personal choice! I have every right to like or dislike a piece of music! https://t.co/9Vp7e1MjgX

— Shireen Mazari (@ShireenMazari1) October 22, 2018
Taliban's co-founder Mullah Baradar released from Pakistan jail
Afghan Taliban co-founder Mullah Abdul Ghani Baradar has been released from a jail in Pakistan, reported The News International.
According to the paper, sources confirmed that Mullah Baradar was freed on the "solicitation" of Qatar's political establishment.
Baradar was captured in Karachi in 2010. He was reportedly "released" on a couple of occasions for negotiations with the Taliban, which keeps both countries on edge with regular terror attacks, but Pakistan had refused to free him earlier on account of the "unacceptable conditions imposed by the Afghanistan government".
He and four others founded the Taliban movement in 1994 and held important positions in the administration led by the terror group before it was ousted from power in 2001. Baradar then escaped to Pakistan.
China worried about CPEC in Pak
Beijing has said the China-Pakistan Economic Corridor should not be held responsible for Pakistan's ongoing economic meltdown, reported Dawn.
Referring to anti-CPEC protests, Professor Sun Hongqi, adviser to China President Xi Jinping on Pakistan affairs, claimed Monday that Pakistan will only have to start repaying the loans taken for the project by 2023-24, saying Islamabad will be in a far better financial situation at the time.
"Loan repayments for the China-Pakistan Economic Corridor projects will start in the financial year 2023-24 when economic growth rate of Pakistan will be much higher than present (and then the country will be in a better position to bear the financial liabilities)," Sun said.
He also questioned the claim that only Beijing will profit from the CPEC projects. Speaking at a CPEC conference, he said, "What will China gain from energy projects given priority in the first phase of CPEC as per the desire of Islamabad, other than helping our all-weather friend to overcome the electricity deficiency badly hitting its economy?"
Imran Khan says Pakistan 'desperate for Saudi loans' 
Embarking on his second visit to the kingdom within a month, Pakistan Prime Minister Imran Khan said in an interview with Middle East Eye, a British news website, that his country was "desperate for Saudi loans to shore up Pakistan's economy", reported The News International.
"The reason I feel I have to avail myself of this opportunity is because in a country of 210 million people right now we have the worst debt crisis in our history," he added.
Khan is in Riyadh to attend the 'Future Investment Initiative or 'Davos in the Desert' from 23 October to 25 October.
For ThePrint's smart analysis of how the rest of the media is doing its job, no holds barred, go to PluggedIn