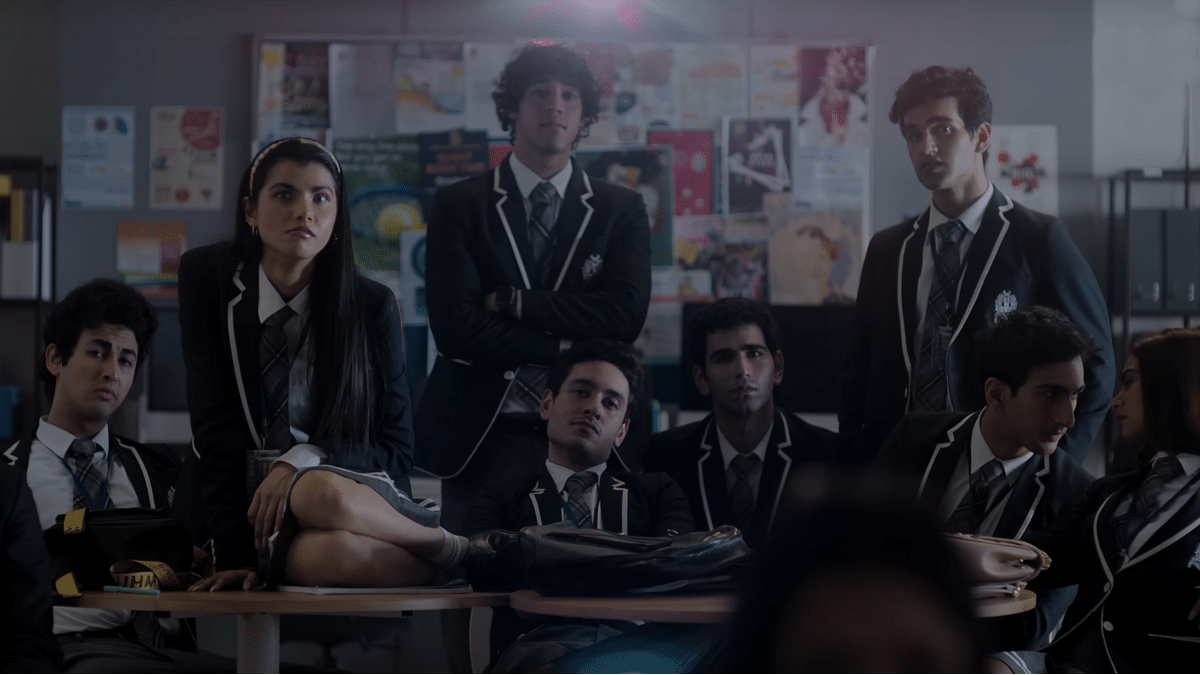 Netflix's latest show Class is a gripping binge-watch that takes on the wealth gap in India head-on, staying true to the crux of its inspiration — the Spanish drama Elite.
Directed by Ashim Ahluwalia and co-written by Kersi Khambatta, who also wrote the screenplay for Being Cyrus (2005) and Bhaskar Hazarika, famous for Aamis (2019), Class is equal parts brash and sensitive but with intent rather than by accident. The adaptation tackles the nuances of caste, religion, gender, and sexuality in the Indian context with ease.
Like Elite, Class traces the events leading up to a tragedy — the death of a student in a private school. After a suspicious fire at the Nurpur Khatola government school, three students enroll in a private school — Hampton International — on scholarship.
Dheeraj Valmiki (Piyush Khati) is a hardworking student who wants to move out of poverty, while Balram 'Balli' Patwal (Cwaayal Singh) claims his English is like a "bullet train" and wants to be a model. The third, Saba Manzoor (Madhyama Segal), is the dutiful daughter of Kashmiri immigrants and aspires to become a foreign diplomat. Their journey at Hampton comes to a screeching halt when a rich student, Suhani Ahuja (Anjali Sivaraman) ends up dead.
Set in Delhi, Class has the perfect backdrop to showcase the wealth gap in urban India. While the inequality is palpable to all, it is concentrated in specific spheres. South Delhi's private driveways, loud parties, and opulent mansions are in stark contrast to the suffocating bylanes of Chandni Chowk and Chawri Bazar.
---
Also Read: In Netflix movie You People, Kenya Barris exposes racism of liberals
---
Solid performances
The ensemble cast of Class delivers solid performances — you either sympathise with them or are repelled by them. Piyush, Cwaayal, and Madhyama play the most well-written roles, and they do them justice.
Cwayaal embodies the role of a Jatt teenager who makes OTT videos and shows off his six-pack abs, sexuality, and opportunism with equal vigour. Madhyama holds her own as a woman who cannot afford to make any mistakes as she tries to break free of being reduced to just an immigrant Kashmiri Muslim.
Anjali Sivaraman continues to deliver on the potential she showed in Cobalt Blue (2022) and portrays a troubled teen sensitively.
Zeyn Shaw as Veer Ahuja is another noteworthy performer as he oscillates between the spoilt rich brat and the sensitive admirer. Brother to Suhani, he is the heir to a mammoth family business and tries hard to fit the role laid out for him.
---
Also Read: Almost Pyaar with Dj Mohabbat has no plans, no purpose. Anurag Kashyap is to be blamed
---
Screenplay is the real star
The best part about Class is its screenplay. Caste is a recurrent theme and present in every other crucial moment in the show. The opening scene has a police constable commenting on Dheeraj's surname — he asks if it is Valmiki or got it changed to take advantage of caste quota.
Poverty is constantly fetishised, even among the 'good' rich kids. But the show is less about individual characters and more about the privilege they are born with. The tension that stems from the class gap never lets up.
The screenplay also hints at religious conflicts with a subtle reference to the 2022 hijab row.
A female teacher asks Saba: "Are you going to wear this (hijab) every day?" While it is an outright dismissal of her religious practice, it also portrays Saba's dilemma — she later chooses to 'fit' in the Hampton culture and discards the hijab.
What sets Class apart is the way it looks at the wedge between the rich and poor without fetishising poverty. Instead, it is a nuanced exploration of fault lines in society.
(Edited by Theres Sudeep)