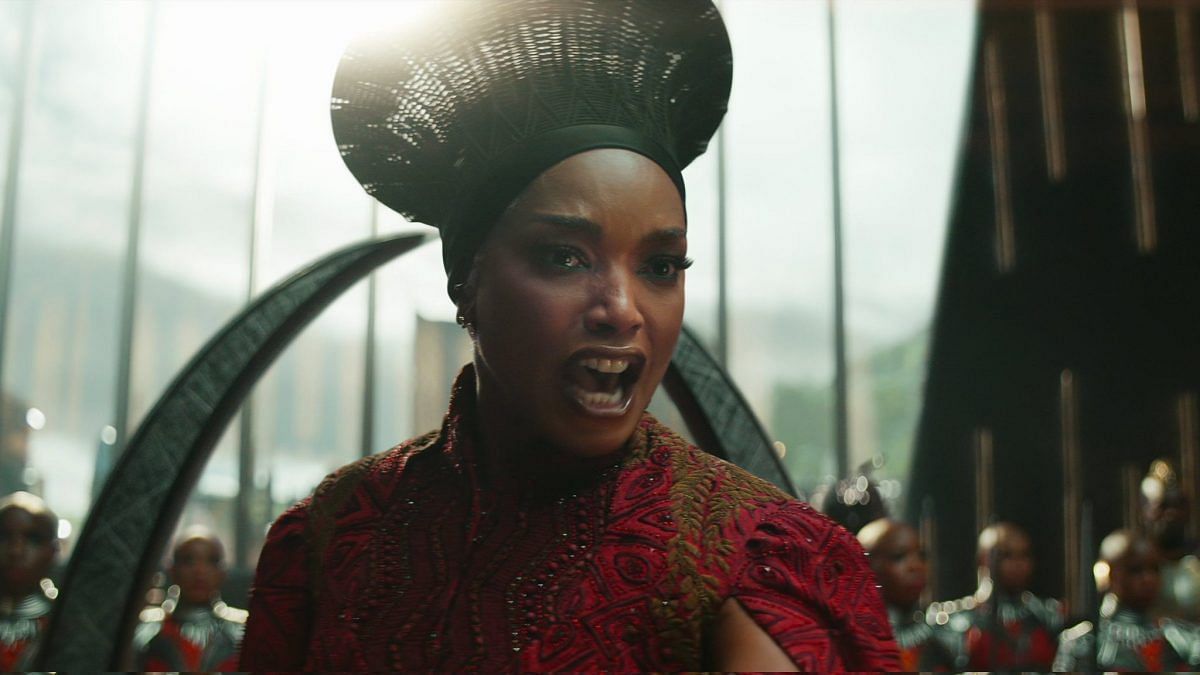 When Chris Evans' Captain America got recast after Marvel's Avengers: Endgame, more than a few fans turned away from their favourite superhero. Thanks to Academy Award-winning director Ryan Coogler, Black Panther will not become alien to fans after Chadwick Boseman's death.
Coogler's Black Panther: Wakanda Forever is essentially a tribute to Boseman's reel persona. T'Challa's absence is felt throughout the 161-minute film but the audience is given a merciful closure, one that feels grand and logical.
The film's timeline follows the events of Endgame and Chadwick Boseman's tragic death. Wakanda, a kingdom conveniently left alone by the outside world, is no longer safe. Fallen king T'Challa's mother, Queen Ramonda (Angela Bassett), is now running the ship with the support of her allies. Shuri, convincingly played by Letitia Wright, is doing everything to make her country safe from any external threat. But as unfortunate dangers always loom over secured lands, a villain named Namor (Tenoch Huerta) enters Black Panther's universe. The violence that follows is not just about grand warships, aircraft and high-tech weapons but one that leads Shuri to the last stage of grief.
---
Also read: Black Panther stars say film changed perceptions of Africa
---
Sub-plots perfectly tied together
The sequel produced by Kevin Feige and written by Ryan Coogler and Joe Robert Cole is an attempt at showing how grief transforms a person and a community. The cast comes through to translate the tight script peppered with callbacks to previous Marvel films. The sequel's impactful lead, Letitia Wright, is supported by some of the best in business. Okoye, played by Danai Gurira, loses and then rightfully wins her battles while being the unexpected comic relief in the film. Her friendly adversary, M'Baku (Winston Duke) is equally amusing and wise. The new entrants of the film, Dominque Thorne's Riri Williams and Tenoch Huerta are also fierce. And of course, there is Martin Freeman's Everett Ross who is again at the mercy of Wakandans.
The problem with so many cast members driving the film is that too many things are going on. Riri Williams is taking after Iron Man, Namor is telling his origin story, Okoye is struggling to protect her honour, Ross' mean ex-wife (Julia Louis-Dreyfus) is suddenly craving attention and the forgotten Nakia (Lupita Nyong'o) is taking forward T'Challa's legacy. There is also a glorious underwater world, which gets its deserved share of screentime. It is surprising how Coogler does not lose sight of the actual story in all the sub-plots. He makes the audience swim through the sub-plots to combine all and make sense of the story. Credit also goes to Autumn Durald's cinematography.
One of the major takeaways is the film's music. Swedish composer Ludwig Göransson has created a score that fits Wakanda's world in every sense. The symphony ends with Rihanna singing Lift Me Up. It becomes the sound of catharsis.
(Edited by Prashant)