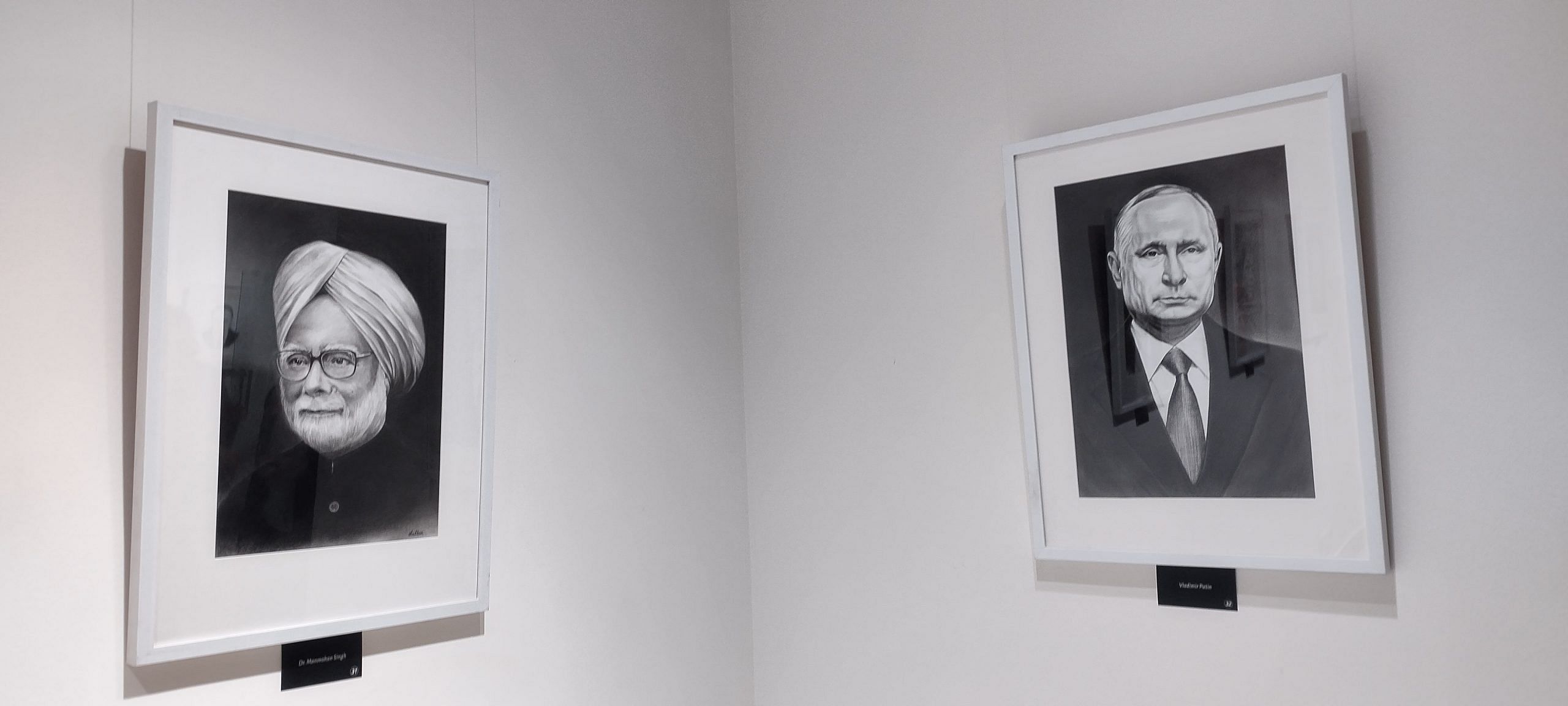 New Delhi: An exhibition of charcoal sketches of Nehru, Tolstoy, Tagore and Putin in 2023 in the middle of the Russia-Ukraine war may seem outdated to some in New Delhi. But chief guest Amitabh Kant, former CEO of NITI Aayog and G20 Sherpa, placed artist Dalbir Singh's exhibition at the heart of India's current internationalism.
"This is a unique exhibition of Indian and Russian leaders, showcasing the great bond between the two countries. This bond will especially be seen in the upcoming G20 summit in India, where Russia will play a critical role," said Kant while inaugurating the exhibit hosted by the Russian Centre of Science and Culture in New Delhi on Saturday.
The exhibition artist, former national secretary of All India Congress Committee, Dalbir Singh said it underlines the strength of the seven decades of partnership.
"What India and Russia share today is a very valuable strategic bilateral partnership that we do not share with many other countries, despite the situation in Ukraine," Singh said at the launch of his collection of portraits. "Russia has supported us enormously politically, on a diplomatic level, economically as well as strategically," he added.
Singh said he was encouraged by the centre's former director, Fedor Rozovskiy, to exhibit his portraits. "He was the one who helped me decide which icons to sketch. This selection of icons has no political agenda, they are only driven by needs of art and culture," said Singh.
Sketched on a charcoal medium, featuring icons like India's first Prime Minister Jawaharlal Nehru, Nobel Laureate Rabindranath Tagore, Indian scientist C.V. Raman, Russian author Leo Tolstoy, Russian revolutionary Vladimir Lenin and Russian President Vladimir Putin among others, the exhibition has been in the works for over four years.
"This exhibit shows that art is away from politics," said Yury Belov, deputy trade commissioner for Russia in India. "It brings together a collection of leaders, all of whom are united by the medium Dr Singh used. He was able to bring together a collection of people who left a significant mark on history, each contributing to their country in a unique way."
---
Also read: 100 yrs of Soviet Union: Nehru-Indira era over, but idea of USSR still rules Indian mind
---
Art of sketching politics
Speaking to ThePrint at the launch of his collection of portraits, Singh said Russia "never got its due" for defeating Hitler and ending World War II. "It was Marshal Georgy Zhukov who defeated Hitler using heavy artillery attacks, heaviest in the world at the time. Everyone remembers Eisenhower, Monroe and others, but no one talks about him or gives him credit," he said.
In 2013, Singh was conferred with Order of Friendship, the highest award given to a foreign national, by the Russian President for promotion of International peace, goodwill and cooperation. He was also awarded the Pushkin Medal in 2015.
Such exhibitions play an essential role in using soft power to strengthen the bilateral relations between the two countries. "It is through the growing Russian relationship with people like Dr Dalbir Singh that strengthens the bond between Russia and India. Apart from being a phenomenal artist and distinguished social figure, first and foremost, Singh is one of our closest friends," Mr Oleg Osipov, director of the Russian centre in Delhi, said.
"We at the centre aim to share Russian culture, science, art and more with India and promote the good side of Russia in the country," he added.
Singh, who has been sketching all his life, first began at the age of nine when he fell ill with typhoid, and sketched an image of his doctor as a way to thank him. Growing up, even after joining the armed forces, he never left the artist behind, creating his first sketch of Nehru during his time at the National Health Academy. Throughout his career, especially during his four-year posting in Mizoram fighting insurgent forces, Singh continued to sketch.
The exhibition, which was attended by distinguished Russian and Indian diplomats as well as members of the Indian Armed Forces, friends and family, was inaugurated by Russian Ambassador to India, Denis Alipov and Chief of Defence staff General Anil Chauhan.
Through his charcoals, Singh managed to capture the aura as well as the circumstances of each of the prominent personalities on the walls. From a burdened Nehru to a smirking Putin, each portrait had its own story, waiting to be whispered to the curious observer.
While discussing which portrait most caught his eye, Belov said, "The portrait of Nehru gave me goosebumps. Singh has beautifully captured how the leader was burdened by the responsibility of rebuilding the nation as the first Prime Minister of India."
Throughout the evening, guests emphasised on the apolitical nature of the event. Interestingly, Putin featured three times during the exhibit, placed next to Nehru and Dr Manmohan Singh.
(Edited by Prashant)