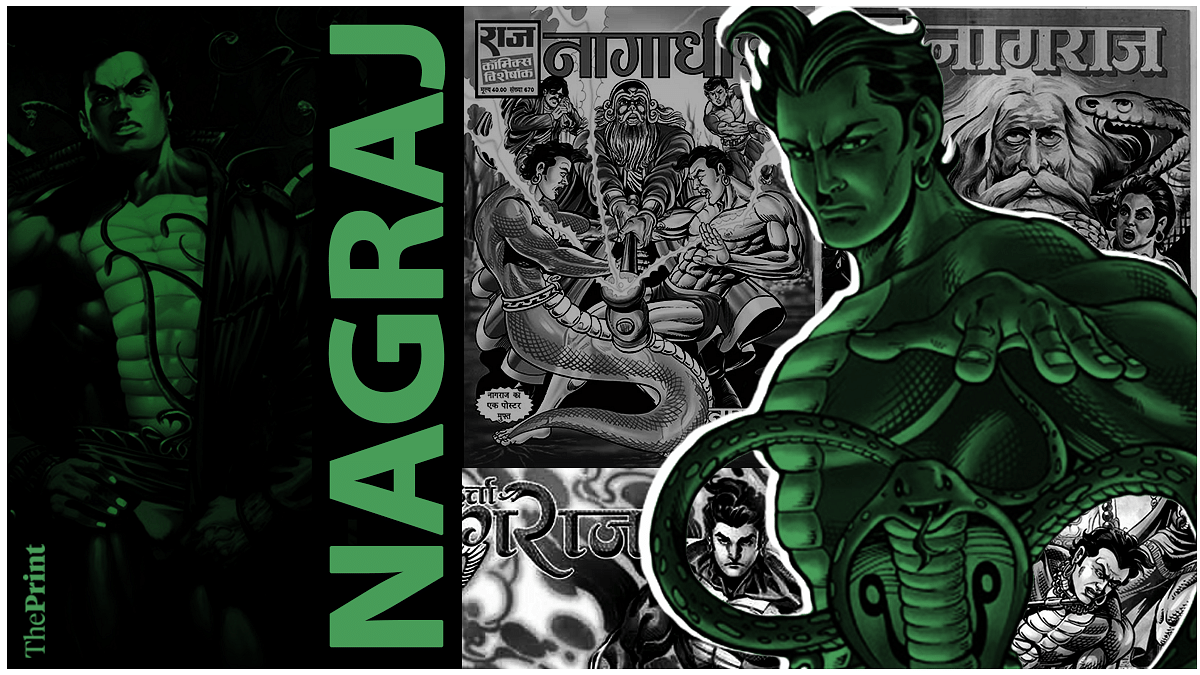 Neither the guy dressed in a black trench coat hopping around the streets of Singapore nor the guy who'd travel like a tornado, reminding kids to drink milk. Allow me introduce you to the original superhero of India. 
Snakes flow in his veins, his venom is celestial, more lethal than cyanide — enough to melt metal. He can conjure snakes at his will. His venom can both destroy you in a moment or heal you in a second. He's the king of snakes, the ultimate force against international terrorism — he's none other than Nagraj, India's first and longest running superhero. 
Nagraj was first published by Raj Comics in 1986. It was conceived and created by Rajkumar Gupta along with his sons Manoj Gupta, Manish Gupta and Sanjay Gupta; its first edition was written by Parshuram Sharma. 
He was the first superhero character introduced by Raj Comics and would be followed by iconic superheroes from the publishing house like Super Commando Dhruv, Doga, Parmanu, and Bhokal among others. 
A green, muscular body, draped in nothing but a purple brief accessorised with a cobra head — Nagraj had an extremely stark and attractive visual appeal which made its readers pick up the comic at bus stops and railway stations.
"I first read the comic at my nani's house when I saw my cousin renting them from a nearby store at rupees 1 per day," says Srishti Chaudhary, a Delhi-based writer for whom reading Nagraj with her cousin became an annual summer vacation ritual. 
More than an eye-catching appearance, it was Nagraj's Indian content that caught on quickly with the masses. Albeit out-worldly and fantastical, the stories found root in Indian culture and mythology. Over time, the comics were able to create a snake mythology universe of its own with its capital at Mahanagar. 
A sense of belongingness 
In a world of white superheroes who kept guard of unimaginable cities some seven oceans away, Nagraj finally gave Indian readers stories that were out of the world but not out of reach.
Reading about an Indian superhero gave Delhi-based bank officer Shriti Chatterjee a sense of belongingness. "He was equal parts superman and equal parts mythological," she says, noting how heavily Nagraj derived from Indian snake legends.
Shriti also enjoyed the Black and white characters depicted in the comic "just like Bollywood", and loved reading this different yet relatable character from the house of Raj Comics. 
For Suyog Singh, a New York-based bank strategist, Nagraj feels like home, and reminds him of simpler times he spent in India. Even today, Suyog always tries to get his hands on a copy whenever he's back home.
"The stories had concepts of Physics woven into them," he says. "Even though they were based in wonderland, they always found their base in scientific logic."
Giving Indian kids their own hero also happened to be one of the inspirations behind superhero Nagraj.
"We spent our childhood without a superhero. Which is why we sought to introduce a superhero character in the shape of Nagraj in our comic universe. So Indians could have a hero of their own to look up to," Manish Gupta, CEO of Raj Comics tells us. "Superpowers don't make superheroes. Their true power is the ability to inspire people to be superheroes in themselves," he says, adding that the comics always had valuable moral lessons in the storyline.
---
Also read: Ratnam pens — the 'swadeshi' pens that were made on Mahatma Gandhi's demand
---
The decline in readership 
In the more globalised, technologically-advanced world, Indian kids started visiting movie theatres to get lost in the exotic world of western superheroes with unbelievable graphics that could transport them to a completely different world. This led to a decline in comic sales. According to Manish Gupta, the decline in sales isn't isolated to people moving on from comic books but dampening reading habits at large.
As Marvel and D.C. gained popularity in India, Batman, Superman, Spiderman etc. became the ultimate superhero icons of the Urban Indian millennial and desi superheroes disappeared behind the big budgeted glamour of heroes from the West. 
However, sales are still steady in the 'Hindi heartland', if not growing according to Manish Gupta. Raj Comics are still being picked up by kids in the publications' traditional strongholds like Rajasthan, Maharashtra, Uttar Pradesh, West Bengal and Madhya Pradesh. The comics also enjoy a fan following in the Northeastern states.
"Across the border, in Nepal, people pick up Nagraj and other Raj Comics in order to learn Hindi," the co-creator of Nagraj adds. 
A Bollywood debut for Nagraj?
As the readership and demand for comic books decline, and comic-based movies catch the fancy of a younger crowd, it's only prudent that Raj Comics is looking to go digital and present its stories to its viewers in an audio-visual format. Especially when other superhero characters like Drona, Ra. One and Krrish have failed to dent people's imaginations.
Manish Gupta says that the publishing house is in touch with multiple media houses and producers about taking Raj Comics to the silver screen and claims that there's "exciting news ahead."
"Lots of actors like Varun Dhavan, Ranveer Singh, John Abraham are interested," he says, while neither confirming nor denying news of Ranveer Singh reprising the role of Nagraj in the near future. 
It remains to be seen if an Indian comic multiverse will become reality or not, but desi hero Nagraj already has and continues to rule the imagination of young readers across the country with his poisonous snakes and vicious comebacks.
---
Also read: With Ulta Pulta, Jaspal Bhatti spearheaded a brand of sharp political satire
---