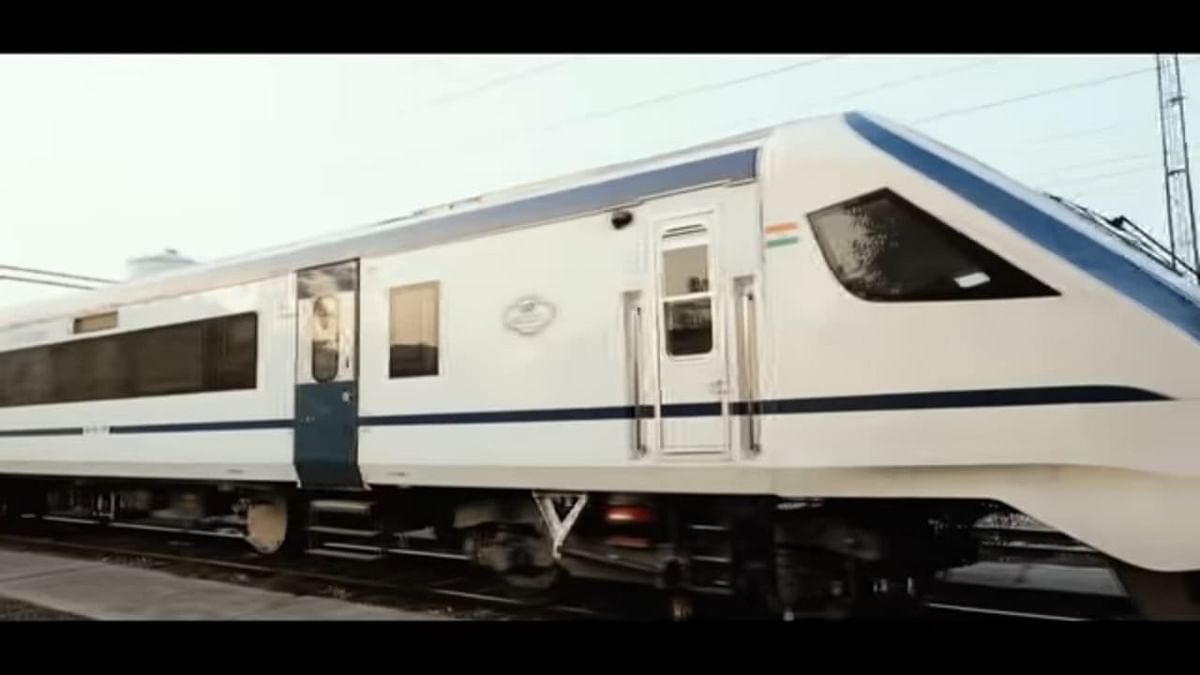 New Delhi: The rail industry is upbeat about Finance Minister Nirmala Sitharaman's Budget 2022-23 proposals for the Indian Railways (IR), for understandable reasons. 
Over the next three years, IR will manufacture 400 aluminium-bodied Vande Bharat trains (160 kmph semi-high speed trains), while 100 greenfield multimodal cargo terminals will also be constructed.
A definitive commitment towards upgrading signalling systems has also been accounted for in the Budget proposals, with Sitharaman announcing that 2,000 km of tracks will get covered under the Train Collision Avoidance System during the fiscal.
The Budget proposals also provide for higher spending towards developing an integrated urban transport system. The upshot of all this: IR will be spending more on rolling stock acquisition, on infrastructure development, and towards technological upgrade.
The statistics are impressive: With a capital outlay of Rs 2.45 lakh crore, the figure is substantially higher than last year's outlay of Rs 2.15 lakh crore. What is also significant about Budget 2022-23 is that the railways has announced clear intentions of taking the privatisation plunge.
Industry captains are enthused. 
"It is a progressive and growth-oriented budget that will have a huge multiplier effect on the economy; incentivising faster implementation of projects. The policy aimed at standardisation of metro design systems will provide the much-needed stability to manufacturers," said Alstom India managing director Alain Spohr.
"The initiatives for the rail sector are transformative, as they outline the future engines of growth," added Dipankar Ghosh, managing director, Knorr Bremse (India). 
Talgo India Managing Director Subrata Nath had a similar take. "The Budget is very positive from the rolling stock and passenger point of view. We hope IR also supports tilting technology coaches, as these can significantly add to speeds," Nath said.
---
Also read: Modi govt plans record Rs 14.5 lakh crore borrowing in Budget 2022 to fund growth ambitions
---
The unsaid in the Budget
As with FM Sitharaman's previous Budget speeches, the fine print involves issues that have been left unsaid. 
There was no mention about plans on internal restructuring, nothing about corporatisation of railway production units or introduction of private trains, There was silence also on the ambitious station redevelopment plan or the targeted completion dates of the Eastern and Western Dedicated Freight Corridors (DFCs). 
Most importantly, the FM also remained silent on strategies to yank out the public transporter from its current state of financial mess.
"This is the third year since 2019 when the transporter's operating ratio (paisa spent per 100 paise or 1 rupee that it earns) has gone beyond 100 per cent, while IR has window dressed the numbers to keep it under 100 per cent by meeting the pension expenses from government and extra budgetary support," said independent consultant Sudhanshu Mani, who was formerly the general manager of the Integral Coach Factory, Chennai.
"In the last two years, the Comptroller and Auditor General has called out this self-defeating doctoring of numbers," Mani said. 
IR today has a moratorium on interest against loans taken, but its outstanding borrowings stand at more than Rs 4 lakh crore. When the moratoriums start ending, the borrowing figures will apparently skyrocket.
"This Budget has allocated another Rs 2.45 lakh crore on capital expenditure, whereas it would have been prudent to cut back on this spend and institute a stronger system of pre- and post-audit of returns on investments," Mani added. 
Former Railway Board member Rajesh Agarwal spoke in a similar vein, saying the need of the hour is to institute a judicial committee and issue a white paper on rail finances.
Vande Bharat opportunity
While the financial situation remains critical, what can hardly be understated is that if the execution timelines are met, the 400 Vande Bharat trains announced in the Budget can actually emerge as a game-changer for the Indian Railways.
According to sources, 400 Vande Bharat trains, whenever they become operational, will approximately account for 15 per cent of the transporter's passenger business. The air conditioned coaches that are currently being operated account for just about 3 per cent of the passenger business.
With a hugely increased capacity of comfortable train travel at far higher speeds, IR could well be in a position to make a dent in road and air travel.
The trouble, however, is that project delays have been a part of the transporter's work culture. So far, just two of the Vande Bharats are being operated, while a third rake is likely to be rolled out in June this year.
"There are several downstream issues such as firming up supply chains and building up capacity. It is unlikely that more than 150 such trains can be manufactured in the next three years," a senior railway ministry official said on the condition of anonymity.
(Edited by Amit Upadhyaya)
---
Also read: Modi govt continues infra push, Budget shows big jumps for highways, transport & tap water
---