New Delhi: Starting Tuesday, residents of India and Singapore will be able to transfer funds to each other through their smartphones by just using either their mobile numbers or unified payments interface (UPI) identities.
The two countries Tuesday launched real-time cross-border linkage between their respective payment systems — India's Unified Payments Interface (UPI) and Singapore's PayNow. This means UPI and PayNow users will be able to send and receive funds between participating financial institutions across the two countries in real time. The users can do this using their mobile phone numbers, UPI ids or Virtual Payment Addresses (VPA).
The move is expected to give a major boost to the cross-border retail payments and remittances between the two nations that amount to over USD 1 billion annually.
The linkage, launched by Prime Minister Narendra Modi and Lee Hsien Loong, Prime Minister of Singapore,  promises to offer "safe, instant, and cost-effective cross-border funds transfers" using mobile applications.
On Monday, the the Monetary Authority of Singapore (MAS) had said that payment linkage between UPI and PayNow will reduce the remittance cost by 10 per cent. However, no numbers were shared on the cost to transfer money via UPI and PayNow.
Speaking at the launch of the new facility, PM Modi said last year, more than 74 billion transactions, worth Rs 126 trillion (or about SGD 2 trillion) were carried out via UPI.
"This demonstrated that India's UPI system can handle large amounts of transactions and in a safe manner…Today, UPI is enhancing its partnership with various other countries. Singapore is the first country with which we have today launched the P2P payment facility," Modi said.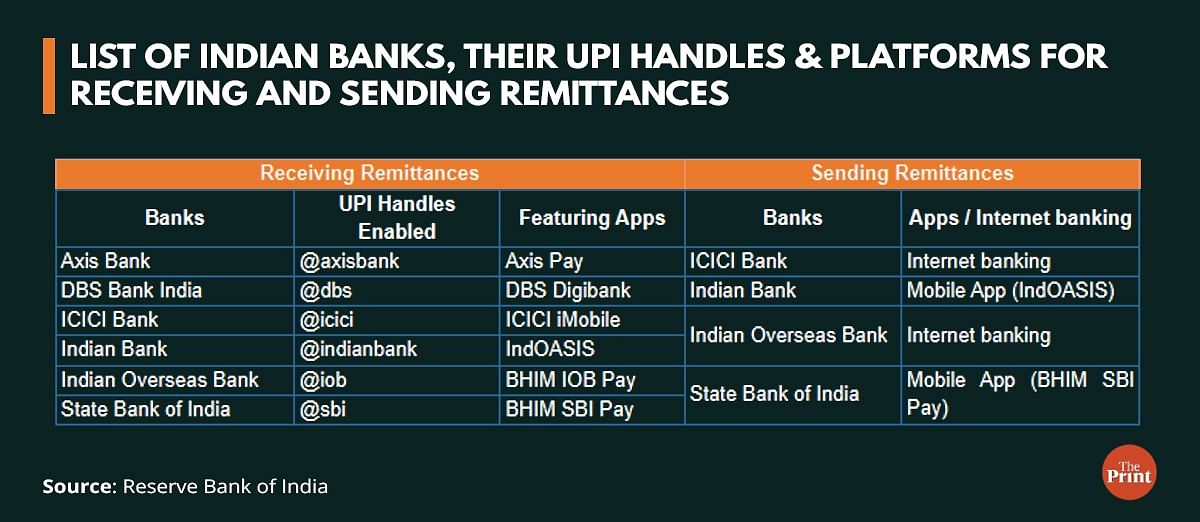 Modi's Singaporean counterpart, Lee, said, the UPI-PayNow linkage was first conceived in 2018, during the Indian Prime Minister's visit to Singapore. "Cross border retail payments and remittances between Singapore and India amount to over USD 1 billion annually and over the years we have progressively enhanced our cross border payment connectivity."
Lee added that the UPI-PayNow linkage is the world's first real-time payment systems linkage to use a scalable cloud-based infrastructure, which can accommodate future increases in the volume of remittance traffic. It is also the first linkage to feature a non-bank financial institution as a participant.
Singapore has a large number of Indian workers and students, resulting in substantial inbound and out-bound remittances every year.
---
Also read: Economic Survey hails UPI revolution during Covid & FY22 boom in rural internet connections
---
Daily transaction limit of Rs 60,000 or around 1,000 SGD
To start with, eight financial institutions will enable this cross-border payment system. For Indian users, the State Bank of India, Indian Overseas Bank, Indian Bank and ICICI Bank will facilitate both inward and outward remittances, while Axis Bank and DBS India will facilitate inward remittances. For Singapore users, the service will be made available through DBS-Singapore and Liquid Group (a non-bank financial institution).
"Going forward, the UPI-PayNow interlinkage can be expected to cover more banks and financial institutions in India," the RBI has said, while giving details of the new payment linkage.
Account holders of the above-mentioned banks and financial institutions will be able to do the cross-border remittance transactions through the UPI-PayNow interlinkage. Currently, the daily transaction limit for cross-border remittance transactions through the UPI-PayNow interlinkage is Rs 60,000 a day or around 1,000 Singapore Dollar (SGD), and is limited to person-to-person (P2P) remittances, for the purposes of "maintenance of relatives abroad" and 'Gift', according to the RBI.
Transactions through UPI-PayNow interlinkage can be made in the same way that domestic transactions are carried out.
A UPI user in India will be able to send money to a PayNow user in Singapore and vice-versa. These users will need to open their respective mobile applications and enter the mobile number/UPI id/Virtual Payment Address (VPA) of the person they need to send the money to, and then approve the transaction with an OTP or a UPI Pin. At the time of making the transaction, the system will calculate and display to the user, the amount in both currencies.
This will eliminate the need of sharing and entering bank account details.
"The PayNow-UPI linkage is the result of extensive collaboration between MAS, RBI, both countries' payment system operators, payment scheme owners, and participating banks and non-bank financial institutions. It is a major milestone in enhancing the infrastructure for cross-border payments and supports India's G20 Presidency priorities to improve the cost, speed, access and transparency of cross-border payments," the Monetary Authority of Singapore said in a statement.
India took over the presidency of the G20 countries last December and the Summit in Delhi is scheduled to be held in September this year.
(Edited by Poulomi Banerjee)
---
Also read: Budget 2023 for tech sector: Digital India funds slashed, PAN 'common identifier', KYCs simplified
---