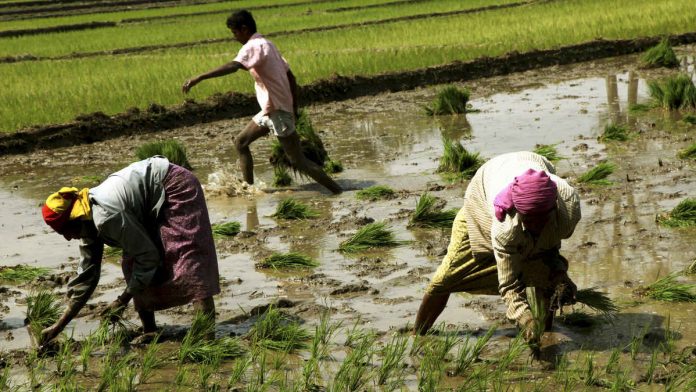 Text Size:
The Modi government could seek Parliament approval for additional expenditure to ensure an immediate implementation of the scheme.
New Delhi: The Narendra Modi government's ambitious plan to provide income support to farmers will be announced before the Union Budget, a senior government source said.
This will be the Modi government's last-ditch attempt to satisfy this politically crucial electoral base ahead of the Lok Sabha elections due in April-May.
The government may seek Parliament approval for the additional expenditure through the supplementary demand for grants for ensuring an immediate implementation of the scheme, the source said on condition of anonymity.
The contours of the scheme are being finalised by the Agriculture Ministry.
ThePrint couldn't ascertain the fineprint of the proposed scheme.
The central government's decision to provide sops to farmers follows its electoral defeat in the three states of Chhattisgarh, Madhya Pradesh and Rajasthan. Farmers' ire was pegged as one of the major reasons for the defeat of the ruling Bharatiya Janata Party (BJP) governments in all these states.
---
Also read: In Maharashtra, Modi talks development but ally Uddhav says come & look at farmers' plight
---
Government efforts
Speculation has been rife that the government may announce a scheme along the lines of Universal Basic Income (UBI) and Telangana's Rythu Bandhu scheme.
While UBI refers to unconditional cash transfers to a select target group, Rythu Bandhu provides income support to farmers to purchase inputs based on their land holdings. However, with inadequate digitisation of land records, the latter cannot be implemented across the country without modifications.
The Modi government has already announced a revamped crop insurance scheme as well a modified minimum support price scheme for farmers. However, both have been far from effective, forcing the government to look for alternatives.
In addition, banks have also been given a target of providing agriculture credit of Rs 11 lakh crore in the current fiscal.
Farm loans
No debt waiver is on the cards, however, with the central government firmly opposed to any such measure.
Many of the recently-elected state governments have announced a debt waiver putting a strain on government finances while distorting the credit culture as farmers anticipating debt waivers in the future do not pay off bank loans.
Since April 2017, eight states ruled by both the Congress and BJP have announced debt waivers amounting to nearly Rs 2 lakh crore.
"Debt waiver will not happen. This government is absolutely opposed to it. But there are political compulsions," the source said.
"Because of this, despite the fiscal constraints, further steps have to be taken for the farmers," added the source.
The Centre has been under pressure from opposition parties led by the Congress that are demanding a nationwide debt waiver to provide relief to distressed farmers.
---
Also read: Farmers could get cash handout from Modi ahead of the 2019 Lok Sabha elections
---
Read Global Pulse for a sampler of the big international stories, and why they matter.