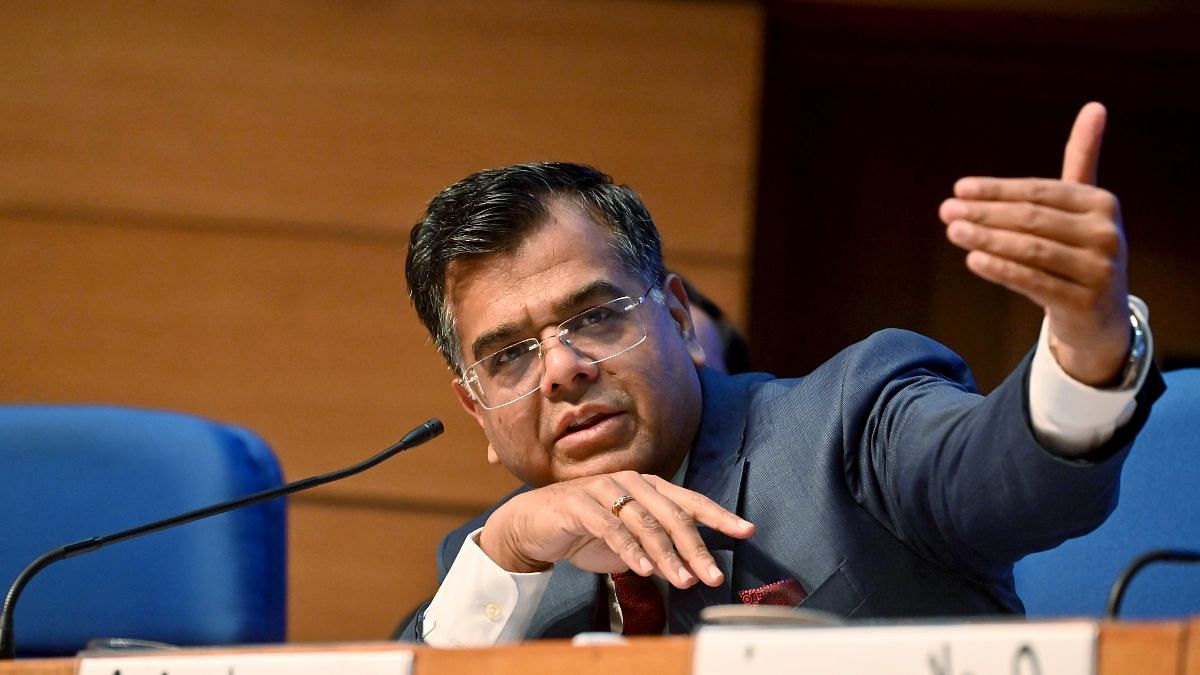 New Delhi: The Union Budget 2023 presented Wednesday by Finance Minister Nirmala Sitharaman has been regarded by experts and economists as a strong one, but it does also reveal some key insights into the government's thinking on critical issues.
In an interview with ThePrint, Finance Secretary T.V. Somanathan spoke about how the central government can encourage states to increase their capital expenditure (capex) spending, the curtailed allocation for the rural employment guarantee scheme MGNREGA, and whether food and fertiliser prices are expected to fall.
He also talked about the Adani stock rout, emphasising that the matter is between the company and regulator, and that the government has no role to play in the process. Edited excerpts:
Media reports, research from agencies like National Institute of Public Finance and Policy (NIPFP), and the Economic Survey show that while the central government is on track to meet its capital expenditure target, it's the states that have been lagging on this front. Do you feel the government needs to do more to encourage states to spend on capex, over and above the 50-year interest free loans it is giving? 
I think there are limits to how much actions of the central government can influence the internal financial allocations of the state governments. That is what they do suo motu within their own resources because each state government has its compulsions and intervention from the central government has limitations in terms of how much it can influence.
However, the Rs 1.3 lakh crore we plan to give will have certain components — as has been indicated in the Budget speech — which will be linked to incrementality of the state capital expenditure.
So, a portion will be untied because we don't want to say that since the state is unable to incur capital expenditure, even the central capital expenditure support will be withdrawn. That would be a little harsh on the states because there's a purpose for the scheme. It is not largesse. It is intended to create employment, to create demand, to create infrastructure. So even if it's only the central money that they are using without any other incrementality on their side, that purpose is still achieved, though not to the extent we want.
But they should also give a similar thrust. This is the thing that we will do with a soft push in the conditionality of the scheme to incentivise States to increase their own capital expenditure. Not a hard conditionality.
Actually, it is the last quarter where most States show the largest capital expenditure. So, the April-November 2022 numbers aren't very attractive in several States, though in some States they're very good, by the way. The decomposition of the number by state will give you a very different picture. There are some States which have met 90 per cent of their capex target, but there are also those who are down.
So, in terms of convincing them of how useful capex is, etc., those who are convinced are moving ahead. It is happening. It's not uniform, but I also think the picture will improve by the end of the fiscal year.
---
Also read: Budget 2023: An election-year bonus for the super-rich. No, Modi govt hasn't lost it
---
What is the thinking around MGNREGA? The budget estimate (BE) of last year saw an allocation of Rs 73,000 crore and it increased in the revised estimate (RE) to Rs 89,400. In the BE of this year, it is less than even the BE of last year. Is the thinking that maybe the rural economy is picking up? 
Precisely. The outlay for PM Awas Yojana-Rural is up by more than 100 per cent, comparing BE to BE. PMAY in aggregate is up 66 per cent, but rural is up more than 100 per cent.
Similarly, there is a large step-up in the outlet for Jal Jeevan Mission. These are rural works. These are works executed in rural areas, utilising the same catchment area of labour as MGNREGA, so there is a direct government push creating employment through these.
In addition, you have the state capex scheme where also a lot of works are decentralised, unlike those of the central government. So, there are three new sources of rural demand for work which we are creating directly by physical intervention — Jal Jeevan Mission, PMAY, and state capex push.
In addition, the economy is normalising, so the base demand for MGNREGA is expected to go down because the causes of the spike have abated. The economy is back to normal.
So, with the combination of these factors, we expect a decline in demand. However, it is a demand-based scheme and if additional funds are required, as we have done in the past, we will always be ready to top it up at the RE stage.
So, then what is the sanctity of the MGNREGA budget numbers, if you stand ready to change them?
That is its nature. It's a statutory requirement under MGNREGA. Unlike other schemes, where the output is fixed and Parliament is told that 'look we'll construct so many houses therefore we need so much money', in MGNREGA, the Act requires that if people ask for employment, you have to provide. So, the very nature of the scheme is that it is not amenable to the conventional budgeting discipline. It's one of those rare schemes where it's neither an entitlement nor is it a planned item of work.
Here is a thing where we don't know whether we'll take up a piece of work or not, we don't know how many people will ask for this work, so this fluctuation is inherent in the design of the scheme and the budgeting system has to follow the scheme rather than the other way around.
Looking at subsidies, looking ahead, the food subsidy bill is projected to be down 4.6 per cent over the BE of last year; fertiliser is supposed to be up 66 per cent, and LPG is supposed to be down 61 per cent. The total subsidy bill is supposed to be up 13 per cent or so over last year. Do you see this as an indication of where you feel that these prices are going to be next year? 
That's right. None of these are artificially either increased or decreased, so it's our best guess.
So then, do you feel that food prices will fall?
No, that reflects changes in the payment cycle of some of the old schemes. We are on a cash system. This food subsidy change is not significant, except in respect of the fact that we are now paying the entire cost, including the state's share of transportation, etc, and have removed the Rs 2-3 (that was earlier being charged to ration-card holders and which has now been made free). So that is the only real change in food subsidy. The rest is the difference between the accrual system and cash system.
In fertiliser, it's an estimate. We are approximately estimating a 20 per cent reduction in the cost of fertiliser subsidy from the RE of last year. It's gone up from the BE because prices shot up after the Ukraine war. The BE was presented in February.
Do you think fertiliser prices will settle down then? 
We are witnessing a decline. So, while it went from, say, Rs 105 to Rs 225, we are projecting Rs 175 next year.
And same with LPG?
In LPG, too, we are expecting the spike will abate and we will not have to spend that much. We are not expecting to have to pay much on LPG subsidy this year.
---
Also read: Budget 2023: Fiscal deficit to meet 6.4% target in FY23, aim for 5.9% in FY24, says Sitharaman
---
NOTE: The response to the following two questions are in his personal capacity and not as finance secretary
Do you think short selling is an unethical practice?
I don't think short selling is an unethical practice in a derivatives market, per se. I'm not speaking about the stock market. The stock market is a little different. We have seen the influence of reports and speculation and how it can lead to manipulation in the stock market. But in commodity markets, short-selling has a very legitimate role to play.
In stock markets, the ability of a report to generate a change in the market that profits the person who issues the report can cause a problem. But the counter-argument to that would be that it is precisely the ability to short sell that makes research agencies that invest, look for weaknesses in a company. And by identifying such weaknesses they are doing a service to the market. Because if everybody is only looking at the bull side, or the buy side, then people are only looking at strengths. The flow of information improves when short selling is permitted because there is an additional way that a researcher or a brokerage can monetise its research.
When you say a particular company is doing 'this' and you have some research on it, it does influence the market. The action of that short selling itself changes the result and produces the result you want. So, in stocks, the plus of short selling is that it induces research into weaknesses and if the research is true, or if the facts are true, it is actually a benefit since it produces better information for all market investors.
However, it creates this serious problem — as may have happened in this (Adani) case — where the issuer of a report could profit from what they write, plan the release, sell their stocks, issue the report, and then make their profit and disappear. And there's always the chance that such a report could be false.
Isn't that a concern? If the act of releasing the report itself can affect the market, isn't there an incentive to create false information?
The counter to that, people would say, is that if the report was completely nonsense, then enough people would refute it and say that, so the free exchange of information will produce some pushback to a false report.
I think this example does create a problem and it does need looking at very carefully.
NOTE: The response to the following question is in his official capacity as finance secretary
Do you think the government will examine this issue?
There is this company which is facing a problem. There is a regulator, and the regulator will assess it as per the regulations. I don't think there's anything for the government to do either for or against any party in this transaction. This is between a private company and its regulator and the markets and the stock analysts. There are actors who have to sort this out among themselves. I don't think the government comes in at all.
(Edited by Zinnia Ray Chaudhuri)
---
Also read: FY24 Budget shows policy continuity amid fiscal uncertainty. But path ahead not easy
---