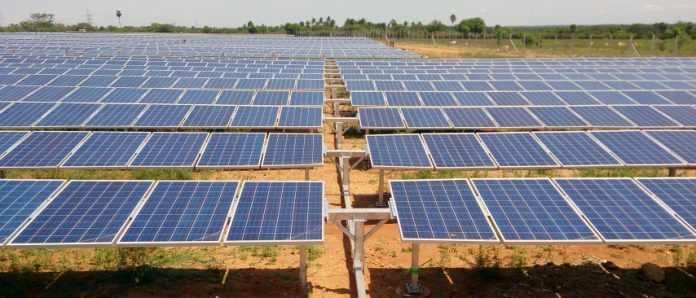 Text Size:
The two countries are also home to the world's largest operating utility-scale solar projects.
India and China are driving a rapid global expansion in large-scale, solar power developments as the cost of building new projects falls, according to an analysis by Institute for Energy Economics and Financial Analysis.
"Solar energy is taking an increasingly prominent role in driving the ongoing transformation of global electricity generation markets alongside gains in storage, wind, hydroelectricity and energy efficiency," IEEFA said in a report.
The world's largest operating utility-scale solar projects are concentrated in China and India, according to IEEFA. Based on company and press reports, as well as its own estimates, those include:
Ranking Project Name Size MW Country Proponent  1 Tengger Desert Solar Park 1,547 China China National Grid Zhongwei Power Supply Co 2 Kurnool Ultra Mega Solar Park 1,000 India Andhra Pradesh Solar Power Corporation Pvt Ltd 3 Datong Solar Power Top Runner Base 1,000 China Multiple 4 Yanchi Ningxia Solar Park 1,000 China Huawei Technologies Co 5 Longyangxia Dam Solar Park 850 China State Power Investment Corporation (China) 6 Adani Kamuthi Solar Plant 648 India Adani Green 7 Solar Star 579 U.S. BHE Renewables 8 Topaz Solar Farm 550 U.S. First Solar 9 Desert Sunlight Solar Farm 550 U.S. NextEra Energy, GE Energy Financial & Sumitomo 10 Nova Olinda Solar Farm 292 Brazil Enel Green Power
China added 53 gigawatts of the 98 gigawatts of new solar capacity built last year, a 31 percent increase from the total 2016, IEEFA said, citing Bloomberg New Energy Finance data. Meanwhile, the per unit cost of electricity over the life of a generating asset fell 15 percent year-on-year to $86 a megawatt hour. – Bloomberg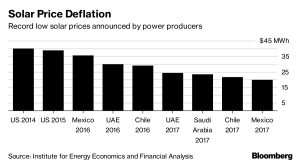 Get the PrintEssential to make sense of the day's key developments