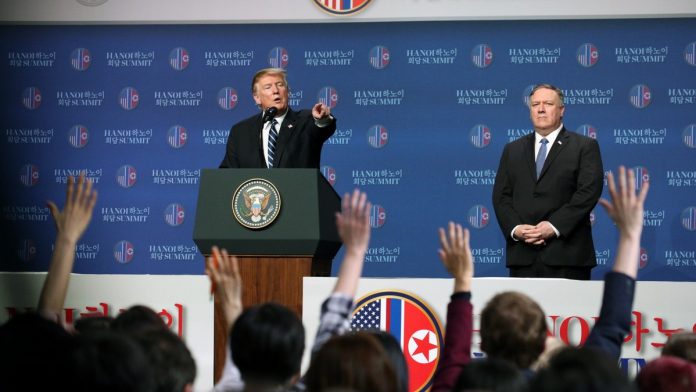 Text Size:
Washington: President Donald Trump credited the US with helping to ease a rise in tensions between India and Pakistan as his efforts to strike a nuclear deal with North Korea collapsed.
"We have, I think, reasonably attractive news from Pakistan and India," Trump said Thursday in Hanoi at a press conference following his hastily concluded second face-to-face encounter with North Korean leader Kim Jong Un. "They've been going at it, and we've been involved in trying to have them stop."
Tensions between India and Pakistan, both of which have nuclear arsenals and a long history of conflict, escalated this week in the most serious military confrontation between the two nations in decades. Indian warplanes struck inside Pakistan on Tuesday for the first time since the 1971 war between the two countries.
"We've been in the middle trying to help them both out, see if we can get some organization and some peace, and I think, probably, that's going to be happening," Trump said.
The Indian government said the airstrikes targeted a training camp for Jaish-e-Mohammed, a terrorist group that killed 40 Indian soldiers in a Feb. 14 suicide bombing in Kashmir, a disputed territory that is a chronic flashpoint. Pakistan responded Wednesday by shooting down what it said were two Indian planes.
Pakistan captured an Indian Air Force pilot and released video of the pilot being interrogated, complicating the domestic political challenge for India's Prime Minister Narendra Modi as he faces a general election within weeks.
Secretary of State Michael Pompeo said Wednesday that he had spoken to his counterparts in India and Pakistan and urged both governments "to exercise restraint, and avoid escalation at any cost."
New Jersey Senator Bob Menendez, the top Democrat on the Senate Foreign Relations Committee, called Wednesday for the Trump administration to "promote peace and stability in South Asia."- Bloomberg
---
Also read: Why Donald Trump only has a muted statement to make on India-Pakistan crisis
---
Check out My543, our comprehensive report card of all Lok Sabha MPs.