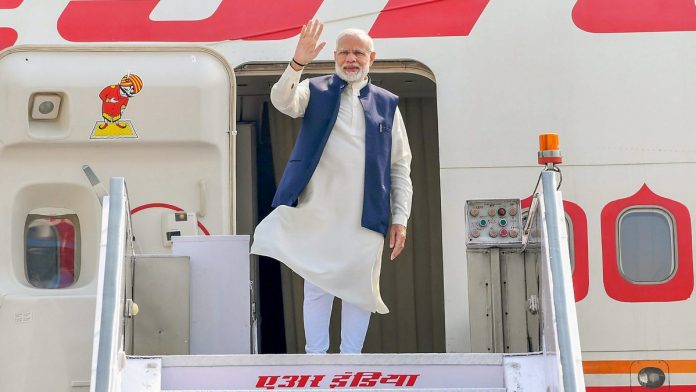 Text Size:
Modi is attending the inauguration of President Ibrahim Solih and said 'Sabka Saath, Sabka Vikaas' extends to India's neighbours too.
New Delhi: As the paradise islands of the Maldives return from their embrace of China to the rest of South Asia, Prime Minister Narendra Modi is in Male for the swearing-in ceremony of Maldivian democratic leader Ibrahim Solih Saturday.
Modi has issued instructions to help the Maldives "with whatever they require," officials told ThePrint, a note of satisfaction that Delhi has pulled off its third-party confrontation with Beijing in the Indian Ocean.
The prime minister will return this evening from Male after the public inauguration that is being held in a stadium.
"India and Maldives share a strong partnership rooted in history, strong bonds between our peoples, and their shared aspiration for peace and prosperity. My Government's vision of inclusive development 'Sabka Saath, Sabka Vikaas' extends to all our neighbours too. We in India strongly desire to see a democratic, prosperous and peaceful Republic of Maldives," Modi said in a Facebook post.
---
Also read: In first visit to Maldives, PM Modi plans to reset ties with anti-China Solih govt
---
Notably, former Sri Lankan president Chandrika Kumaratunga has already arrived in Male, as have representatives from China and Saudi Arabia as well as several other countries.
Sri Lanka has been especially kind to the leaders of the Maldivian Democratic Party, welcoming its leaders when they were sent into exile by former president Abdulla Yameen.
Ousted president Mohamed Nasheed divided his time between Britain and Sri Lanka and Nasheed's foreign minister Ahmed Naseem, badly beaten up by the Maldivian security forces under Yameen's watch, lived there for many years.
India, on the other hand, despite Modi's current warmth, never welcomed Nasheed. It was always much too mindful of what the Chinese might say. Even when the US and European Union encouraged Delhi to take a "more active" position on the Maldives, India always cautiously held back.
In fact, the only time Nasheed came to Bangalore for an event organised by The Hindu newspaper in February, defence minister Nirmala Sitharaman went out of her way to deny that she had reassured Nasheed of India's goodwill and help in any way.
Defence ministry sources had said that no substantive discussions took place during the "chance, unscheduled" encounter between them.
Officials, however, pointed out that Modi had refused to travel to the Maldives during Abdulla Yameen's tenure, because he was not only responsible for the Chinese embrace but also imposed a state of emergency in the Maldives and imprisoned several leaders, including former president Maumoon Gayoom.
"India had to hedge its bets. With the Chinese getting so powerful, it wasn't clear what the Maldivians would do," one official said on the condition of anonymity.
With the Maldivian people in September incredibly throwing out Yameen in a democratic, free and fair election, India now has one more chance to openly return to the strategically located archipelago in the Indian Ocean.
---
Also read: Why India is unable to bring back 28 sailors & 2 choppers Maldives doesn't want
---
'India First' & Chinese debt
President-elect Ibrahim Solih has promised an "India First" foreign policy. Indian officials say they will be willing to assist the Maldives in "rebuilding its infrastructure, from water and sanitation to housing to anything else".
India had provided $75 million in credit before bilateral relations soured in 2013, of which one-third is said to have been utilised. At that time, the Maldivians had also asked Indian corporate giant GMR to withdraw from its $511 million expansion of the Male airport, which was then given to a Chinese firm to build.
It is unclear whether Delhi will today help write off the massive debt Male owes to the Chinese, anything between $1.5 billion to $3 billion, reports said.
Adam Azim, part of Solih's transition team, said the new government would review the millions of dollars of investments as well as related debt and how to restructure it, Reuters reported.
"We were led to believe it's about US$1.5 billion, the Chinese debt, but it could be worse," said another member of Solih's top economic team, which has been holding discussions with finance ministry officials during the transition following the election in September.
"We straightaway need $200-300 million to kick start the budgetary support," the adviser said.
Debt of US$1.5 billion would be more than a quarter of the country's annual gross domestic product. Another member of the incoming president's economic team said firm proposals for assistance had been discussed with Indian and US officials, Reuters added.
Modi returns this evening from Male, but Chinese culture and tourism minister Luo Shugang will be staying on for a few days for discussions.
Abdulla Yameen is reportedly not attending the inauguration.
Separate fact from fiction, the real from the fake going viral on social media, on HoaXposed .