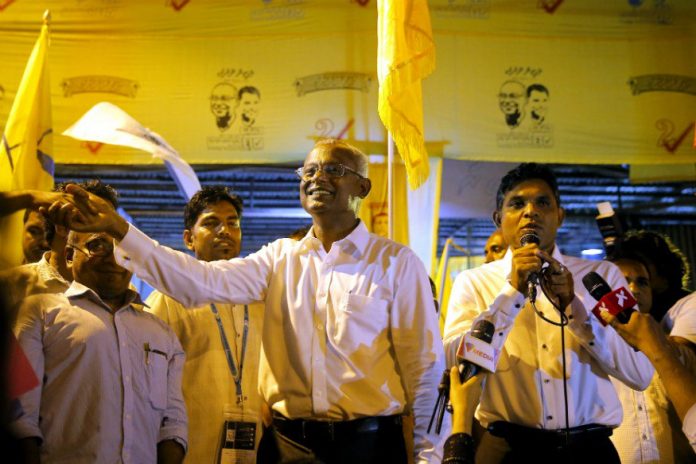 Text Size:
Modi too extended an invitation to the president-elect to visit India, which Solih accepted.
Male: Prime Minister Narendra Modi has been invited to the swearing-in ceremony of the Maldives' President-elect Ibrahim Mohamed Solih in November, according to a Maldives media report Thursday.
Solih, 56, the opposition Maldivian Democratic Party's candidate, emerged victorious over incumbent President Abdulla Yameen in the election held ion 23 September. The formal results will be announced by the election commission on Sunday.
He will be sworn in on 17 November.
The President-elect had extended the invitation during a phone call by Modi, after Solih's victory in the 23 September presidential elections, spokesperson for Solih, Mariya Ahmed Didi was quoted as saying in 'The Edition'.
Modi had also invited Solih to visit India, Mariya said, adding that the president-elect had accepted the invitation.
The two leaders agreed to work closely together to further strengthen the close, friendly and good neighbourly relations between the two countries.
Maldives is the only SAARC country that Modi has not visited. His visit to the archipelago was cancelled in March 2015 due to the volatile political situation.
India's ties with the Maldives came under strain after President Yameen declared Emergency in the country on 5 February, following an order by the country's Supreme Court to release a group of Opposition leaders, including his estranged half brother and former president Maumoon Abdul Gayoom, who had been convicted in widely criticised trials.
India had criticised the Yameen government for the imposition of the Emergency and urged it to restore the credibility of the electoral and political process by releasing political prisoners.
The Emergency was lifted 45 days later.
In July, India expressed concern over announcement of the presidential election without allowing democratic institutions, including Parliament and the judiciary, to work in a free and transparent manner. – PTI
Separate fact from fiction, the real from the fake going viral on social media, on HoaXposed .